Fernandez's death hits McCullers hard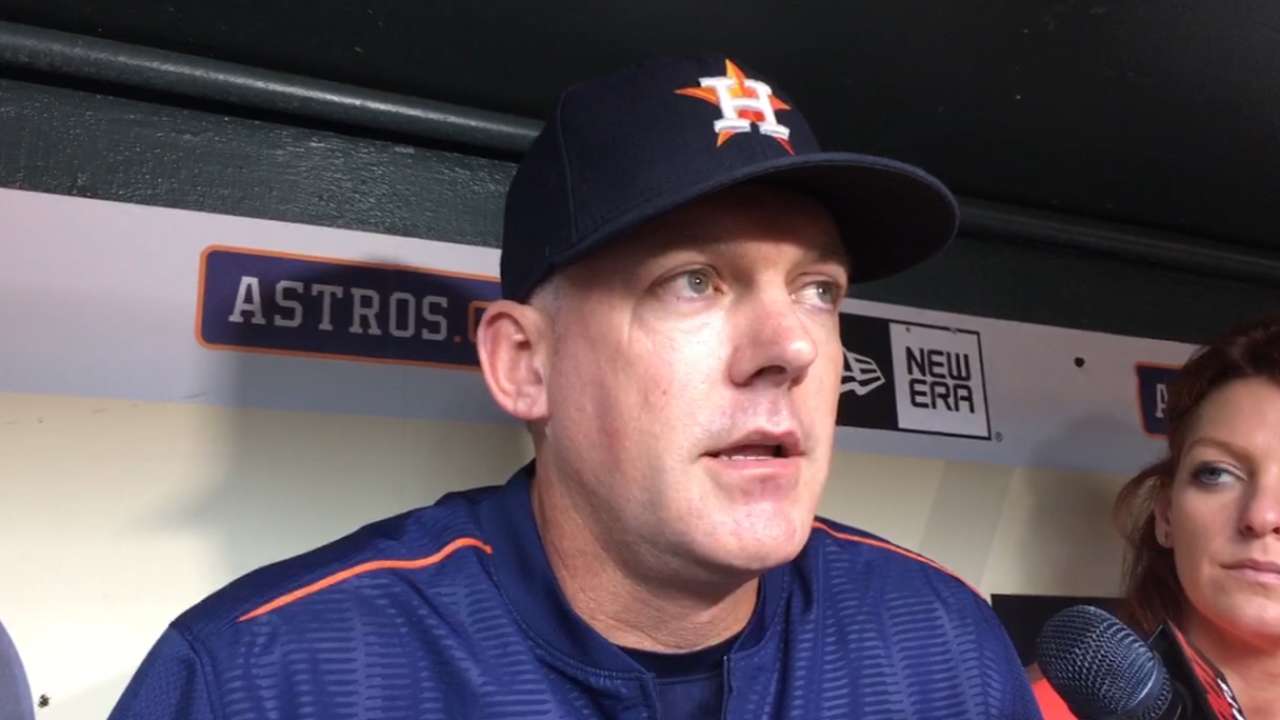 HOUSTON -- Astros pitcher Lance McCullers Jr. knew Jose Fernandez about as well as anyone in baseball. They were both star high school pitchers in Tampa, Fla., and quickly befriended each other shortly after Fernandez defected from Cuba, and they eventually became workout partners.
McCullers had even talked with Fernandez just a couple of weeks ago about a possible offseason fishing trip. They were two of the game's young stars on the rise. That's what made Sunday morning's news of the death of Fernandez, the Marlins' ace pitcher, in a Florida boating accident so hard to digest for McCullers, who held back emotions talking about his friend.
"I knew him pretty much right when he came over from Cuba in Tampa," McCullers said. "We started training together in the summers and offseasons and that kind of developed into a really good friendship that had been kept up with ever since."
The 24-year-old Fernandez was killed early Sunday morning in Miami Beach. A two-time All-Star, he was winding down his best big league season, posting a 16-8 record with a 2.86 ERA with a franchise-record 253 strikeouts. His death hit the baseball world hard, and McCullers in particular.
"I don't even know," he said. "I woke up from a bunch of texts and people calling me. My alarm didn't even wake me up. At first, I was kind of in shock and didn't know how to process it, but it kind of hit me a little later on in the morning."
McCullers, who's been on the disabled list since August, still had work to do, and came to Minute Maid Park to throw in the bullpen prior to the Astros' game against the Angels. Still, he took time to talk to reporters about Fernandez.
"I just don't really understand why, don't understand how something like that kind of happens," he said. "I don't know a whole lot at this point. I haven't really reached out to anyone. I've been coming to the field and letting it kind of process it on my own. I just kind of want to understand why, understand more of what happened versus the reports and what the media says. I kind of want to talk to his family a little bit and see how something like this could happen."
McCullers wasn't the only one in the Astros' clubhouse hit hard by the news. Outfielder Jake Marisnick played for 1 1/2 years in the Marlins organization before being traded to Houston on July 31, 2014. In fact, Marisnick made his big league debut on July 22, 2013 in a game started by Fernandez.
"It's a little surreal," Marisnick said. "You come up around a guy and just a guy of his character and how he loved playing the game -- off the field, on the field, everything he did was unreal. So to wake up this morning and see that -- I saw it on Twitter first, I saw somebody tweet something about it -- and I looked further into it and it was kind of disbelief."
Cuban infielder Yulieski Gurriel knew Fernandez and said through an interpreter that his younger brother, Lourdes, played with him growing up. He said Fernandez had a big following in Cuba.
"It's very sad," he said. "I was just shocked this morning. It's not only a blow for Cuba, but all of baseball and all the U.S. It's just incredibly sad."
The Astros held a moment of silence prior to Sunday's game in memory of Fernandez.
"I've always appreciated watching him," said Astros manager A.J. Hinch, who met Fernandez on a couple of occasions through the years. "He was must-see TV when it comes to how he pitched, the energy that he brought, the pride he brought to Cuban-American and throughout baseball. I join everybody in condolences to his family.
"The baseball world took a big blow today."
Brian McTaggart has covered the Astros since 2004, and for MLB.com since 2009. Follow @brianmctaggart on Twitter and listen to his podcast. This story was not subject to the approval of Major League Baseball or its clubs.