Astros drop in WC race with loss to Angels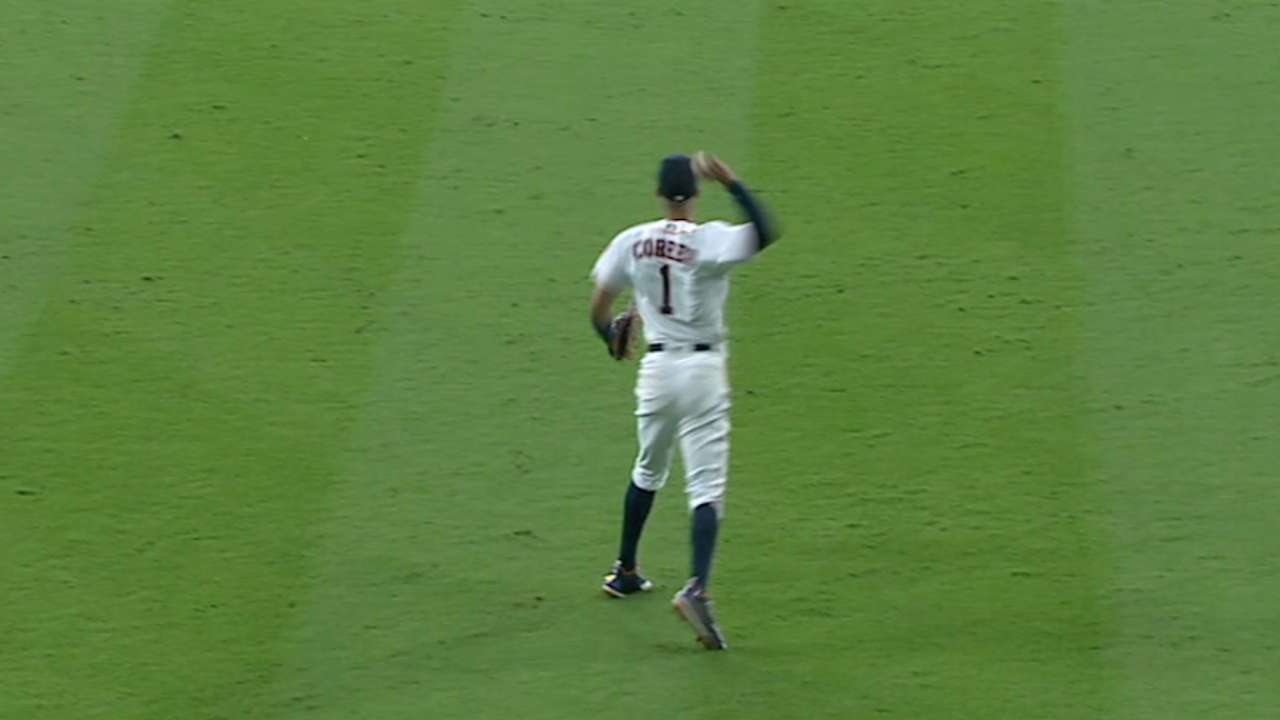 HOUSTON -- With the Wild Card race as tight as it is, the Astros can't afford many more nights like Thursday's 2-0 loss to the Angels if they want a shot at playing meaningful baseball in October.
Though Astros starter Mike Fiers rebounded from a rough first inning in which he allowed a two-run homer by Albert Pujols that went a Statcast™-projected 358 feet from home plate, his 6 1/3 innings of two-run ball weren't enough to keep Houston from losing, as the Astros' offense couldn't come up with a big hit all night. The Astros couldn't even get a baserunner past second until the eighth inning.
With the loss, the Astros fell to 1 1/2 games back of the second Wild Card spot, currently held by Detroit, with whom the Astros entered Thursday tied in the standings. It was only the Astros' second loss to the Angels in 13 games, snapping an 11-game winning streak against the Halos.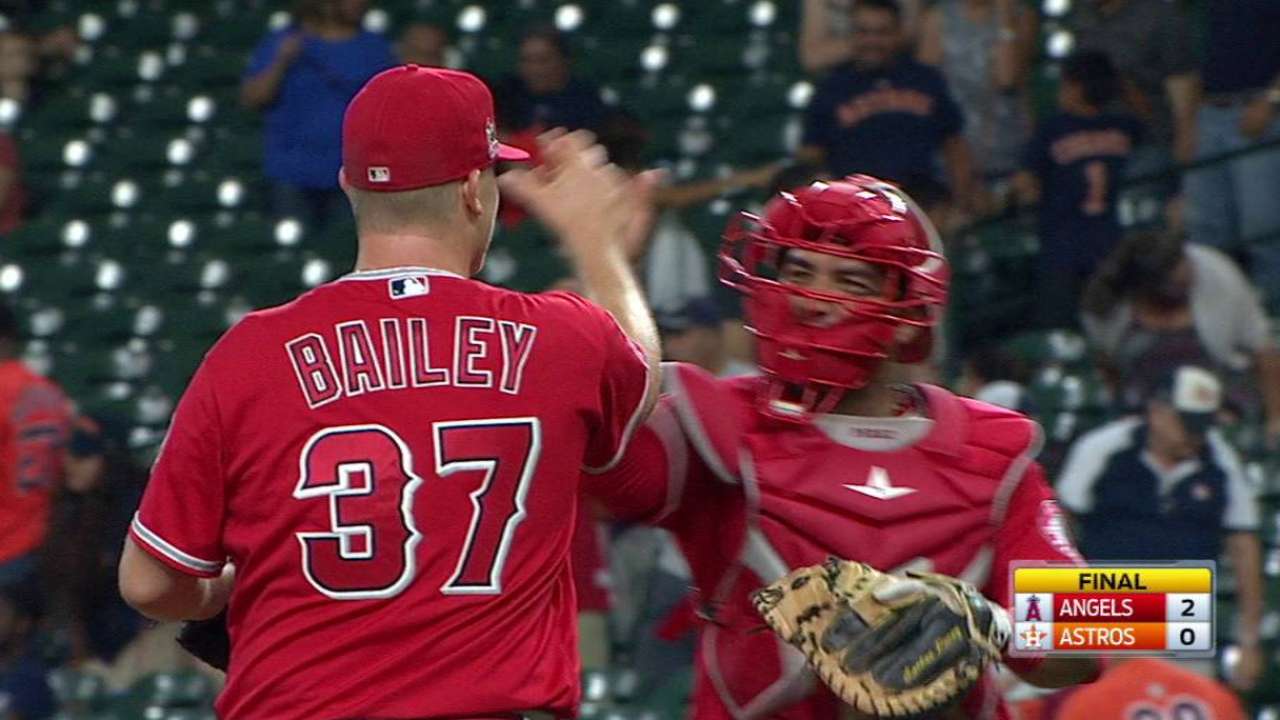 "We're not perfect," Astros manager A.J. Hinch said. "I don't know if anybody's going to run the table. I think losses any time in the year hurt. These obviously hurt when you're glued to what's going on, but we've still got the rest of the schedule to play out. We've got our hands full to come back and get a win tomorrow night, but we won't dwell on this too long."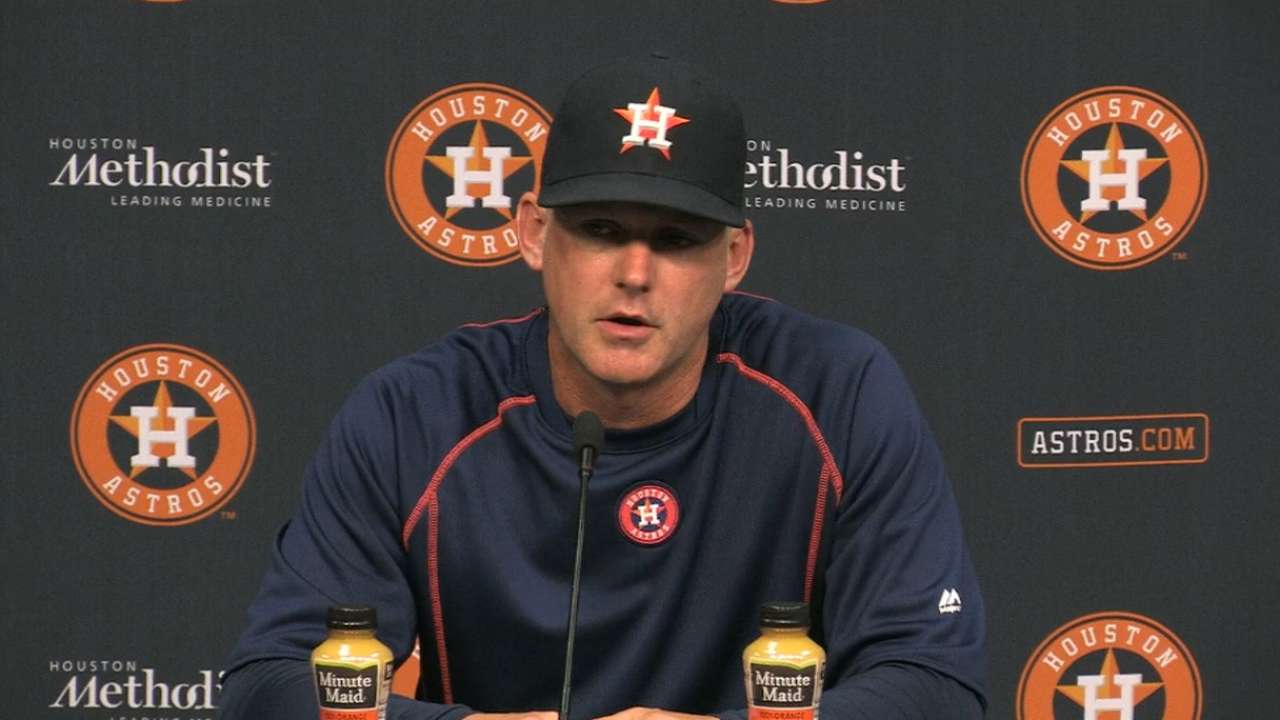 Angels right-hander Ricky Nolasco put together his second consecutive scoreless outing, striking out five and allowing only five hits. Nolasco has three scoreless outings in five trips to the mound after having none in his first 26.
"Ricky pitched a strong seven innings," Angels manager Mike Scioscia said. "His ability to locate his fastball and both of his breaking pitches, a slider and curveball, and mixed in some good changeups, too. He made a small lead hold up."
MOMENTS THAT MATTERED
He's back: Pujols has destroyed Houston pitching since his 2001 rookie season. Pujols' two-run home run off Fiers in the first inning was his 31st of the season and scored Mike Trout to give the Angels all the runs they would need. The home run into the left-field Crawford Boxes was Pujols' 53rd against Houston, the most by any opponent in Astros history. Pujols added a sixth-inning single.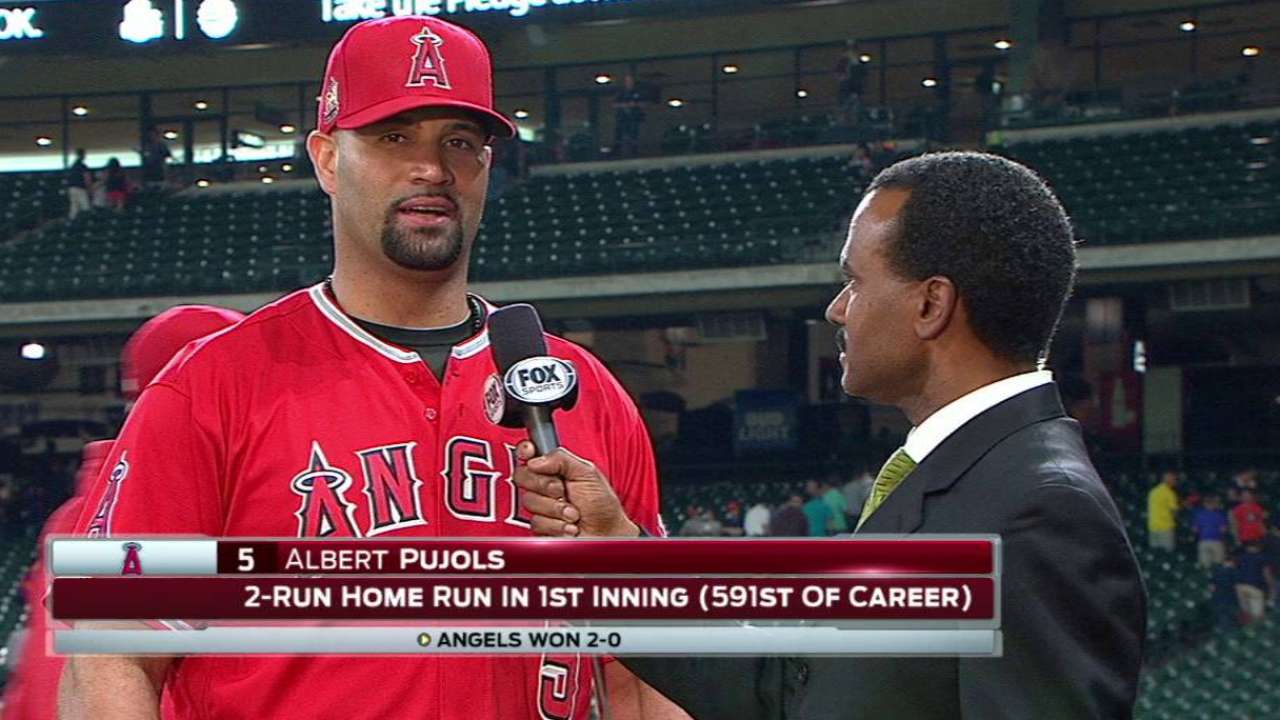 "You want to take the lead right away as much as you can, especially when those guys are playing pretty well," Pujols said. "It's one of those things where I got a good pitch to hit."
Fiers recovers: Fiers got off to a rocky start -- allowing Pujols' two-run homer to give the Angels a 2-0 lead -- but the six-year veteran didn't let it faze him. After allowing a two-out double to Andrelton Simmons in the first inning, Fiers proceeded to retire 13 consecutive batters, notching six of his season-high nine strikeouts during that span. It was Fiers' second consecutive quality start.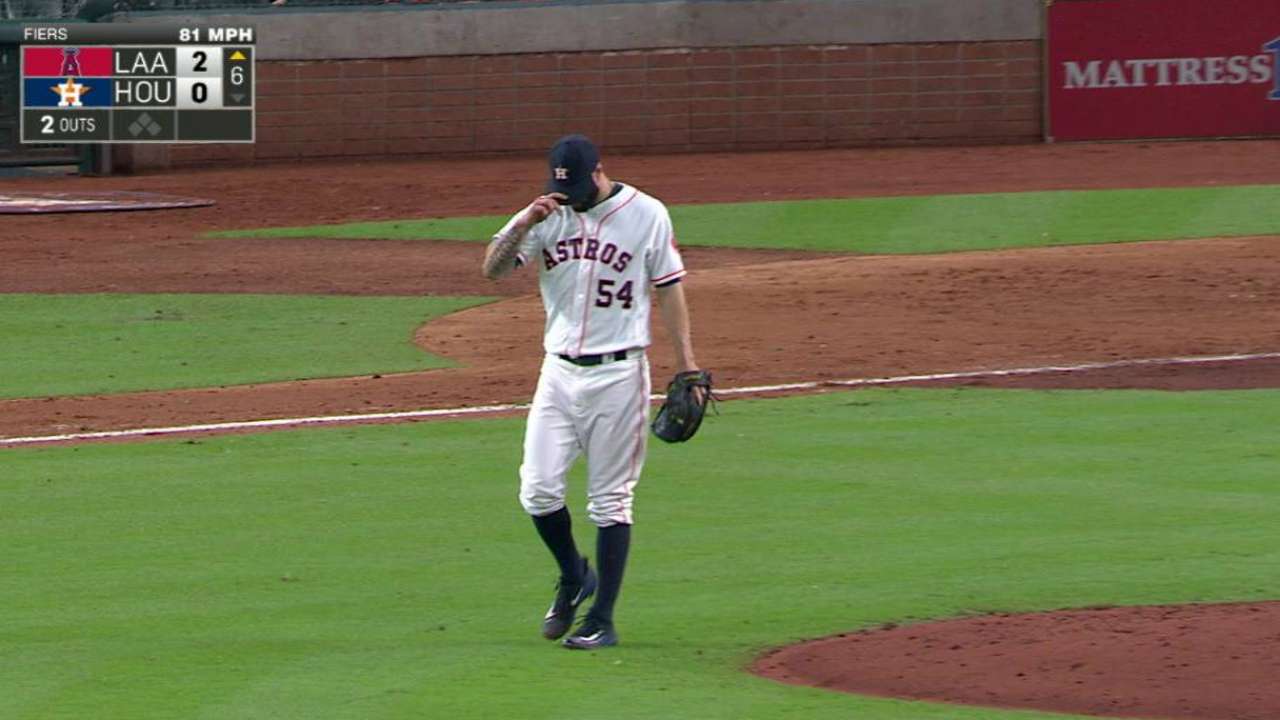 "Came out of the gate slow and made too many mistakes in that first inning," Fiers said. "Pujols capitalized on that first-inning fastball, but after that I kind of settled in, got my pitches working and kept them off-balance for the most part." More >
Nolasco delivers: The Angels got a strong outing from Nolasco, who did not allow a run over his seven innings. He surrendered five hits, but all of them were singles that kept the Astros at bay. Jose Altuve managed two hits off Nolasco, who walked only one and struck out five.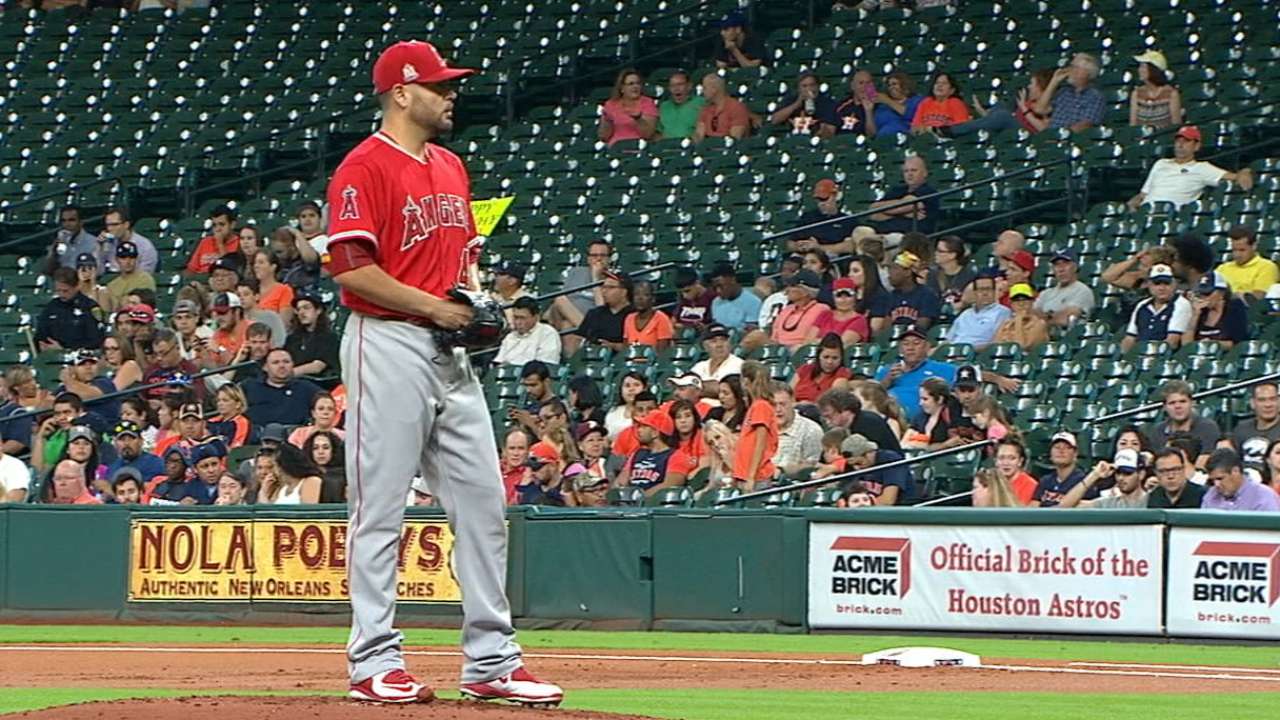 "I'm putting everything together now," Nolasco said. "Two runs [to hold up] in this park is tough, especially with that lineup, a lot of free swingers. It's nice to do my part to give us a chance to win." More >
Lacking punch: Trailing 2-0 after the top of the first shouldn't have been too tall a task for the Astros' offense to overcome, but on Thursday, it was. The Astros only got three runners in scoring position off eight hits and one walk, but couldn't get anyone across home plate. It was the first time Houston had been held off the board since a 2-0 loss to the Cubs on Sept. 9.
"We chased a ton out of the zone today, which is not something we've done in the last week," Hinch said. "Part of that was our anxiousness. Part of that was certainly [Nolasco's] effectiveness, but the way the game started, we got into trouble early … and then really on both sides, there wasn't much offense to speak of."
QUOTABLE
"Coming down here in September, [the losses] seem bigger, but it's one game and we're going to come back tomorrow and do things well and beat this team tomorrow. Every game's big for us, starting in April and ending in September." -- Fiers
WHAT'S NEXT
Angels: Alex Meyer will be making his sixth Major League start and fourth for the Angels on Friday against the Astros at Minute Maid Park. First pitch is at 5:10 p.m. PT. The right-hander earned his first career win on Sunday vs. Toronto. His only appearance against Houston was on May 3, taking a loss while pitching for Minnesota.
Astros: Houston will hand the ball to right-hander Doug Fister for his third start of the season against the Angels at 7:10 p.m. CT. Though Fister (12-12, 4.45 ERA) has struggled in recent weeks, the 32-year-old has thrived when facing the Angels this season, posting a 1-0 record and 2.08 ERA.
Watch every out-of-market regular-season game live on MLB.TV.
Jordan Ray is a reporter for MLB.com based in Houston and covered the Astros on Thursday.

Richard Dean is a contributor to MLB.com based in Houston and covered the Angels on Thursday.

This story was not subject to the approval of Major League Baseball or its clubs.