Gattis goes deep twice to hit 30-HR mark
Slugger carries offensive load for Astros with power surge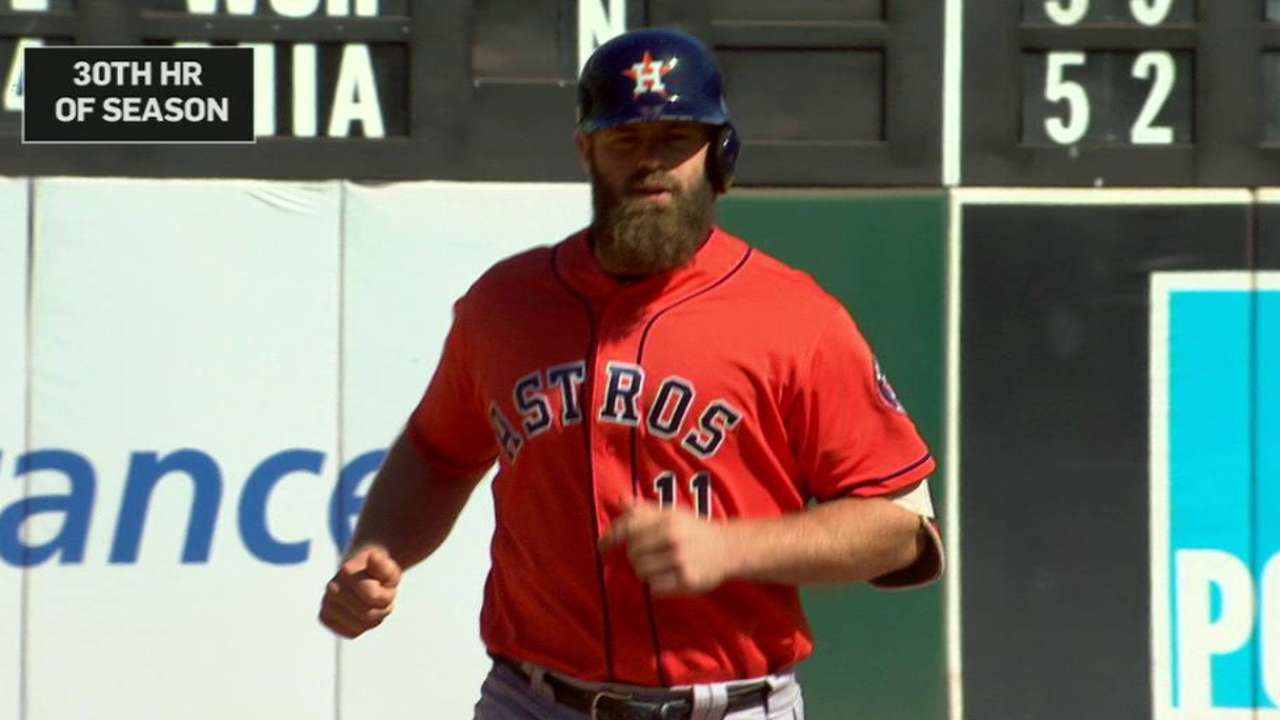 OAKLAND -- The Astros' most dangerous hitter in the second half of the season has been Evan Gattis, who came up big again in Wednesday's 6-5 win over the A's by blasting his 29th and 30th homers of the season to lead Houston to a sweep at the Coliseum.
Gattis, who also reached 100 career homers, is hitting .294 with 17 homers and 32 RBIs in 56 games since July 10, including six homers in his past 10 games. He hit a two-run shot in the sixth to give the Astros a 4-1 lead, and then added a solo blast in the eighth to put Houston ahead, 6-4.
"The approach has been working, and I'm just trying to finish strong," said Gattis, who started the year on the disabled list and didn't hit his second homer until May 17. "I don't want to limp out the season. I want to sprint."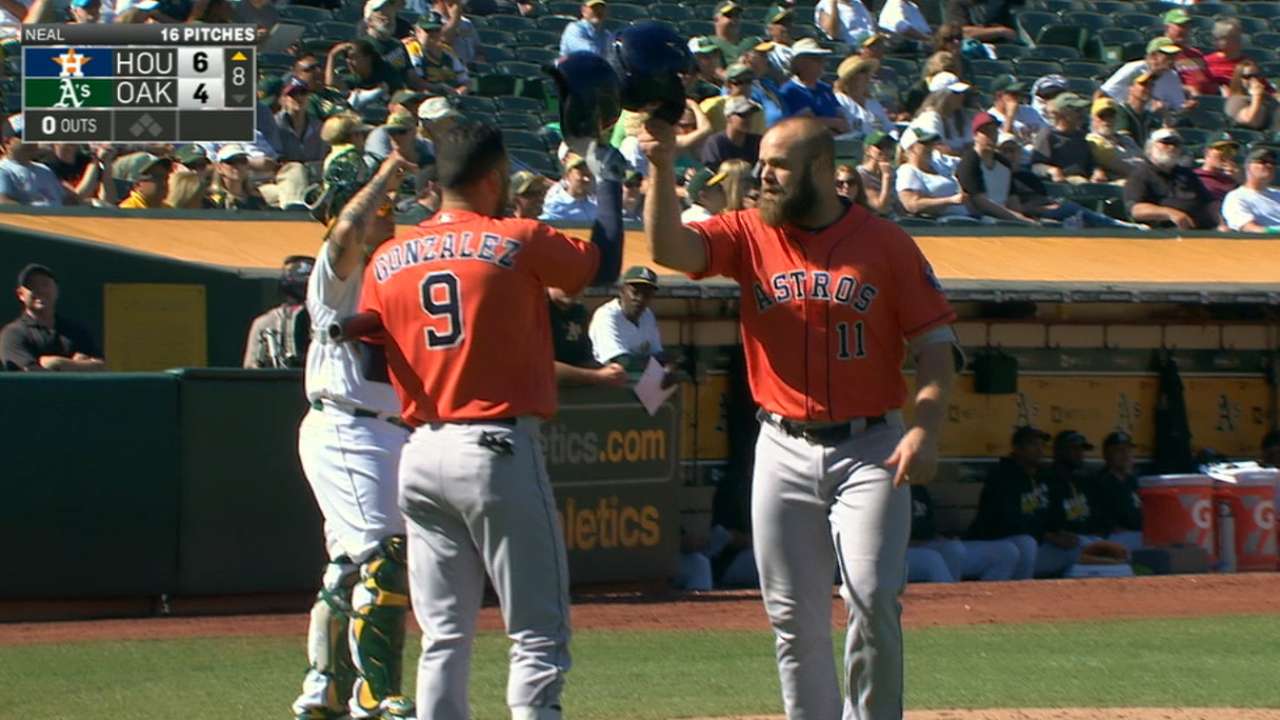 With Jose Altuve and George Springer scuffling a bit at the plate over the last month, Yulieski Gurriel cooling off and the loss of Alex Bregman to a hamstring injury, Gattis has picked up the slack in the fifth spot in the lineup, whether at designated hitter or catcher.
"Gattis has been clutch for us," Astros manager A.J. Hinch said. "Obviously, the power and the ability to hit in the middle of the order, he puts a lot of fear in those guys. I think his timing is awesome because of the time of year. Yuli's grinding, Altuve's been grinding, [Carlos Correa] has been banged up a little bit, and Gattis in the five-hole gives us a really dynamic middle of the order. I'm really proud of him.
"Thirty home runs is a big deal. It means he's stuck it out the entire year and been very productive."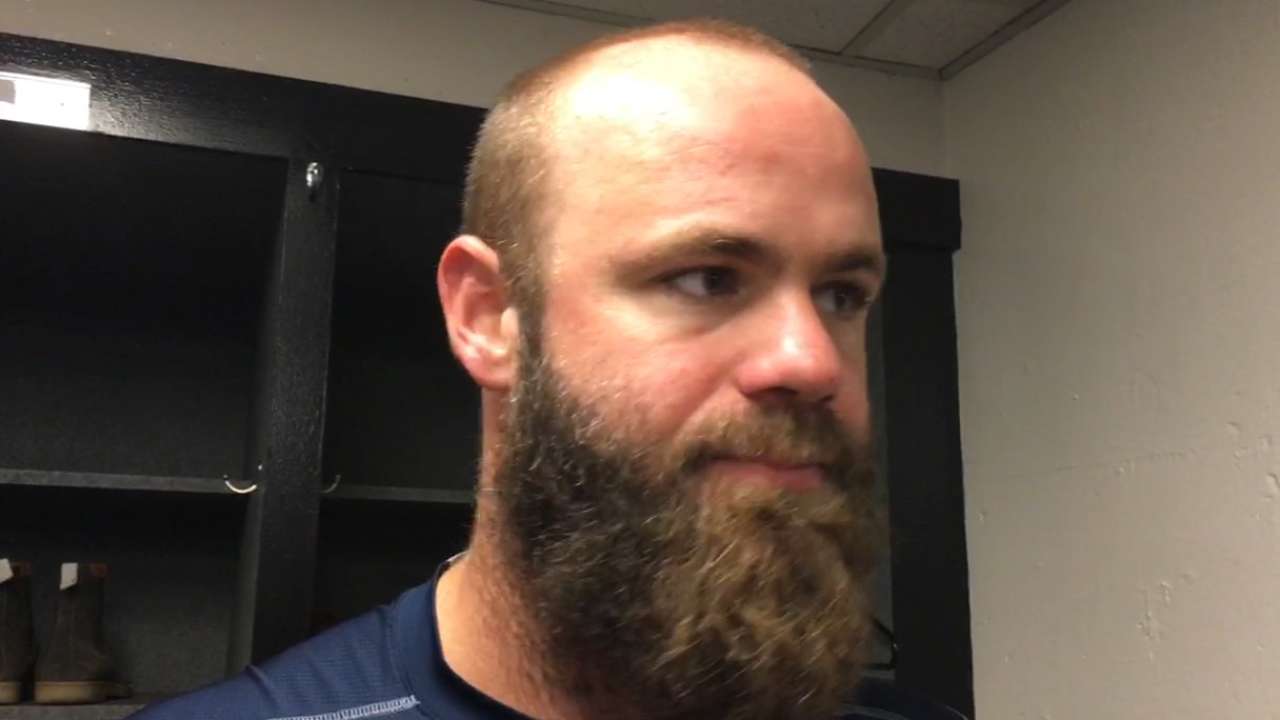 Gattis doesn't have the kind of personality to show too much excitement, but he admitted getting 30 in a season was significant.
"It's the first time I've ever done it," he said. "I'm very excited. I'm happy with 28, and I just want to put up good at-bats every day and hopefully have the best season I've ever had."
In the sixth, Gattis pulled a breaking ball from starter Daniel Mengden over the left-field wall for a two-run homer, but his homer to lead off the eighth was a mammoth blast to center off Zach Neal that was projected to travel 439 feet and was 110.6 mph off the bat, according to Statcast™.
"It was a good, compact swing, too," Gattis said. "I didn't feel like I tried to pull it or anything. I was just ready to hit."
Brian McTaggart has covered the Astros since 2004, and for MLB.com since 2009. Follow @brianmctaggart on Twitter and listen to his podcast. This story was not subject to the approval of Major League Baseball or its clubs.