Devenski delivers again in 'very valuable' role
Astros reliever extends scoreless streak in 2-1 win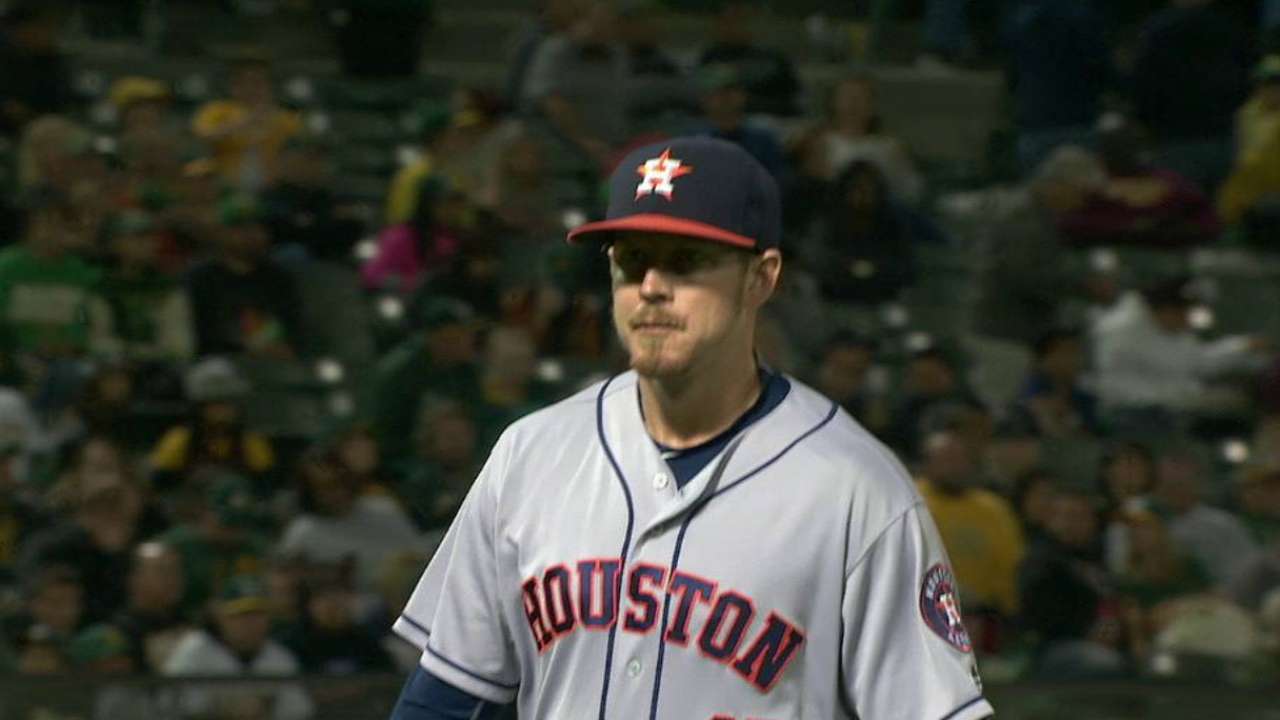 OAKLAND -- Despite the shortcomings of his team's starting rotation in the wake of injuries to Dallas Keuchel and Lance McCullers, Astros manager A.J. Hinch has resisted the temptation to insert rookie right-hander Chris Devenski into the rotation. And Tuesday showed why.
Devenski, the former starter, retired all 11 batters he faced in relief to get the win in the Astros' 2-1, 10-inning victory over the A's on Tuesday night, bridging the gap from starter Joe Musgrove to closer Ken Giles, who locked down his 13th save.
With the win, Houston moved to two games back of the Orioles for the second American League Wild Card spot.
"This is exactly why Devenski's valuable in the role that he's in," Hinch said. "I never know when a game like this is going to come up, and for him to take 3 2/3 of a really good performance in a game that we needed it the most, is very, very valuable for us. I understand the appeal of him starting, but in a couple of days he's going to be back in there again in some clutch games over the course of the rest of the season."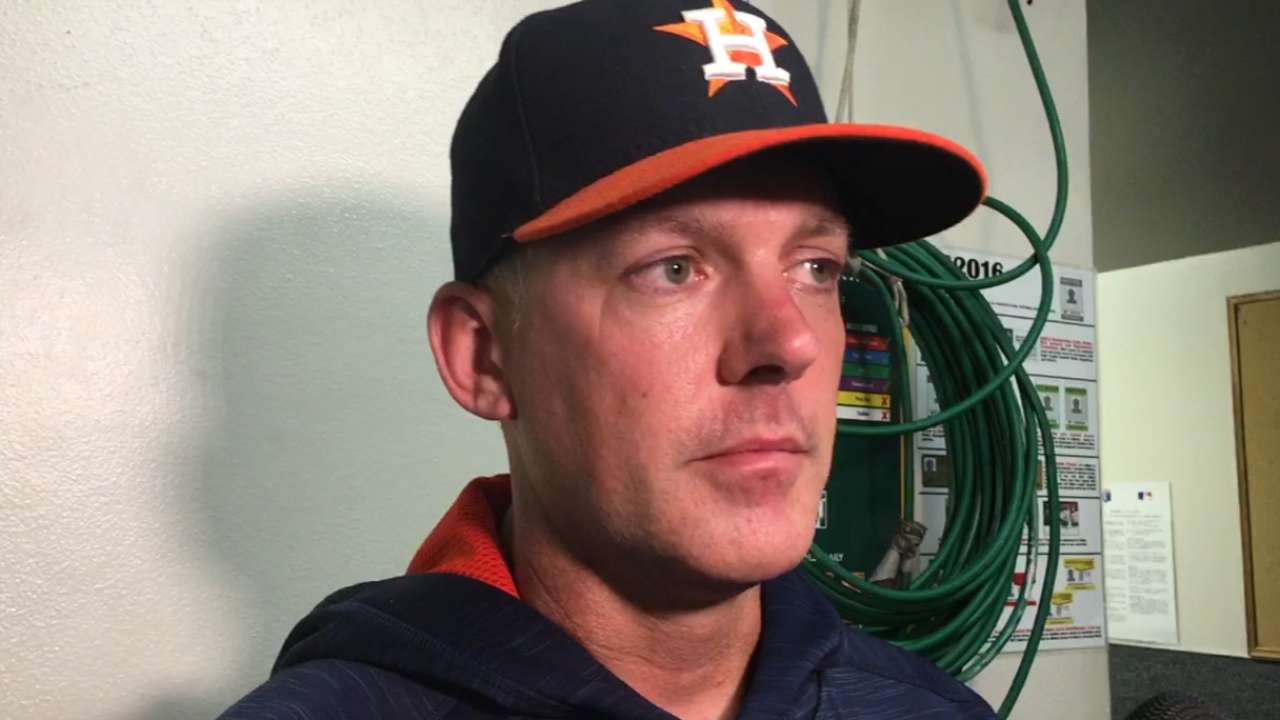 It was another night at the office for Devenski, who only needed 29 pitches -- including good command of his slider and his effective changeup -- to work 3 2/3 innings of perfection.
"It was a great performance by Joe to keep us in there through five or so innings, and then luckily I got to limit the damage," he said.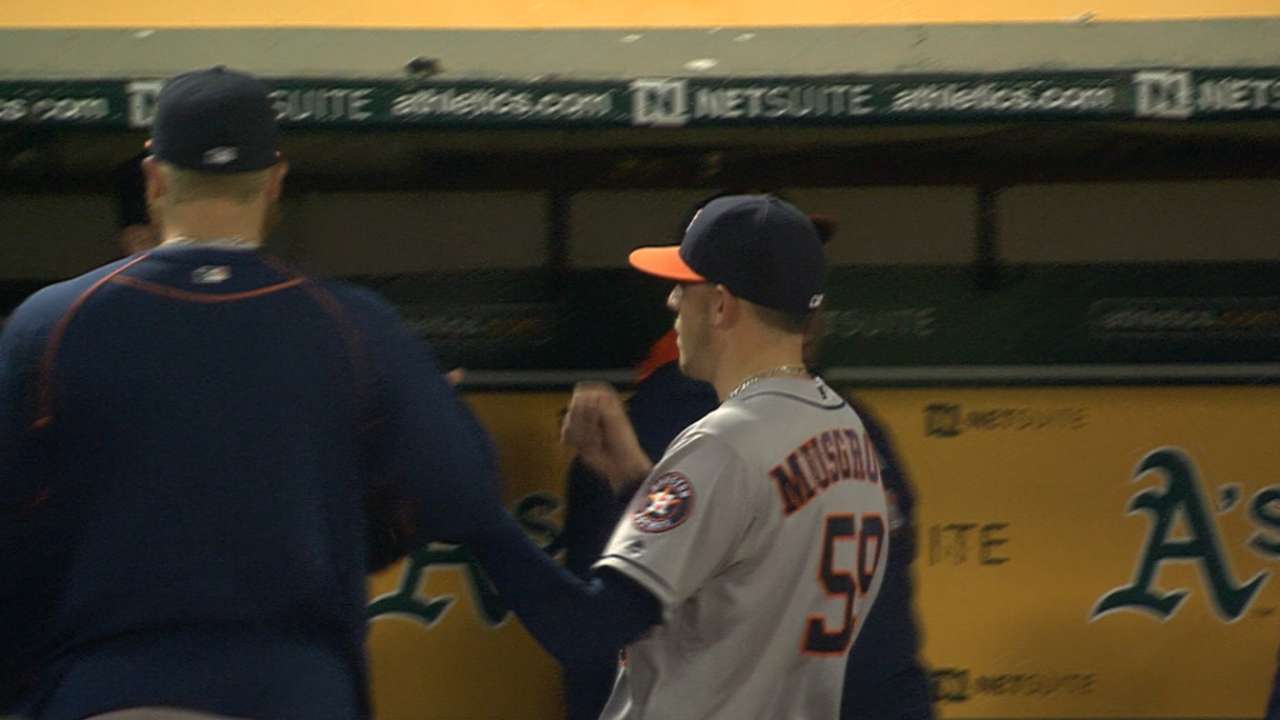 Devenski hasn't allowed a run in his last 11 outings, lowering his ERA as a reliever to 1.35. It was his longest outing since Aug. 19 because Hinch has started using him in higher-leverage roles later in games than the long-relief role he was performing earlier.
"I like relieving," Devenski said. "I get a good little rush going out there and I've been going out there and giving it my best."
When asked if he would be available to pitch Wednesday, Devenski said, "We'll see how the body responds when I wake up in the morning. Hopefully my arm won't be on the other side of the bed."
Brian McTaggart has covered the Astros since 2004, and for MLB.com since 2009. Follow @brianmctaggart on Twitter and listen to his podcast. This story was not subject to the approval of Major League Baseball or its clubs.