Vote: 5 stars up for Best Major Leaguer
Balloting open until Nov. 11 to reward game's elite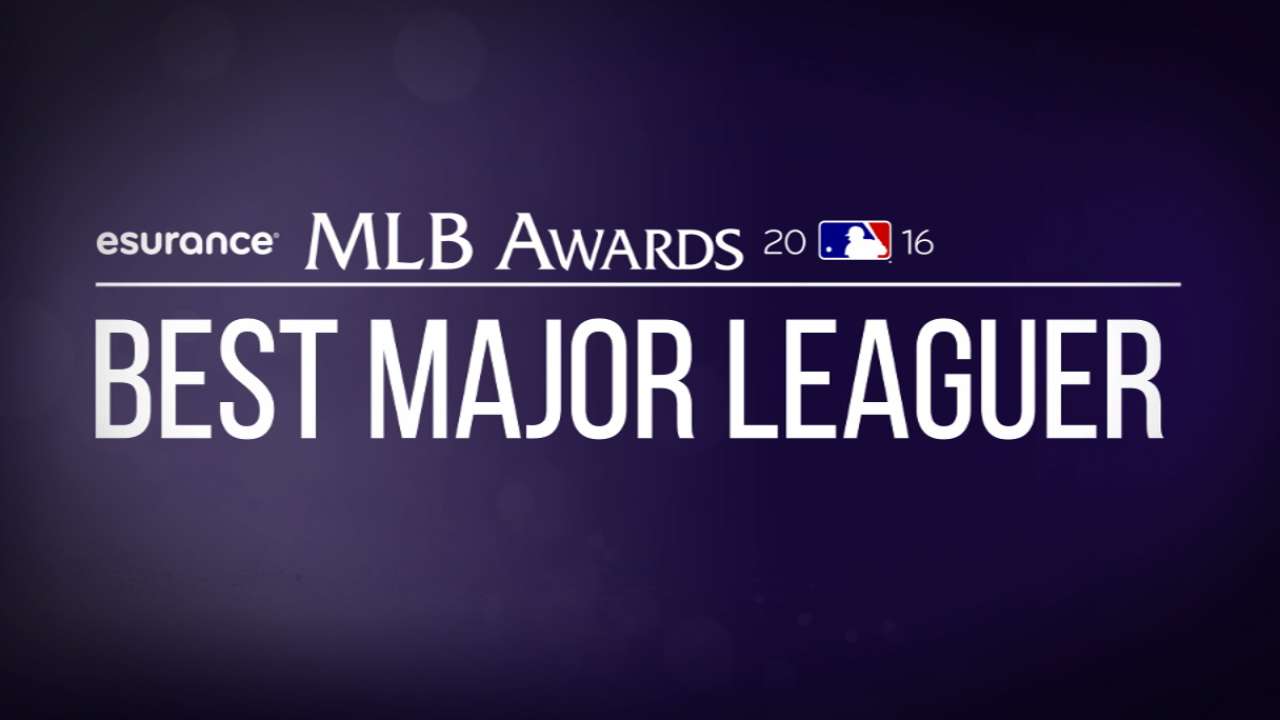 They are the reason we buy tickets. They hit for average and power, they run, they throw, they defend and they thrill, night after night.
The plan for Major League Baseball's best players is to show up to work every day, do something to help a team win and hopefully delight fans in the process.
The best of those players transcend the sport because they do it over and over again for much of the grinding 162-game slate. And at the end of each season, they are rewarded for their impact and excellence.
• Vote: Esurance MLB Awards balloting begins
One of the top honors to receive is the prestigious Esurance MLB Award for Best Major Leaguer, and the list of nominees for the 2016 campaign consists of usual suspects plus up-and-comers who have shown they are not only brilliant but also polished well beyond their years.
The choice will come down to Astros second baseman Jose Altuve, Red Sox outfielder Mookie Betts, Cubs third baseman Kris Bryant, Blue Jays third baseman Josh Donaldson and Angels center fielder Mike Trout.
All five have dominated in the stat books with different skill sets that showcase everything that makes a winning baseball player, and cases can be made for all five, but only one will take home the hardware.
The Esurance MLB Awards annually honor Major League Baseball's greatest achievements as part of an industry-wide balloting process that includes five groups, each of which accounts for 20 percent of the overall vote: media, front-office personnel, retired MLB players, fans at MLB.com and Society for American Baseball Research (SABR) voters.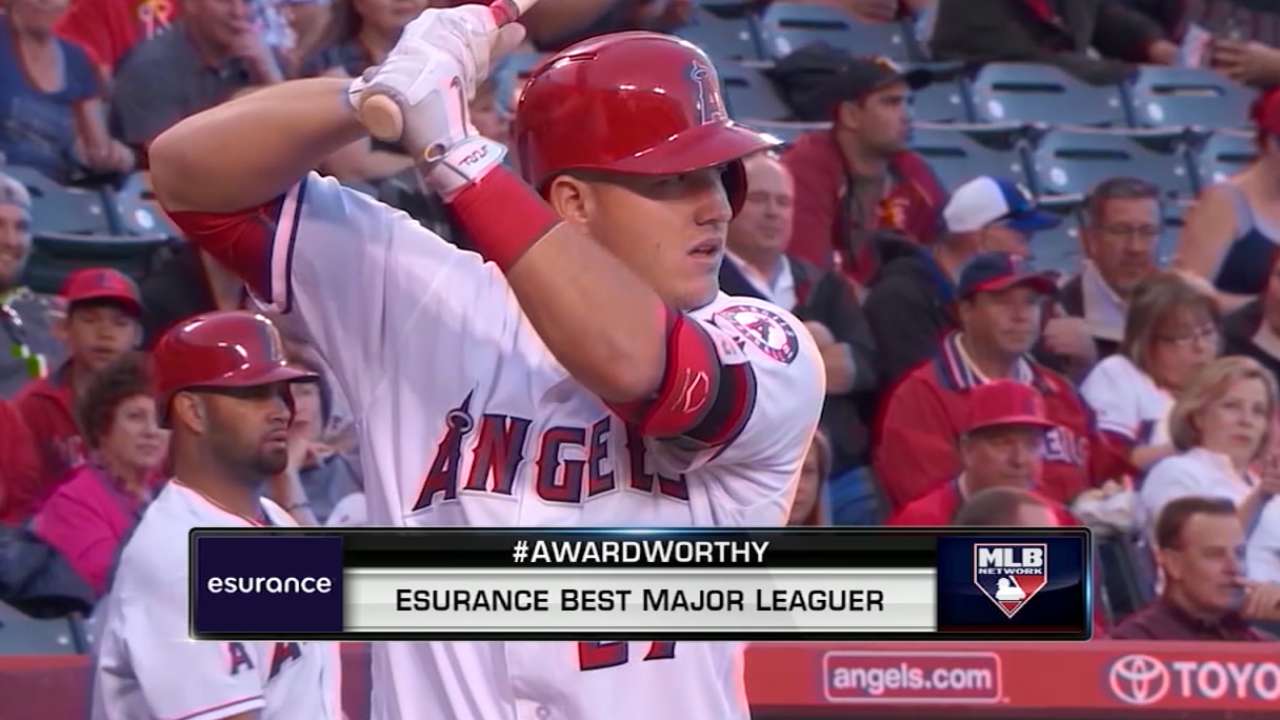 The MLB Awards are an all-inclusive program, encompassing the top players and performances from both the American League and the National League from Opening Day through the end of the postseason.
Individual awards will go to the Best Major Leaguer in addition to the winners in the following categories: Best Hitter, Pitcher, Rookie, Defensive Player, Manager, Executive, Social Media Personality and Postseason Performer.
Winners will also be recognized for the year's Best Offensive Play, Defensive Play, Moment, Single-Game Performance, Social Media Post, Fan Catch, Interview, Broadcast Call, Player-Fan Interaction and Trending Topic.
Voting began Monday on MLB.com/awards, one hour after the inaugural Esurance MLB Fans of the Year winners were announced.
Voting for the MLB Awards will remain open until 2 p.m. ET on Nov. 11 by visiting MLB.com/awards. Winners will be announced live on MLB Network and MLB.com on Nov. 18.
Altuve just keeps getting better and better. Entering Monday, the dynamo continued to build on his strong case for multiple awards with a .337 batting average, 24 home runs, 40 doubles, 94 RBIs and 27 stolen bases.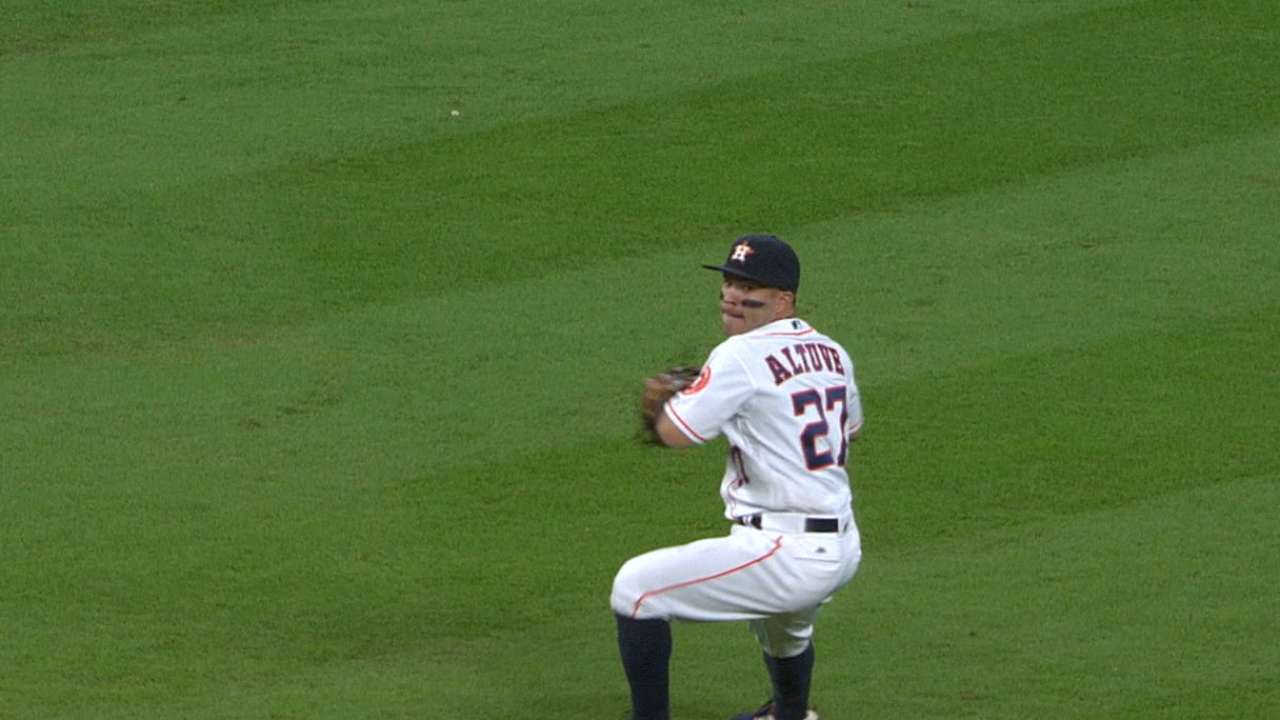 "We've seen this season out of him and been around it every day," Astros manager A.J. Hinch said. "Having not been around every other player every day, it's hard to argue anyone is having a better season. It's as impactful in all facets as anyone can be -- his power, the speed, the hits. I think he's up there in every category. It's nice to see him put it all together and be a complete player. I know he's our MVP, for sure."
While Betts' first two years showed he was already very good and still full of potential, it's safe to say no one saw the power explosion he's put on in 2016.
Heading into Monday's games, Betts, still only 23 years old and in his second full season in the bigs, had 30 homers, 106 RBIs and 24 stolen bases.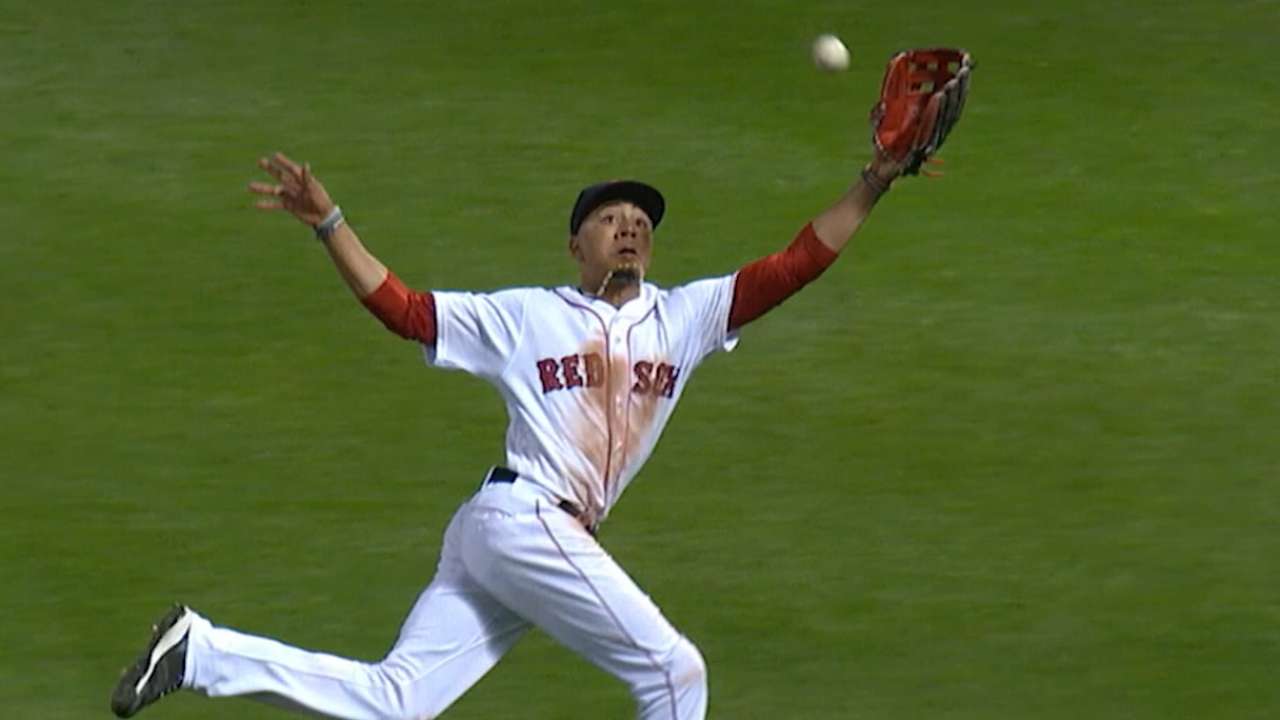 "Right now, I think he's the best player in all of baseball," Boston ace David Price said. "I have the utmost respect for Donaldson and Mike Trout and Jose Altuve, but Mookie's been special. And when a guy has never done it before, that makes it a little more special."
The same could be said for Bryant, last year's NL Rookie of the Year Award and a clear contender for the NL Most Valuable Player Award this time around. He boasted a .295 batting average, 37 homers and 96 RBIs heading into his team's Monday game against the Reds. Bryant has been so good that the Wrigley Field fans have been showering him with "MVP" chants for months.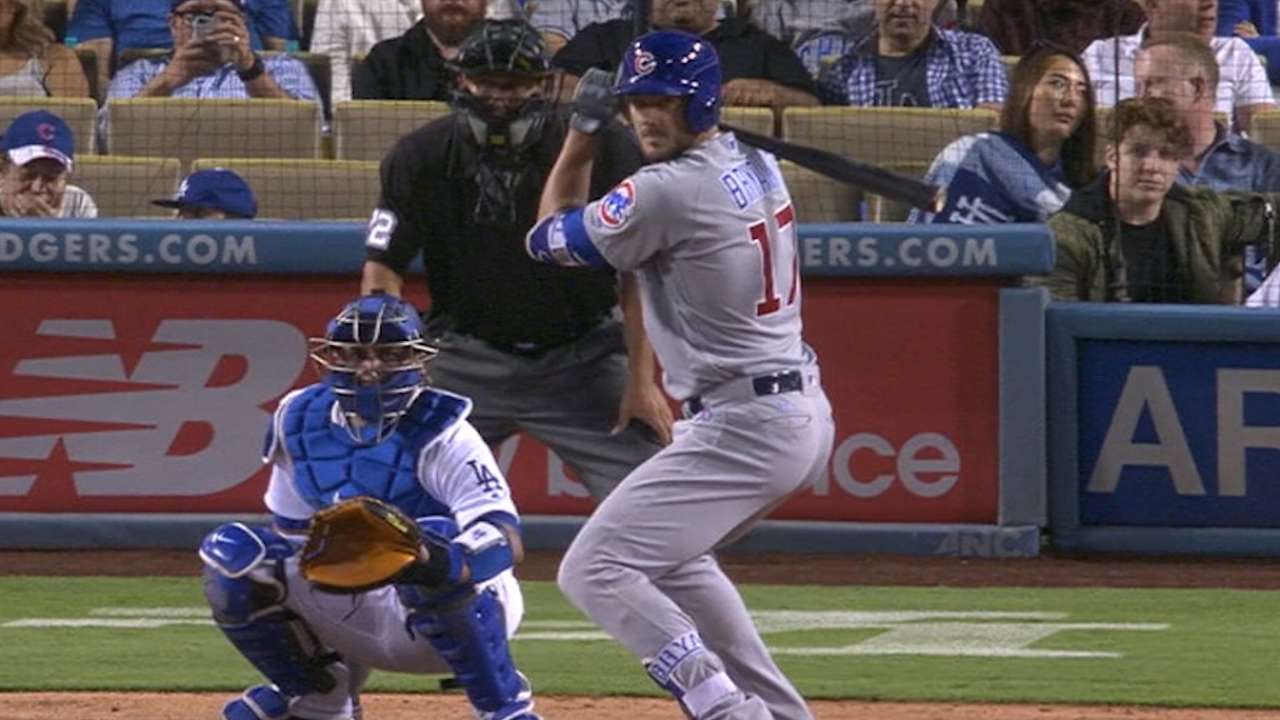 "It's pretty cool," Bryant said. "Growing up, you hear that on TV, and to hear it now, it's humbling and keeps me going and keeps me determined to do more. It's pretty cool to hear."
Donaldson heard the same chants last year in Toronto, and for good reason. He ended up winning the AL MVP Award, and he has improved in a few categories this time around, with a .955 OPS, 34 homers and 93 RBIs as of Monday.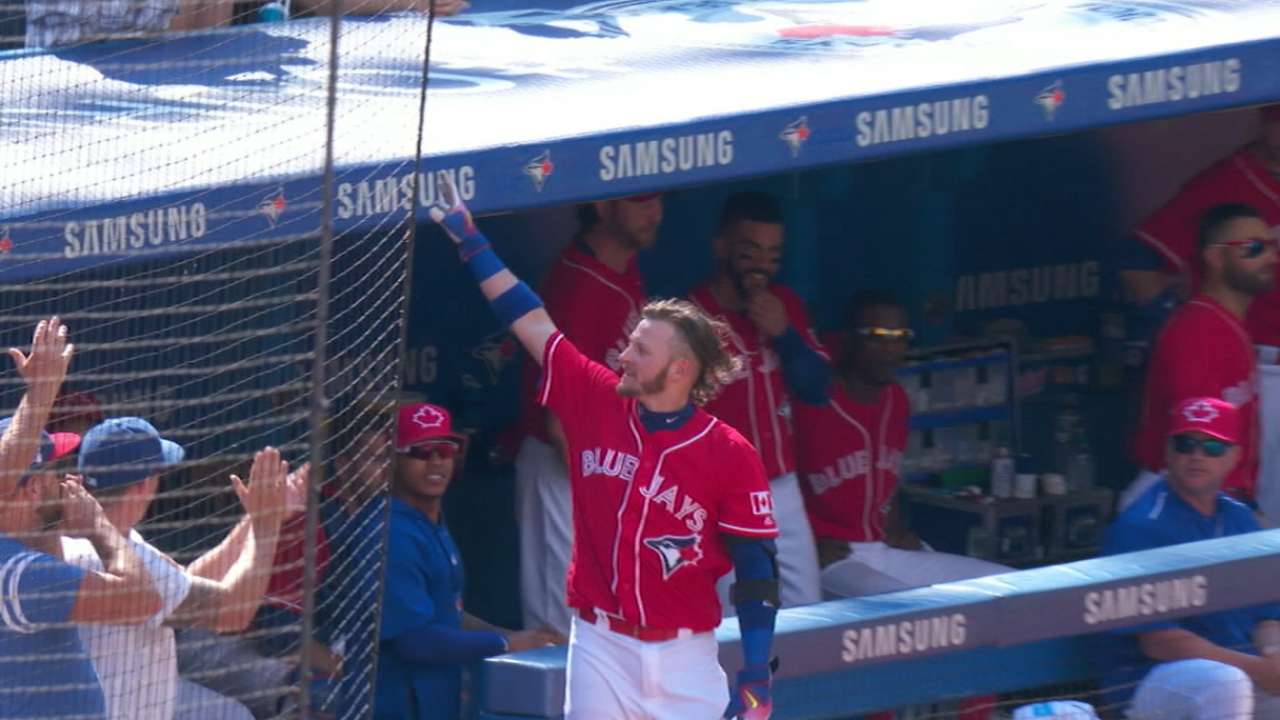 "My goals aren't necessarily to win the MVP, but to help my team win," Donaldson said upon accepting that honor last November. "I feel like if you're successful in that, all the awards and that jazz come along with it. I felt the fans supported me all year long, and that was just another way they did that."
Trout is another former AL MVP Award winner and a contender every year. This season is no different, despite his team's struggles. Trout has again excelled, with a .990 OPS and 27 homers, 90 RBIs, 26 stolen bases and 113 runs scored heading into Monday.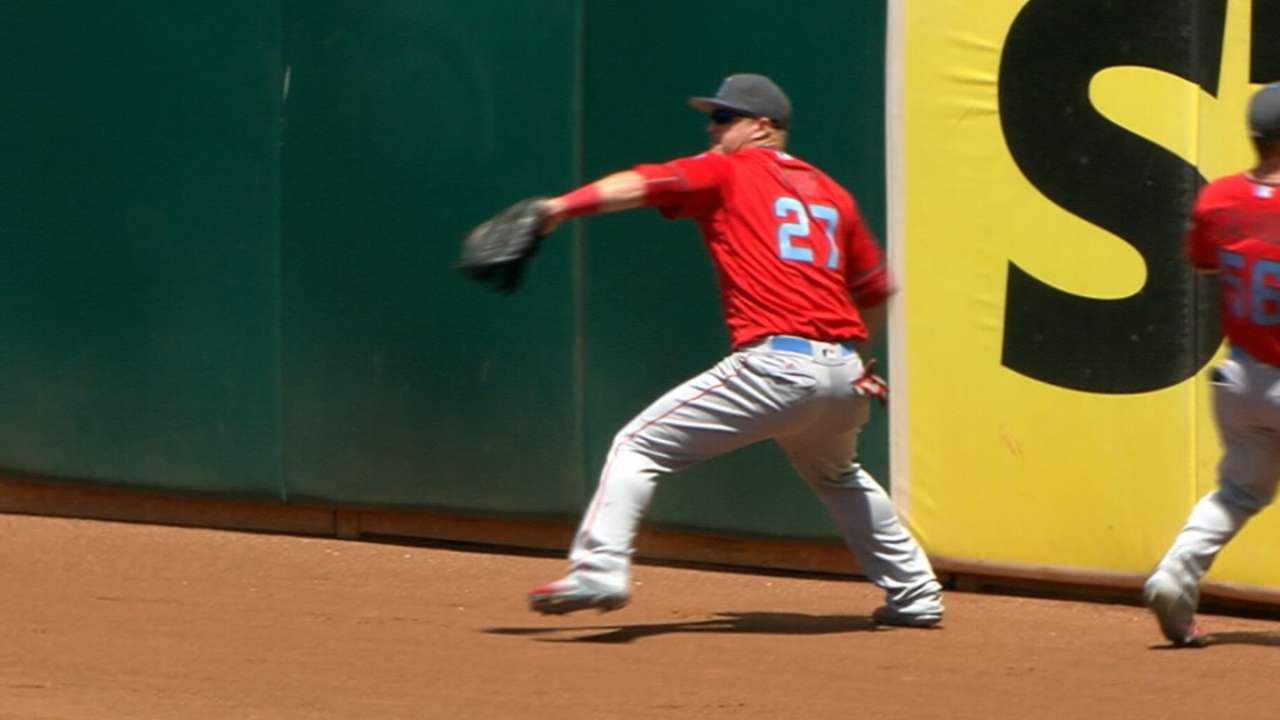 "Mike is a special talent," Angels manager Mike Scioscia said earlier this season. "He as good as there is. When Mike is right, there's no doubt he's one guy the other team doesn't want to have beat them."
Doug Miller is a reporter for MLB.com. Follow him on Twitter @DougMillerMLB. This story was not subject to the approval of Major League Baseball or its clubs.