McCullers to throw off mound in elbow rehab
Astros hope righty returns for possible postseason run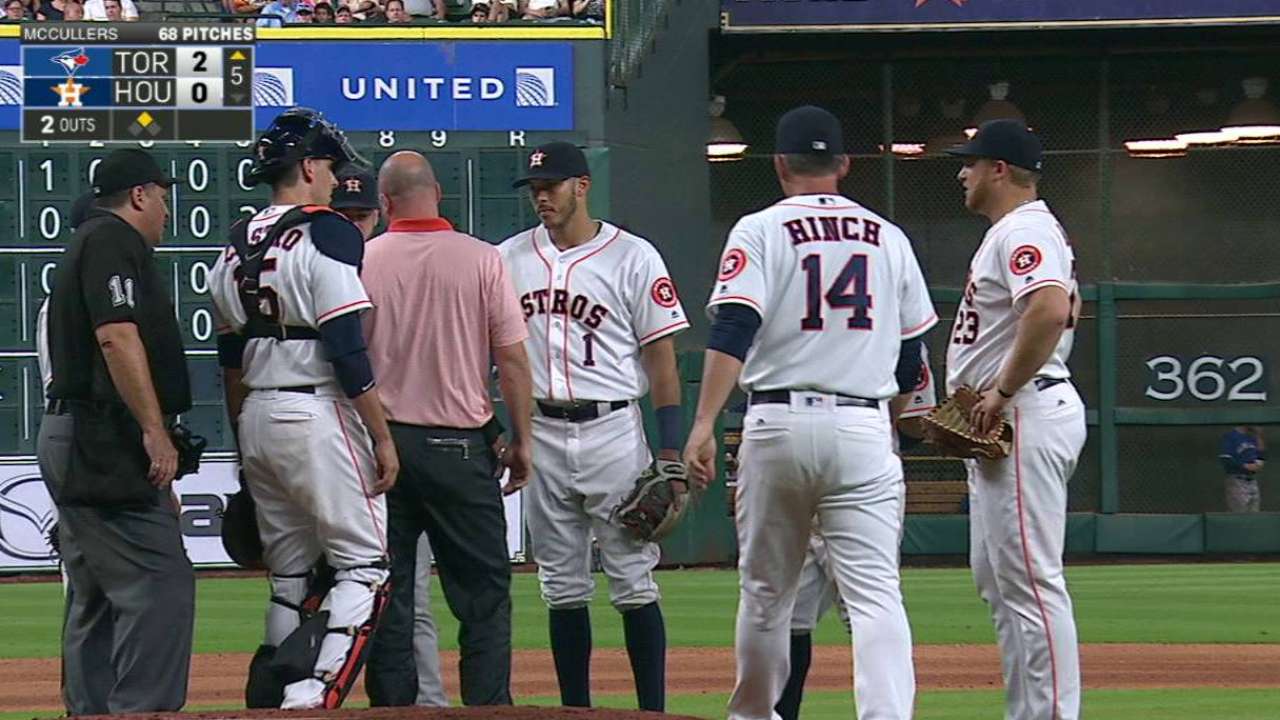 OAKLAND -- Astros right-hander Lance McCullers, who hasn't pitched since Aug. 2 because of a mild right elbow sprain, is expected to throw off the mound in Houston this week, general manager Jeff Luhnow said Monday. The Astros are holding out hope McCullers could help them if the team makes the postseason
McCullers, who went 6-5 with a 3.22 ERA with 106 strikeouts in 81 innings this year, has been throwing off flat ground for a couple of weeks, so it's unlikely he would be available in the regular season at this point.
"Going from flat ground to the mound is a big deal in the rehab progression," Luhnow said. "He's going to do that hopefully a couple of times and then we'll have our next, sort of, checkpoint to see if it makes sense for him to start facing hitters. That's positive progress. How quickly all that can happen remains to be seen."
Meanwhile, left-hander Dallas Keuchel hasn't thrown in two weeks because of left shoulder inflammation, and Luhnow indicated he won't throw anytime soon. Keuchel said Friday the injury requires four to six weeks of rest, though he was hopeful to shorten that timeline. Luhnow didn't sound as optimistic Monday.
"Still not throwing, so the more days that go by without throwing, the longer it's going to take him to ramp up," Luhnow said. "We'd have to go to pretty deep into the postseason for that even to be a consideration."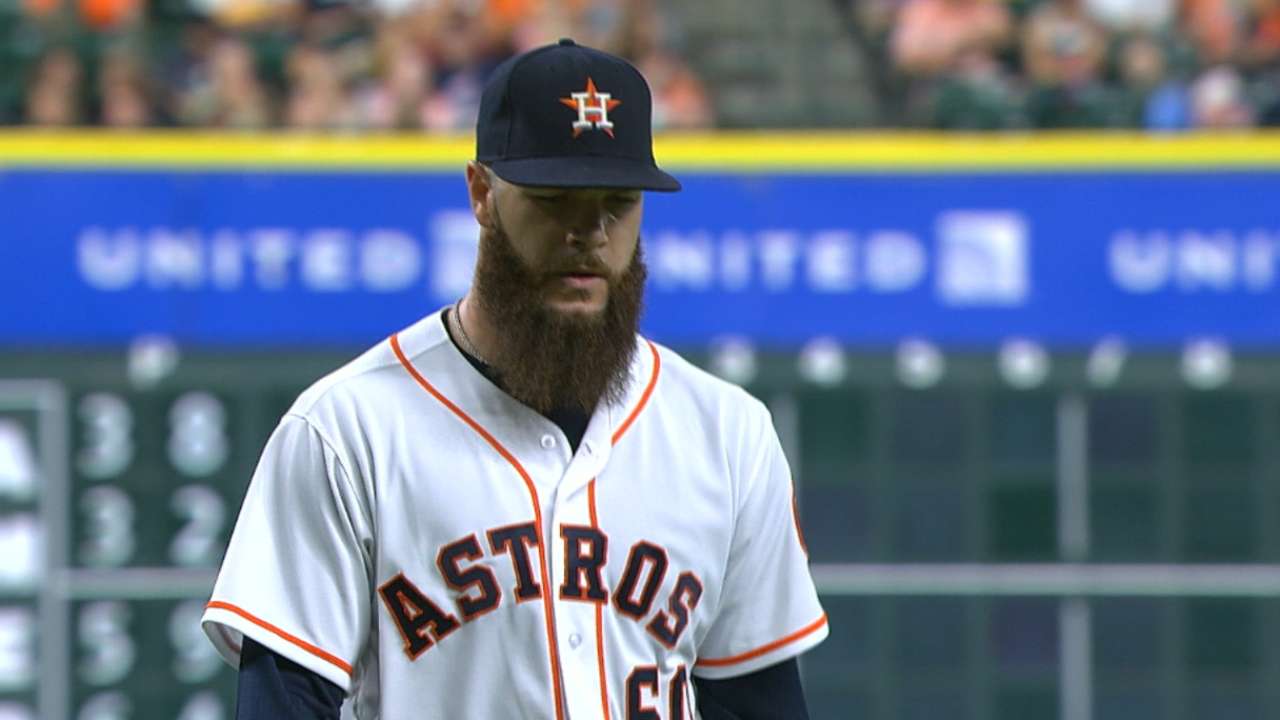 Finally, rookie infielder Alex Bregman, who strained his hamstring running the bases Wednesday in Houston, appears headed for a long recovery as well, Luhnow said. Like Keuchel, it could take a long playoff run to get Bregman back for 2016, and even that's not a sure thing.
"With those types of injuries, you have to plan for a four-to-six week type of full rehab," Luhnow said. "Clearly, when there's a lot of urgency to get back and the player is really driven to get back and the team really needs the player, things can happen. He is making progress incrementally each day, feeling a little bit better and able to do a little bit more, [but] we're still a ways away from knowing whether he's able to do anything this year."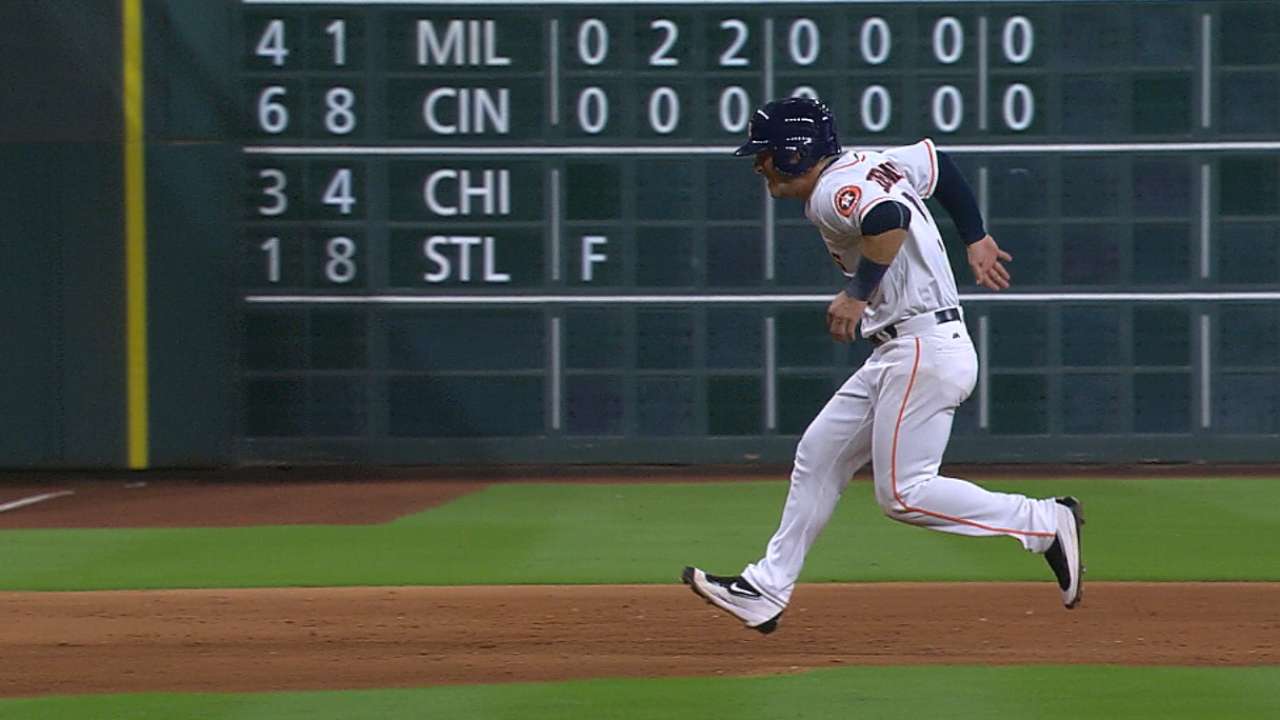 Brian McTaggart has covered the Astros since 2004, and for MLB.com since 2009. Follow @brianmctaggart on Twitter and listen to his podcast. This story was not subject to the approval of Major League Baseball or its clubs.