Devenski part of Astros' Big 4 at back of 'pen
Rookie might return to starting role down the line, but he's proven valuable as reliever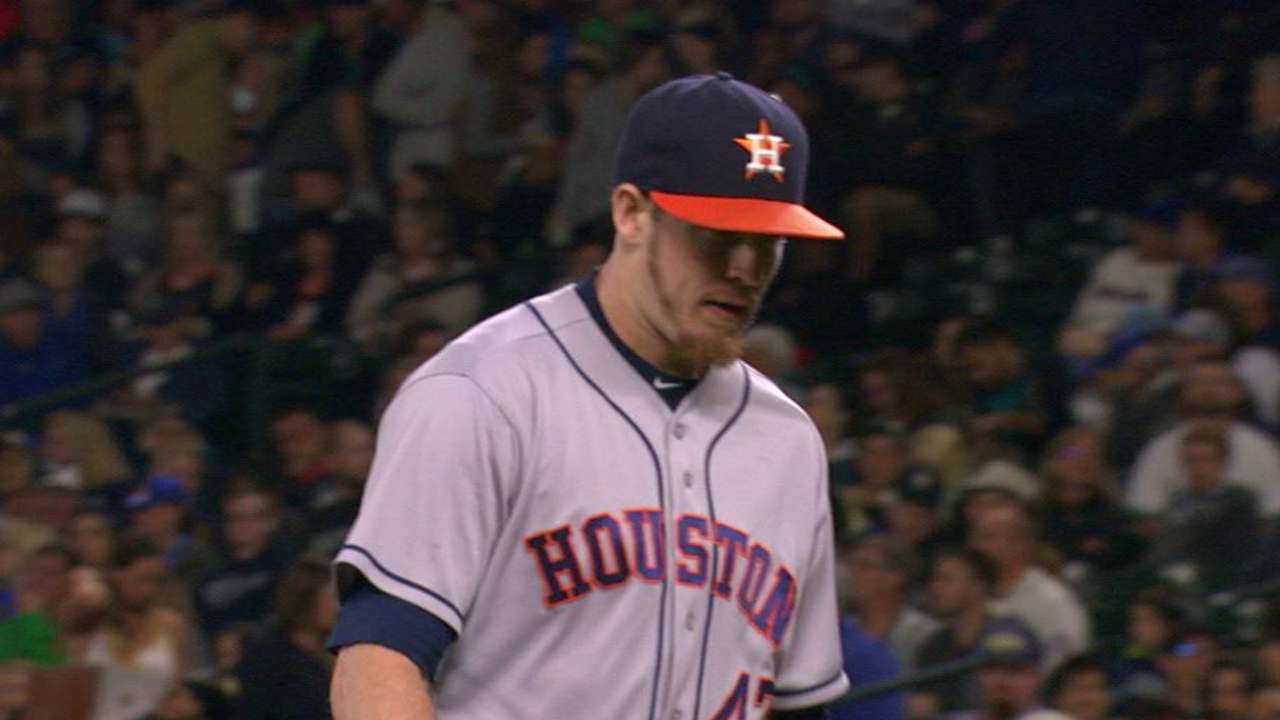 SEATTLE -- After starting pitcher Mike Fiers had thrown six scoreless innings against the Mariners on Saturday, the visiting bullpen door swung open in the seventh and Chris Devenski made his way to the mound. That would have normally been the spot for All-Star reliever Will Harris, but Astros manager A.J. Hinch showed how much faith he has in Devenski, a 25-year-old rookie, by sending him to the hill late in a tight game the club would go on to win, 2-1.
Devenski has emerged as a huge weapon in Houston's bullpen and now sits alongside Harris, setup man Luke Gregerson and closer Ken Giles as Hinch's four main relievers in the back end of the bullpen. Not bad for a guy who came to camp as a non-roster player.
"I've come a long way and done a lot of climbing, a lot of growth," Devenski said.
Hinch said Sunday he pitched Devenski instead of Harris in the seventh because Devenski had warmed up in the sixth and he didn't want to waste him after he had gotten ready. But more than anything, it's a sign of the confidence Hinch has in Devenski, who has a 1.41 ERA as a reliever this year -- the lowest by a reliever in club history.
"I've talked a lot about how much I've used our 'pen and I want to be very strategic when I got guys hot and get them in the game," Hinch said. "I really do have, at a minimum, four guys I can mix and match at any given time -- Devenski, Harris, Gregerson and Giles. Giles, obviously, is pitching the ninth, and the other three, if I get them up to come in a situation I'd like to not just get them up and sit them down. It's like using them all over again.
"And on top of that, Harris has been used as much as any in that group. With Devenski hot and Devenski's good, the order they had with the lefties coming up, I felt really good about."
Devenski was a starter throughout the Minors, but Hinch has recognized his value in relief in that he's able to use him more often and in a variety of roles. He's made five spot starts, thrown multiple innings in relief 18 times (nine times of at least three innings) and even recorded his only save when he threw the final 3 1/3 innings of a game against the Reds on June 19.
Devenski has a devastating changeup and a good fastball and is working on a breaking ball that could make him a more viable candidate to start going forward.
"I'm comfortable with the ball in his hand at any time," Hinch said. "It's very much a dilemma we're going to have to think about moving forward [starter vs. reliever]. I want to use him as much as possible. When he's in the rotation, it's once every five days. The value of those innings are immense over the season. The value of Chris Devenski down the stretch in these types of games has been ridiculously high."
Brian McTaggart has covered the Astros since 2004, and for MLB.com since 2009. Follow @brianmctaggart on Twitter and listen to his podcast. This story was not subject to the approval of Major League Baseball or its clubs.