McHugh gives Astros badly needed start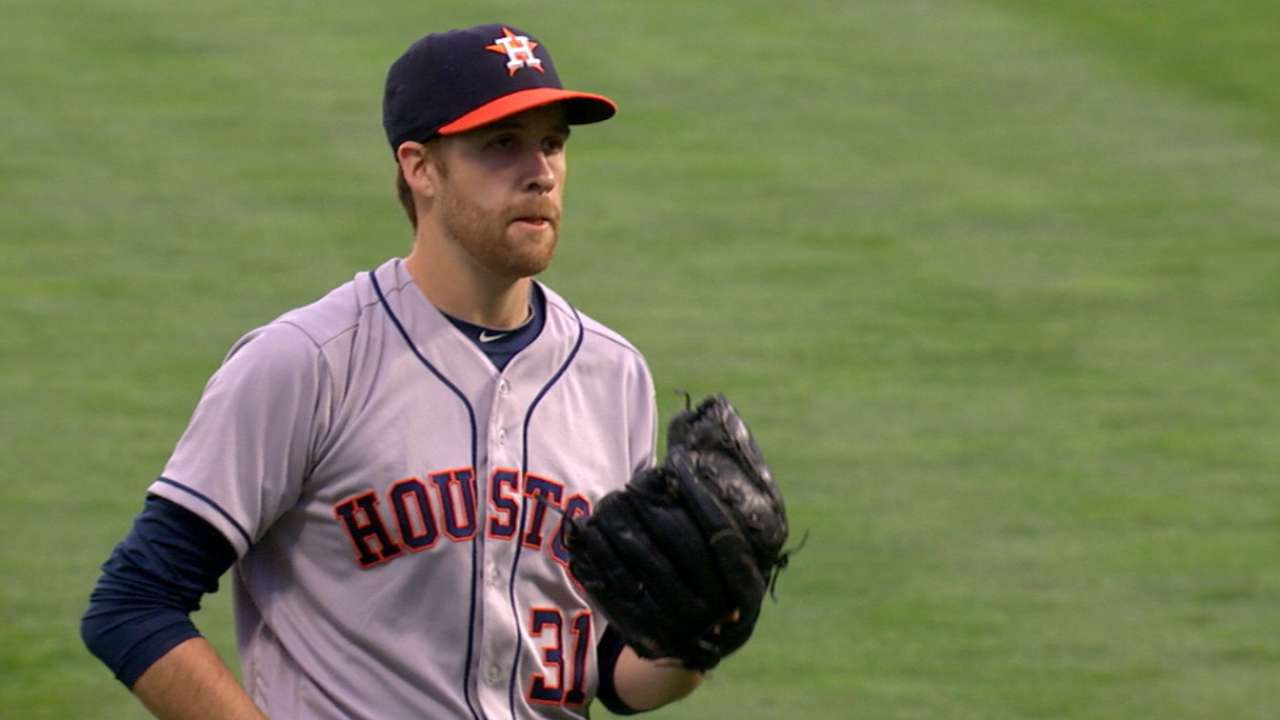 SEATTLE -- Collin McHugh burst onto the scene more than two years ago with a memorable 12-strikeout performance against the Mariners at Safeco Field in his Astros debut, making him a fixture in the Astros' rotation. That also was a sign of things to come for the right-hander against Seattle.
McHugh continued his domination of the Mariners by throwing seven scoreless innings in Friday's 6-0 win in the opener of a crucial three-game series between a pair of clubs chasing the American League Wild Card. McHugh is 6-0 with a 1.36 ERA in his first six starts at Safeco Field.
"We just match up pretty well with them," he said. "Whether it's pitch mix or pitching in this park, there are times I've been able to throw against this team and have some success. I don't know what the formula is."
More importantly for the Astros, McHugh gave the team the longest outing by a starting pitcher since Dallas Keuchel went seven innings on Aug. 27. Since then, it's been rough going for Astros starters, who entered Friday with a 7.17 ERA in the month of September.
With the bullpen taxed because of the extra work, McHugh delivered a much-needed pick-me-up.
"I talked to [Joe Musgrove] the other day and I told him, 'These last four starts, you really have to empty the tank. Whatever you have left, you have to treat every one as a must-win grind,'" McHugh said. "When you're going into a playoff push like this, kind of having a little bit of experience like last year shows you what it takes and how important and crucial every game is. I think it works in our advantage to have that kind of fresh on our minds."
McHugh (11-10) had faced the minimum through three innings before giving up a leadoff single to Nori Aoki to start the fourth. Kyle Seager's two-out single in the seventh was the only other hit off McHugh, who is 4-0 with a 1.08 ERA against the Mariners this year.
"It all starts and ends with his breaking ball," Astros manager A.J. Hinch said. "When he can throw it for a strike, he's really good. And he has a lot of confidence in it. They've got to deal with the front-to-back component of the speed. He has some put-away breaking balls in him, he has some first-pitch strikes, and that makes his fastball better and cutter better. He was locked in tonight with his breaking ball."
McHugh said the key was fastball command.
"I was able to get ahead ... [then able] to work toward the edges and throw your off speed stuff when you're ahead in the count," he said. "I feel like we've seen these guys 1,000 times at this point. That's going to be the same thing down the stretch, with these guys, the Angels, Oakland. We know each other really well, and it's just a matter of execution at this point."
Brian McTaggart has covered the Astros since 2004, and for MLB.com since 2009. Follow @brianmctaggart on Twitter and listen to his podcast. This story was not subject to the approval of Major League Baseball or its clubs.