Keuchel: Series vs. M's to determine next step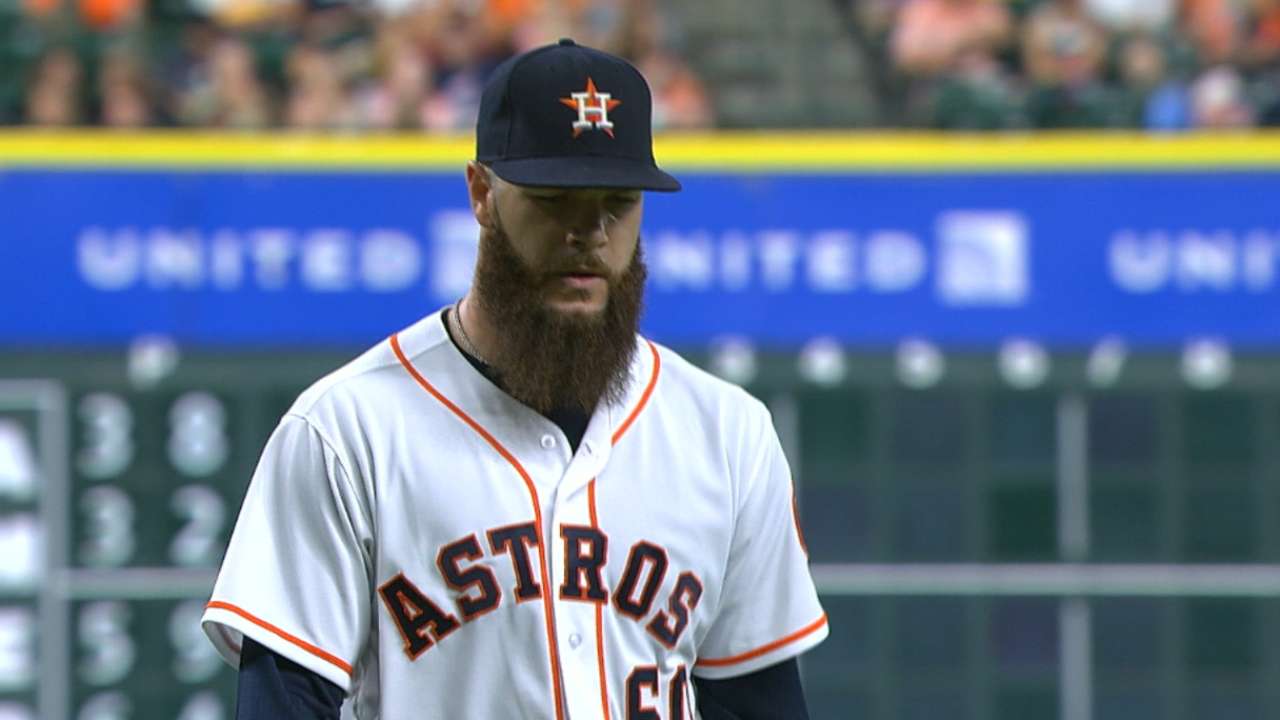 SEATTLE -- Astros left-hander Dallas Keuchel, who has been dealing with left shoulder inflammation for a couple of weeks, said Friday he won't try to rehab his injury if Houston falls further back in the American League Wild Card race.
Keuchel, who hasn't pitched in a game since Aug. 27 and hasn't thrown a baseball in nearly two weeks, said this weekend's series against the Mariners at Safeco Field will go a long way in determining which path he takes. If the Astros, who began Friday four games out in the AL Wild Card race (two games behind Seattle), win the series, Keuchel said he'll begin throwing Monday in Oakland in an effort to get back on the mound for the postseason.
The lefty admitted prior to Friday's game that he was told to rest the shoulder for four to six weeks, but he wants to pitch if the Astros rally to make the postseason. Keuchel said the inflammation is where the shoulder bone meets the ball and socket of his shoulder, and it bothers him at the end of his throwing motion.
"We're going to take this series and kind of see where we're at on Sunday," he said. "I've been pushed back a few days and just kind of figure out the plan. The body's feeling better, and if we're still in this thing after the trip [to Seattle], I'd probably like to ramp it up a little bit and start doing my shoulder exercises again and get into a throwing routine.
"Obviously, if we're out of it, there would be no need to do any harm to my shoulder, so at that point we'll probably shut it down."
Keuchel, the reigning AL Cy Young Award winner, has had a disappointing season (9-12, 4.55 ERA), but he had pitched well in the second half of the season, going 6-3 with a 3.47 ERA in his past 12 starts. Injuries to Keuchel and Lance McCullers (elbow) have punched a big hole in Houston's rotation for the stretch drive.
"At this point, it's kind of limbo because of the recommendation of rest for the recovery process, but at the same time, I'm a competitor," Keuchel said. "I want to pitch. If I feel good, I can only assume my body's going to cooperate. It's tough, but yeah, we're going to take this series and see where we're when we go to Oakland [on Monday]. I fully expect that if we win this series, I'll be playing catch in Oakland."
Keuchel has been doing some shoulder exercises, but otherwise is just keeping his body in shape while he waits.
"The team will let me know, how we play here," he said. "Obviously, [the Mariners] are playing well and if we lose two out of three or get swept, the chances of us leapfrogging them are pretty slim at this point. But if we win the series and get a sweep, we're right back to contention -- not that we're out of contention -- but we're in a better position if we win the next four series. This one is the biggest one, obviously, with the Mariners playing well."
Brian McTaggart has covered the Astros since 2004, and for MLB.com since 2009. Follow @brianmctaggart on Twitter and listen to his podcast. This story was not subject to the approval of Major League Baseball or its clubs.