Marwin's versatility key to Astros' victory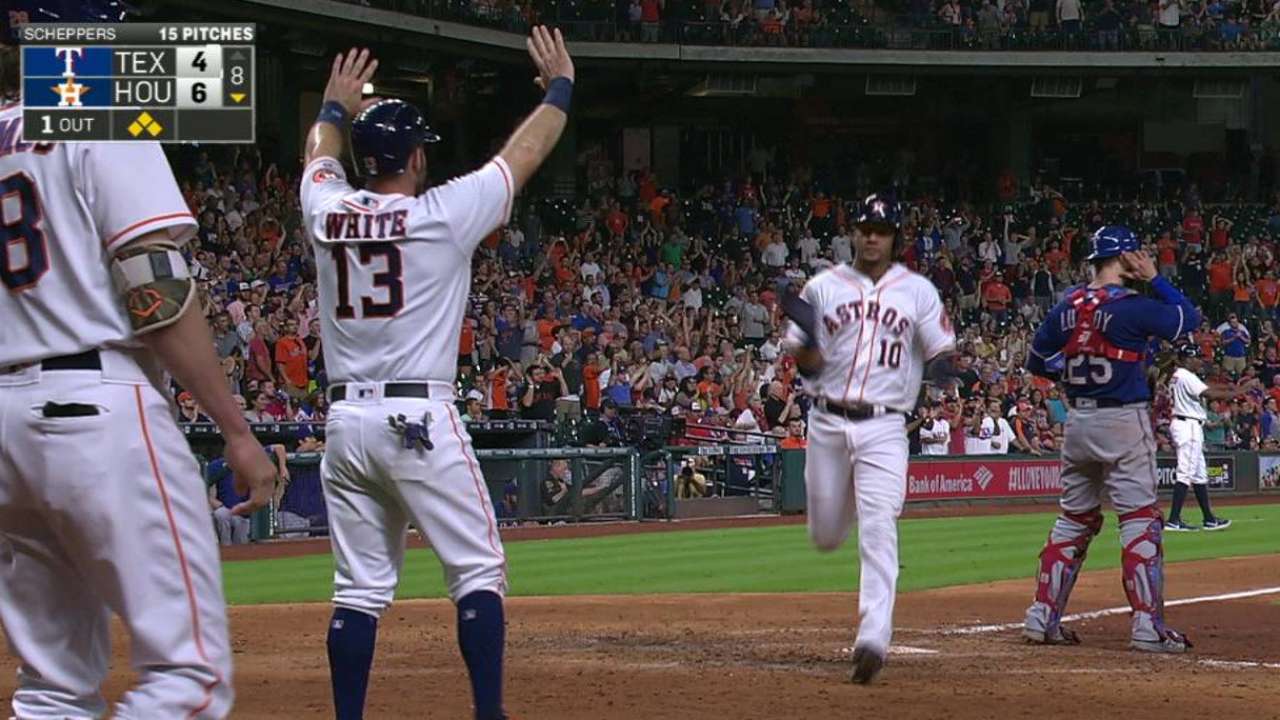 HOUSTON -- It was a weird night for the Astros, who saw two of their best players -- Jose Altuve and Alex Bregman -- leave the game with injuries, but Houston was able to stem the tide in Wednesday's 8-4 win over the Rangers thanks in part to one of its most versatile players.
Marwin Gonzalez had a busy night, playing three infield positions and hitting a dagger of a two-run single in the bottom of the eighth to clinch Houston's win.
"He's been stuck at first base quite a bit, but that doesn't speak to his versatility," manager A.J. Hinch said. "When something happens, Marwin can fill in admirably."
It all started when Altuve left in the fifth inning with discomfort in his oblique. Tyler White took over at first when Gonzalez moved to second.
"I'm prepared to do that," Gonzalez said. "That's my role on the team. I have to cover it like any spot."
Gonzalez then moved to third after Bregman left in the sixth with discomfort in his hamstring. Rookie Tony Kemp took Gonzalez's spot at second, but not for long.
In the top of the eighth, Hinch elected to put designated hitter Yulieski Gurriel at third, scrapping the DH role for the rest of the game, so Gonzalez took Kemp's place back at second.
"I didn't have a lot of options," Hinch said. "We had players going down left and right. I wanted to put our best defense in when we had the lead. In September you have a few more bodies on the bench, so I wasn't so much worried about the pinch-hit component as much as I was just putting the best defense behind [the pitching staff]."
Gonzalez made an impact with his bat in the ensuing half-inning. The Astros, who had blown a ninth-inning lead to the Rangers the night before, put up a single and double in the bottom of the eighth while up 5-4.
But Rangers reliever Tanner Scheppers elected not to pitch to Evan Gattis in the ensuing at-bat and instead intentionally loaded the bases for Gonzalez.
"I wasn't expecting that, since he's a righty, but maybe they were looking for a double play," Gonzalez said. "I was just trying to put the ball in play, a fly ball, whatever, and I got a hit in. It was better."
Gonzalez made Scheppers pay, sneaking a single past the outstretched glove of second baseman Rougned Odor, scoring White and Gurriel and essentially clinching the victory.
"Just a really good player to have [if you have to] troubleshoot, because not only can he play the eight different positions, he can play them very well," Hinch said. "There aren't very many players that can handle that kind of responsibility and be good at it, so I'm very thankful that he's on our club."
Jordan Ray is a reporter for MLB.com based in Houston. This story was not subject to the approval of Major League Baseball or its clubs.