Astros, Cubs pause to remember 9/11 victims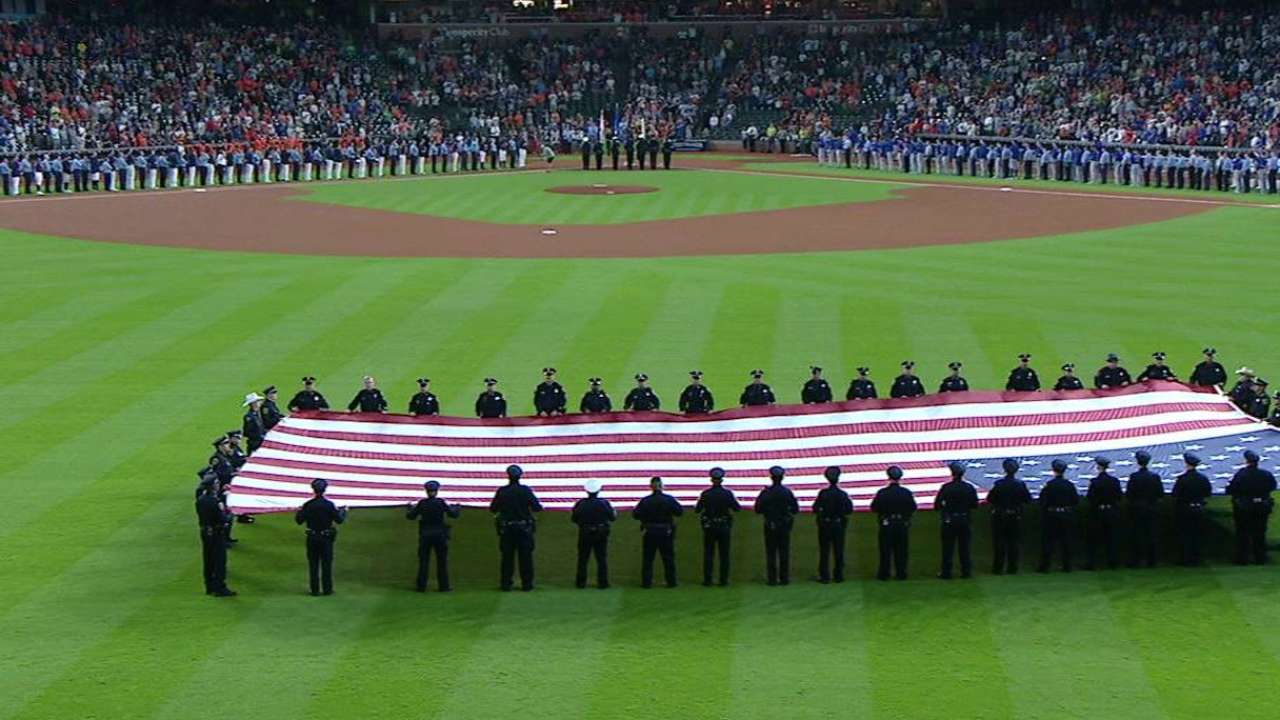 HOUSTON -- Fifteen years after the terrorist attacks of 9/11, the Astros and Cubs remembered the event prior to Sunday's game at Minute Maid Park. Members of the Houston Police Department, Harris County Sheriff's Office and Houston Fire Department lined up alongside players from both teams for the national anthem, while first responders presented the colors and sang along.
Astros manager A.J. Hinch was playing for the Royals on Sept. 11, 2001, and was sleeping in the basement of former teammate Mike Macfarlane's house when his wife called him to tell him what had happened.
"It's certainly become a day that means a lot to the people in this country and the people that have been in the game and around the game," Hinch said. "It extends beyond the game. That's where it touches every fan, every player. Everybody that's involved in being in the U.S. knows the significance of September 11."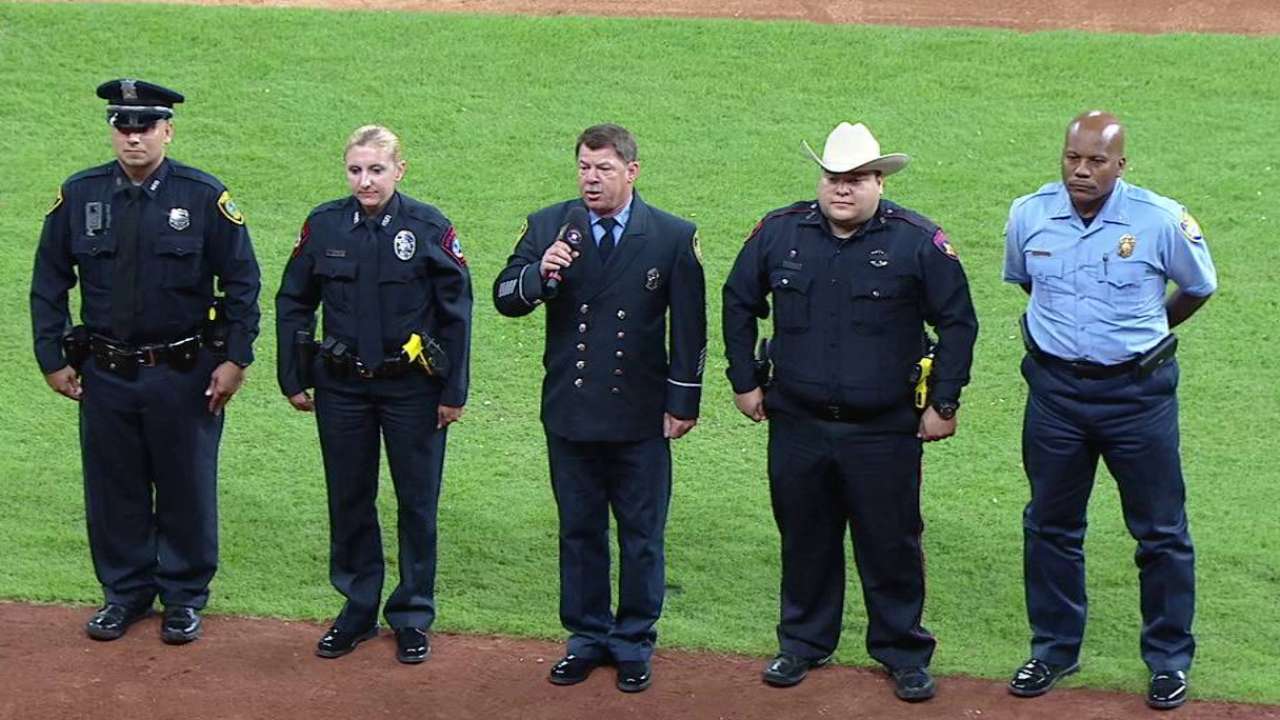 Astros catcher Jason Castro knows that significance more than anyone. He came from a family of firefighters in California. Castro's grandfather, father and brother were all firefighters, and the loss of hundreds of firefighters in the World Trade Center hit very close to home for him as a freshman in high school.
"It's pretty crazy to think about that it's been 15 years," Castro said. "Firefighters and first responders have sacrificed a lot for their communities to keep people safe, so it's definitely a little bit more close to home to me, having that kind of personal relationship with firefighters."
Like Castro, Cubs pitcher Jake Arrieta was in school that day and was able to listen to coverage on the radio with his mom on the way to school.
"I get in the class, and there's just silence," he said. "My teacher spoke for a while about what was going on, and it was really hard to process what was happening as a 14-year-old. You could tell people didn't really know what to do or what to say."
Cubs catcher David Ross was playing at Double-A Jacksonville and could still recall the memories of seeing people running out of the buildings while first-responders charged inside to save those who were trapped.
"When you think about the TV and all the smoke that was around and people running toward [the buildings], that was blowing my mind at the time," he said.
The Astros and the rest of baseball didn't play games for a week following the attacks, and the sight of President George W. Bush throwing out the first pitch at Yankee Stadium prior to Game 3 of the 2001 World Series a few weeks later was an indelible memory, especially for native New Yorkers like Hall of Fame second baseman Craig Biggio.
"How cool was it when the president of the United States says, 'I'm throwing out the first pitch and here you go. We ain't afraid of you guys,'" he said. "It was pretty cool moment in life, not just baseball."
Brian McTaggart has covered the Astros since 2004, and for MLB.com since 2009. Follow @brianmctaggart on Twitter and listen to his podcast.

Jordan Ray is a reporter for MLB.com based in Houston. He covered the Cubs on Sunday.

This story was not subject to the approval of Major League Baseball or its clubs.