Astros blanked but keep pace in Wild chase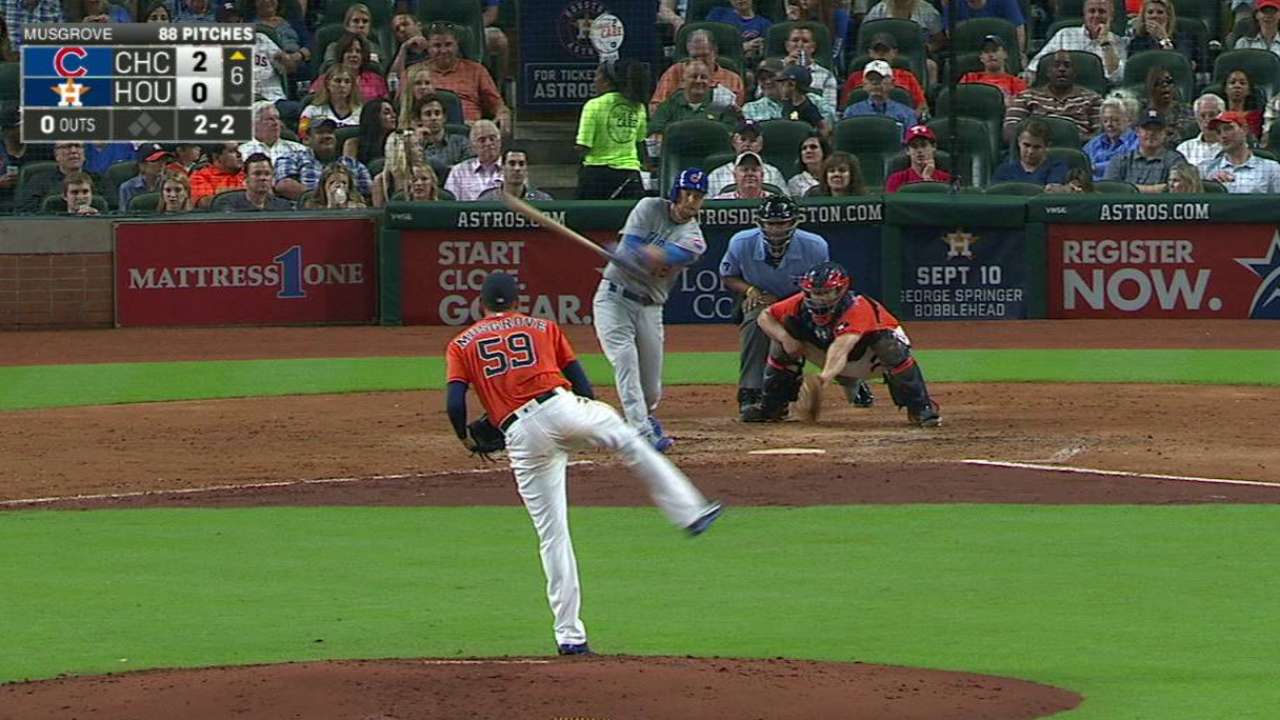 HOUSTON -- He could have been an Astro, and on Friday night, Cubs third baseman Kris Bryant served up a reminder of the kind of impact he could have had at Minute Maid Park.
Bryant, taken by the Cubs as the No. 2 overall pick in the 2013 Draft after the Astros passed on him with the top pick, clubbed a two-run homer in the fifth inning to back seven scoreless from Jon Lester to send the Cubs to a 2-0 win over the Astros, lowering Chicago's magic number to 7.
"It still feels like we're just right in the middle of the season, but we feel like we're getting to baseball that actually really matters," Bryant said. "Anything can happen in the full season, so you've got to get there first, and we certainly feel like we're playing really good baseball right now."
The Astros have lost three in a row and remain 2 1/2 games back in the race for the second American League Wild Card spot behind both the Orioles and Tigers, who drew even on Friday with Detroit's 4-3 win over Baltimore.
"We did have some chances," Astros manager A.J. Hinch said. "Lester's a good pitcher and he has a way of finding himself out of these jams. We did get the leadoff runner on about half the innings against Lester but couldn't quite get the big hit. We stayed very aggressive on the bases, we stole a few bases, we made one out on the base at third, but overall it was a really well-pitched game on both sides. It was the difference being a two-out walk and a spinning breaking ball and we lose, 2-0."
The win gives the Cubs at least 90 victories for the 24th time in club history and for the second consecutive season. It's also the first time they have recorded consecutive 90-win seasons since a three-year run in 1928 (91), 1929 (98) and 1930 (90).
MOMENTS THAT MATTERED
Bryant blasts one: After Dexter Fowler's leadoff triple, the Cubs were held without a hit until Bryant boomed his two-run shot -- No. 37 of the season -- a Statcast-projected 370 feet to the Crawford Boxes. In his debut at Minute Maid Park, Bryant went 1-for-3, notching his 92nd and 93rd RBIs of the season with the homer, and added a walk.
"Pretty bad first at-bat," Bryant said. "Settled down with the walk and focused on seeing the ball."
• What might have been: Bryant plays in Houston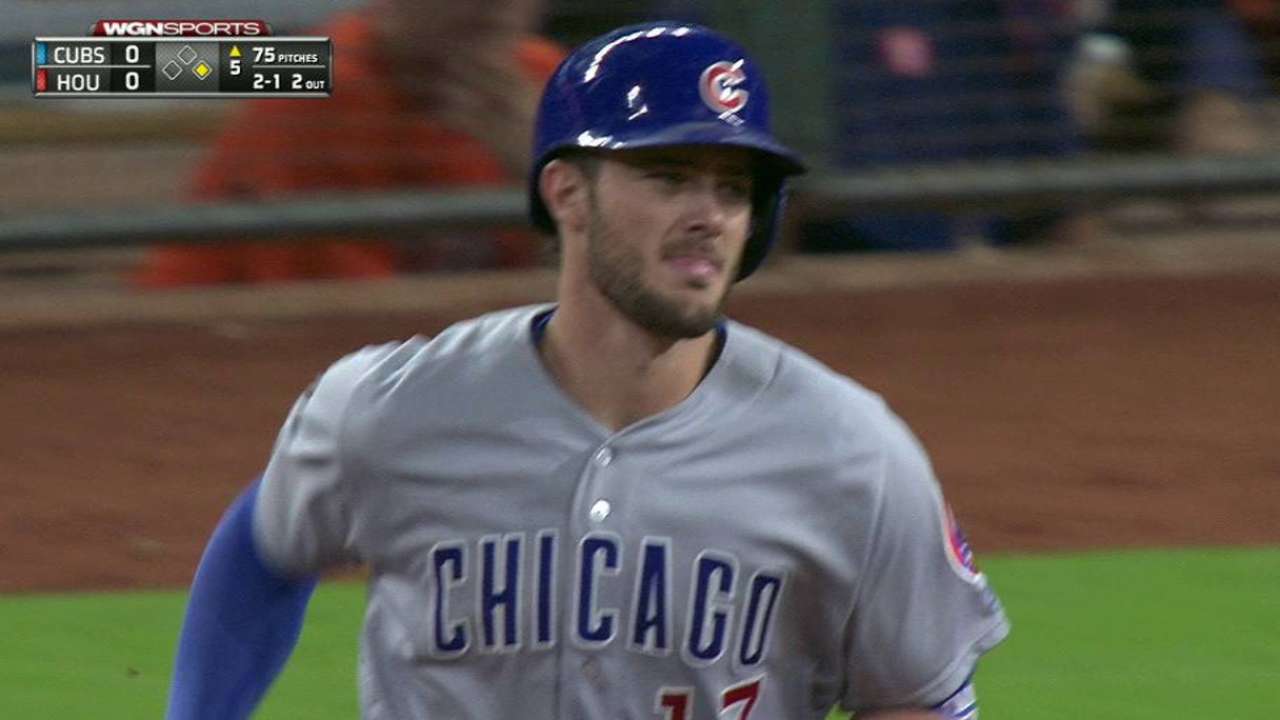 Wasted chances: The Astros had the leadoff hitter on base four times and managed no other baserunners in each of those innings -- the second, fourth, fifth and sixth. Alex Bregman was thrown out trying to steal third in the fourth, Evan Gattis was erased on a double play in the fifth and the Astros wasted Teoscar Hernandez's double in the sixth. Houston stranded runners at second and third in the seventh, when Lester struck out Colby Rasmus.
"[Lester] did a good job tonight," Bregman said. "He threw a lot of strikes, kept us off balance. We really didn't get anything going. We had a few opportunities, but not too many. Not as many as we'd like." More >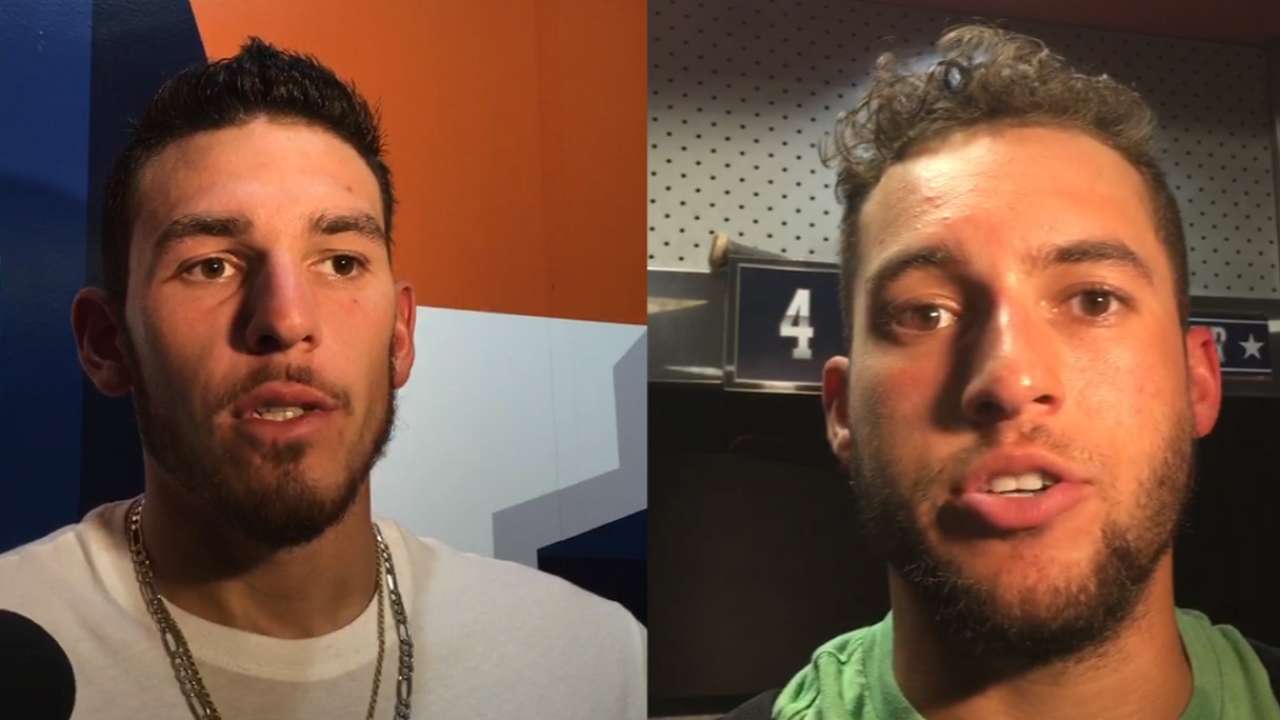 Lester leaves 'em on: Despite surrendering leadoff hits in four of his seven scoreless innings, Lester never let the Astros cross home plate en route to a dominant day. The 32-year-old lefty notched seven strikeouts and no walks, while holding the Astros to 0-for-5 with runners in scoring position. It was his eighth consecutive quality start and third scoreless outing since July 29.
"He doesn't cower from [big moments]," Cubs manager Joe Maddon said. "He absolutely loves it. That's why you sign a guy like this -- for these particular moments. When you watch him play in this moment, you can see he absolutely relishes it. He wants to be out there."
Musgrove goes six: By throwing six innings, Musgrove became the first Astros starter to pitch that many since Collin McHugh on Aug. 30. That snapped a streak of eight consecutive games in which an Astros starter didn't make it to the fifth. The starters had an 8.37 ERA in that span before Musgrove's quality start.
"Love what I saw from Musgrove," Hinch said. "The two-out walk [before the Bryant homer] came back to bite him. He got away with it when he walked Bryant with two outs as well [in the third]. A couple of two-out walks will be the learning lesson for him. I thought he battled really hard to finish his own outing and was very impressive."
"We did some nice things offensively," Maddon said. "Their pitcher's got nice stuff. Had never seen him before. ... Video doesn't really help. It's the eyeball test. I thought we had better at-bats as the game progressed."
QUOTABLE
"Now I can say I saw 104 (mph). I'm looking forward to facing him again," -- Bregman, on facing Cubs closer Aroldis Chapman for the first time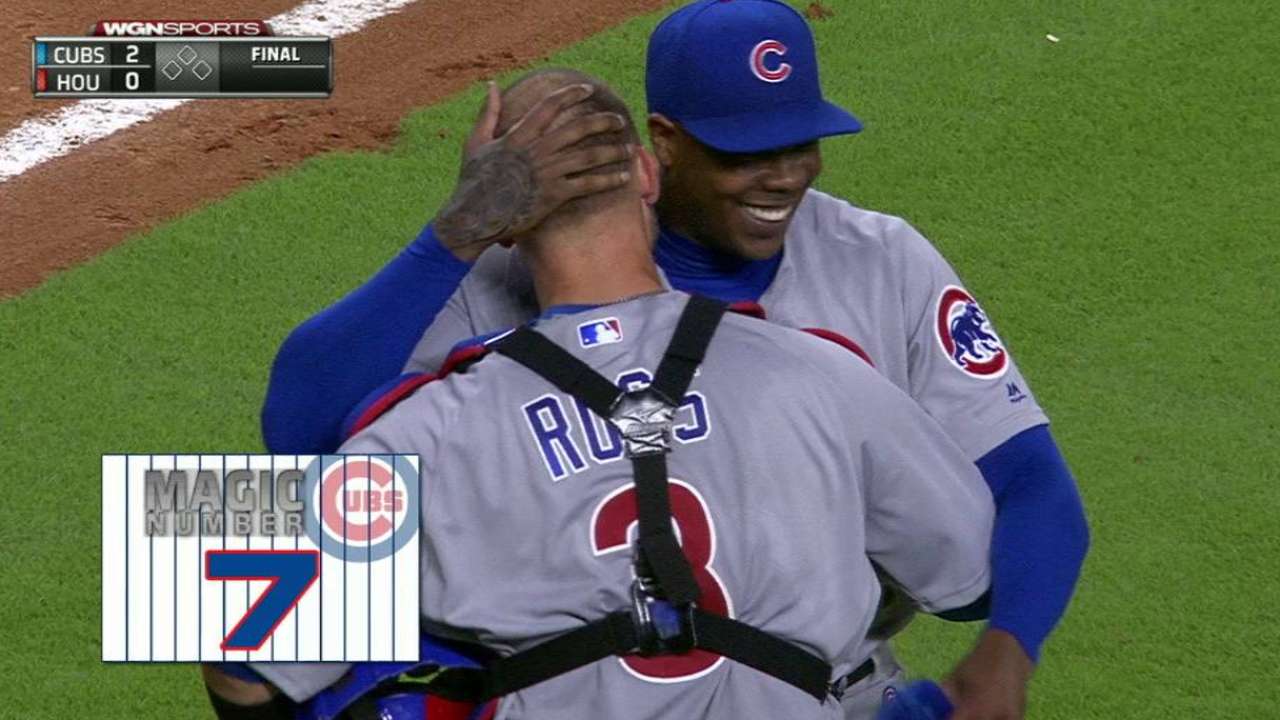 SOUND SMART WITH YOUR FRIENDS
Bryant's 37 home runs this season are the most by a Cubs player since Aramis Ramirez hit 38 in 2006.
WHAT'S NEXT
Cubs: John Lackey will take the mound on Saturday at Minute Maid Park at 12:05 p.m. CT. Lackey, who was born in Texas, has a 2-1 record and 4.37 ERA in four career starts against the Astros, striking out 21 in 22 2/3 innings.
Astros: McHugh will get the start for Saturday's 12:05 p.m. CT game against the Cubs at Minute Maid Park. McHugh is 2-4 with a 7.28 ERA in his last eight starts, allowing 58 hits in 38 1/3 innings.
Watch every out-of-market regular-season game live on MLB.TV.
Brian McTaggart has covered the Astros since 2004, and for MLB.com since 2009. Follow @brianmctaggart on Twitter and listen to his podcast.

Jordan Ray is a reporter for MLB.com based in Houston and covered the Cubs on Friday.

This story was not subject to the approval of Major League Baseball or its clubs.