MLB.com Columnist
Richard Justice
Bregman: From slow start to fast and furious
Astros' Hinch takes just the right tack with prized rookie at outset of career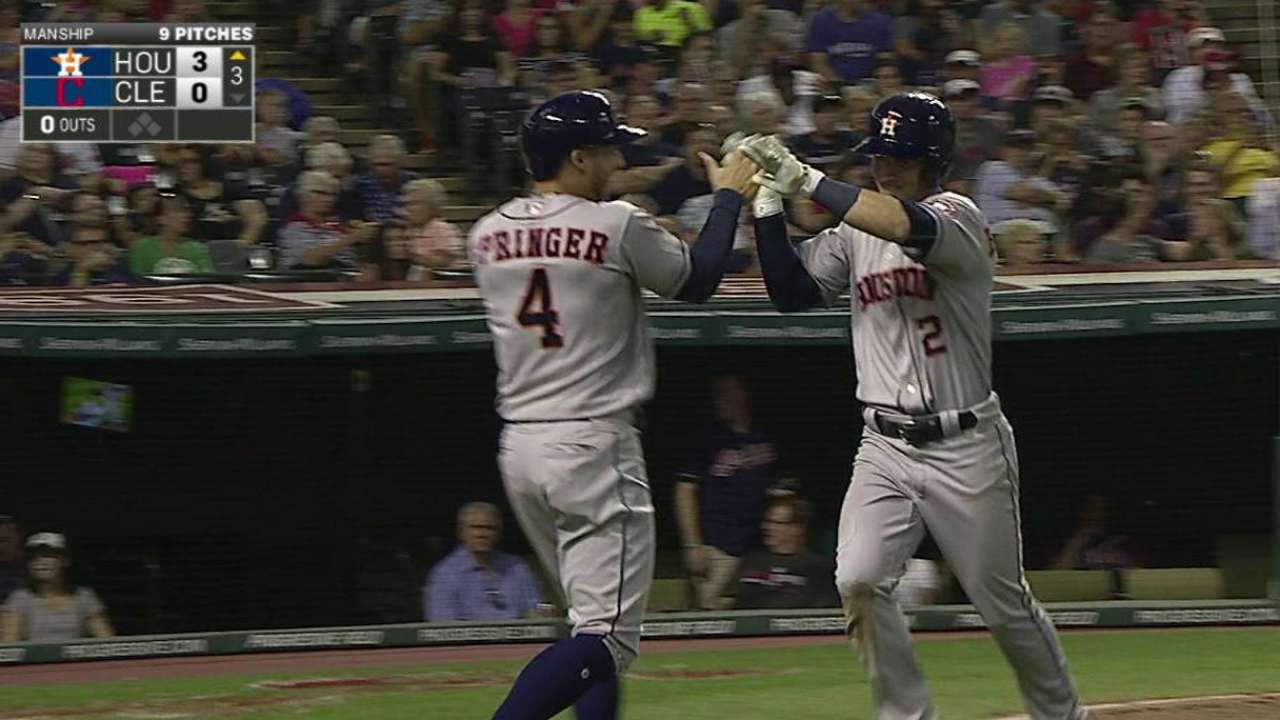 When Alex Bregman was at his lowest, Astros manager A.J. Hinch did two things that seem absolutely brilliant in hindsight.
Today, Bregman is one of baseball's hottest hitters, having batted .333 the past month, with 10 doubles, seven home runs and 26 RBIs in 28 games.
In this stretch, Bregman leads all Major League rookies in RBIs and doubles. Only Yankees catcher Gary Sanchez (11) has more home runs.
Back to the beginning.
First, Hinch summoned Bregman to his office on July 31 and told him he was moving him from sixth or seventh in his batting order to second.
Considering that Bregman had gone hitless in 17 at-bats in his five Major League games, a promotion didn't seem to be in order.
Hinch saw it another way.
"This move reflects what our organization thinks of you," he told Bregman.
In other words, a shot of confidence.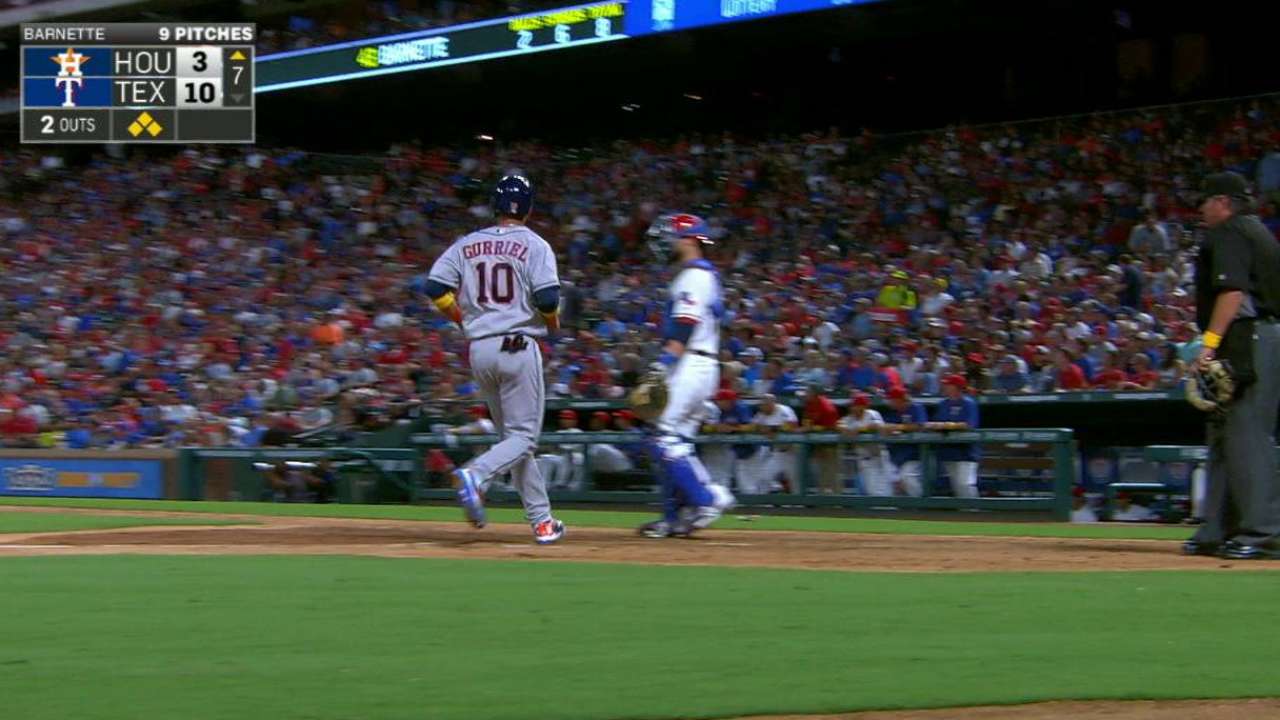 Bregman, 22, had been the second overall pick of the 2015 Draft, and Astros fans had been vocal on social media in wondering what was taking Houston so long to bring him up.
Expectations were sky high. And then no hits in 17 at-bats.
Hinch saw a young player who hadn't looked overmatched at the plate, a kid who was working deep counts and hitting some balls hard.
Hinch figured that moving Bregman up in the batting order, putting him behind George Springer and in front of Jose Altuve and Carlos Correa might be a sweet place to get things going.
Only it didn't. Bregman went 2-for-21 over his next five games, and after 10 games, he was 2-for-38 and hitting .053.
During that time, Hinch had another chat with Bregman.
"You know," the manager said, "you've got to be really lucky to do what you've done."
Bregman smiled.
"I'm dead serious," Hinch told him. "Someday, you can tell the young players how you started your career."
Hinch's message was to let Bregman know that the game can be cruel and that if he kept doing the things that had gotten him to the big leagues, he'd be fine.
On Aug. 6, Hinch once more put Bregman between Springer and Altuve on his lineup card.
When reporters quizzed Hinch on what kind of mechanical adjustment the kid needed to make, the manager said it was way simpler than that.
"Alex just needs to get some hits," he said. "When that happens, he'll be fine."
That how it has played out.
Bregman got three hits on Aug. 6 in a 3-2 loss to the Rangers. He got another the next game and another the game after that.
That three-hit game unlocked everything. Bregman hit in 13 of his next 14 games and has hit ever since.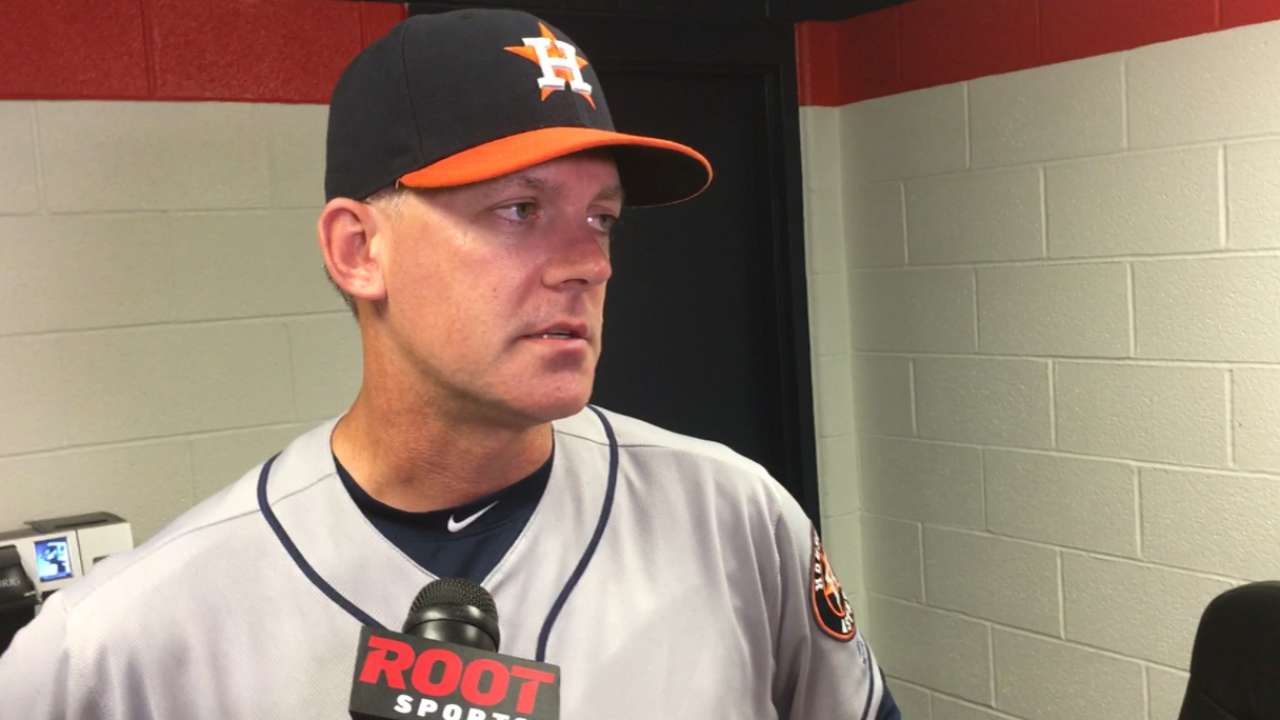 All of a sudden, Bregman is pretty much everything the Astros hoped he would be when they gave him a $5.9 million signing bonus and called him up after just 146 Minor League games.
Since then, Bregman's name is dotted across the leaderboard: first among rookies in runs, second in doubles and fourth in OPS.
When Houston stood pat at the non-waiver Trade Deadline, general manager Jeff Luhnow believed his team would get two internal impact additions in Bregman and Cuban signee Yulieski Gurriel.
That's what has happened. Gurriel, 32, is hitting .306 and has been every bit as good as the Astros thought he'd be when they made a $47.5 million investment in him.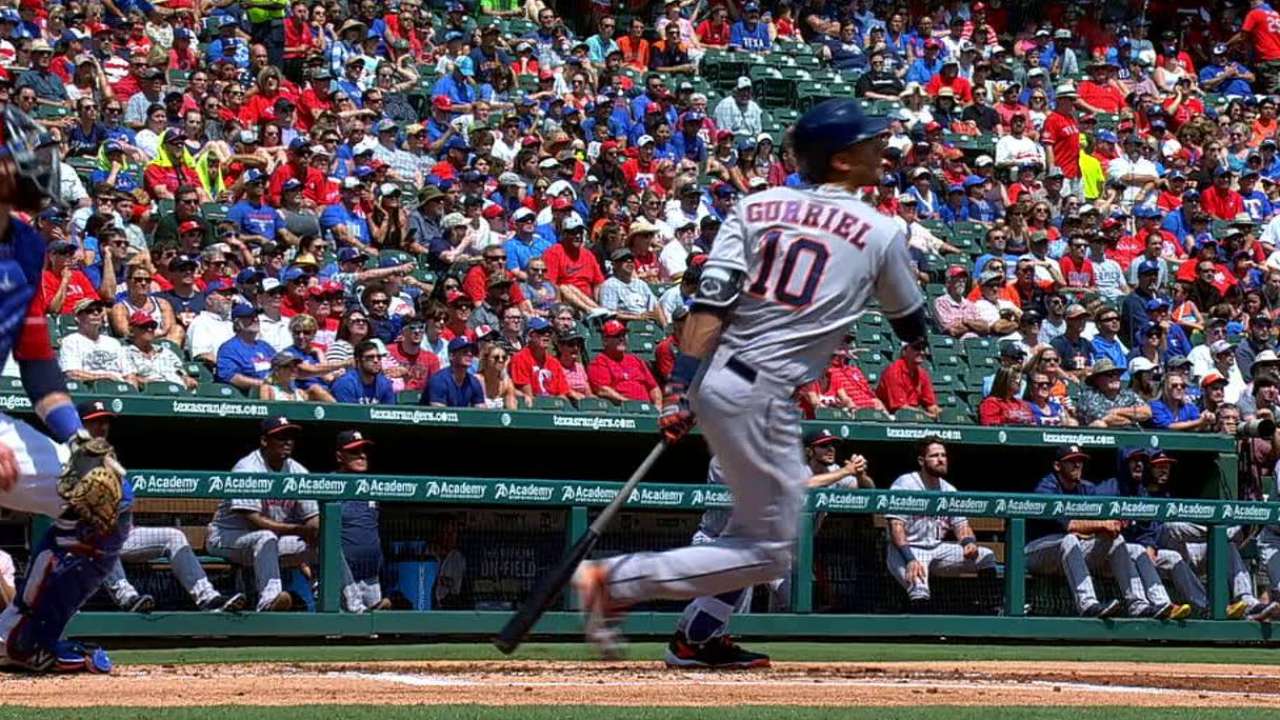 Bregman has his average up to .266 after getting on base three times with a single, walk and a home run Monday in a 6-2 victory in Cleveland.
In a season of wild swings from hot to cold and back again, the Astros have now won 12 of 16, and at 73-64, they are two games behind the Orioles and Tigers in the race for the American League's second Wild Card berth.
They're 2-2 in a stretch of 13 consecutive games against first-place teams. If they emerge from it still in contention, they'll be nicely positioned for their second straight postseason appearance.
Bregman has done his part in this latest stretch, giving depth to a lineup that has been anything but consistent.
All that matters is what happens these final four weeks. Bregman, a little more than a year after playing his last game at LSU, is in the middle of all of it.
That 2-for-38 start must seem like a lifetime ago. Someday when Bregman tells young players how it all began for him, he can also tell them how quickly it all turned around.
In the end, Bregman has been every bit as good as advertised, and that's all that matters in this final month.
Richard Justice is a columnist for MLB.com. Read his blog, Justice4U. This story was not subject to the approval of Major League Baseball or its clubs.