Pace of game shakes Musgrove, leads to early hook
Starter laments not slowing things down; Astros continue to tax bullpen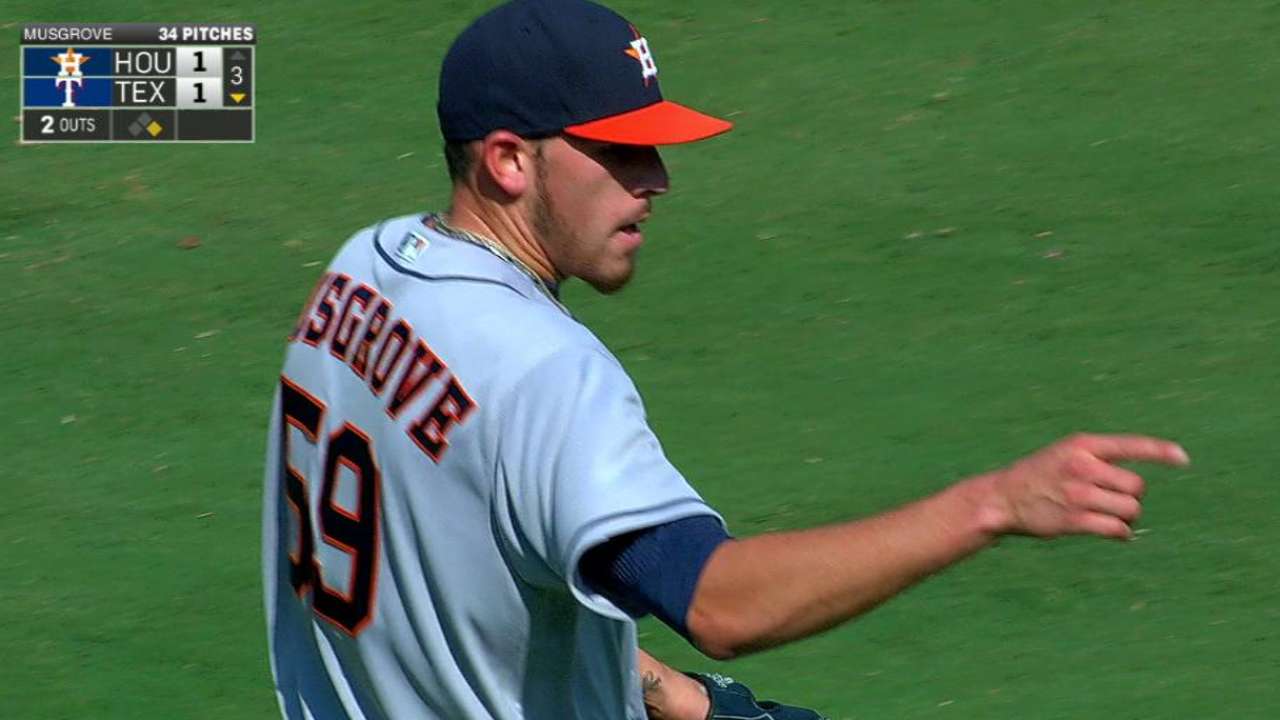 ARLINGTON -- With September roster expansion, Astros manager A.J. Hinch has had some extra arms at his disposal in the bullpen. He didn't think he'd need to use them as much as he has, though, against the Rangers.
Hinch was forced to go to the bullpen early for the second straight day, as right-hander Joe Musgrove lasted just 4 1/3 innings in Saturday's 12-4 loss, allowing five runs on eight hits, including two home runs. Doug Fister was only able to go 3 2/3 innings in Friday night's loss.
"It's less than ideal," Hinch said.
Musgrove has allowed at least five runs in three of his six starts in his rookie year. But he's given up two or fewer runs in his other three starts, along with a relief outing. On Saturday, Musgrove's struggles stemmed from not being on the same page with catcher Jason Castro.
"I let the pace of the game control my selections at certain points in the game, and it hurt me," Musgrove said. "Not that Castro was wrong with the selection, but I had something different in mind and I should've slowed the game down and should've shaken him off."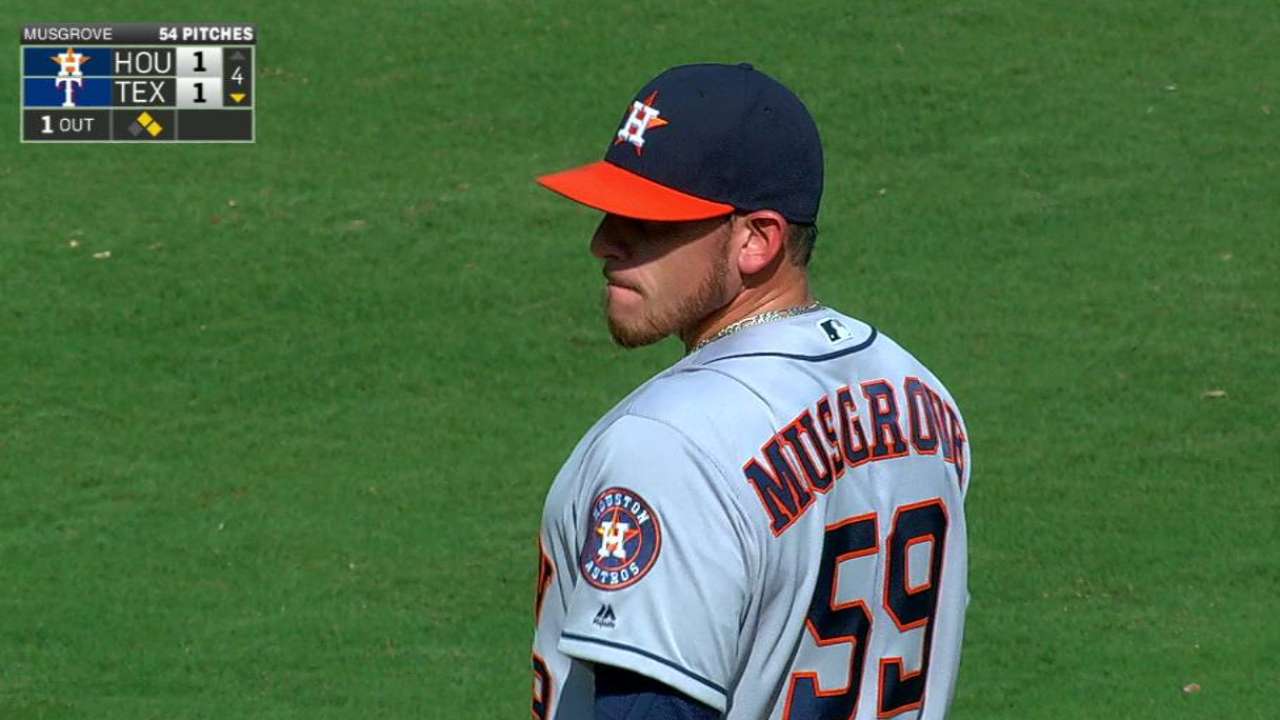 Musgrove's outing started to unravel when he allowed a two-out, two-run single to Mitch Moreland in the fourth. He then gave up a two-run homer to Nomar Mazara, which gave the Rangers a 5-1 lead.
"They don't walk, they're looking to swing the bats," Musgrove said of the Rangers' hitters. "They're selective and they're going to get a good pitch in the zone to hit. With the power and the chemistry they have there -- they're a well-rounded team."
After allowing a one-out walk to Carlos Beltran and a single to Adrian Beltre, Musgrove was lifted for right-hander James Hoyt.
"I think he took a couple steps forward, then a step back, which is what I told him on the mound," Hinch said. "I loved the competitiveness. [He had] a couple mistakes and knocked him out of the game pretty early. That's sort of the way it goes with some of these games here when you're facing this offense."
The Astros closed the gap a little with Evan Gattis' solo home run in the sixth inning. But they didn't score again until Jake Marisnick hit a two-run homer in the ninth. By that time the Rangers had already broken the game open. Texas scored two in the seventh, and then five more in the eighth off right-hander Brady Rodgers, who was making his Major League debut.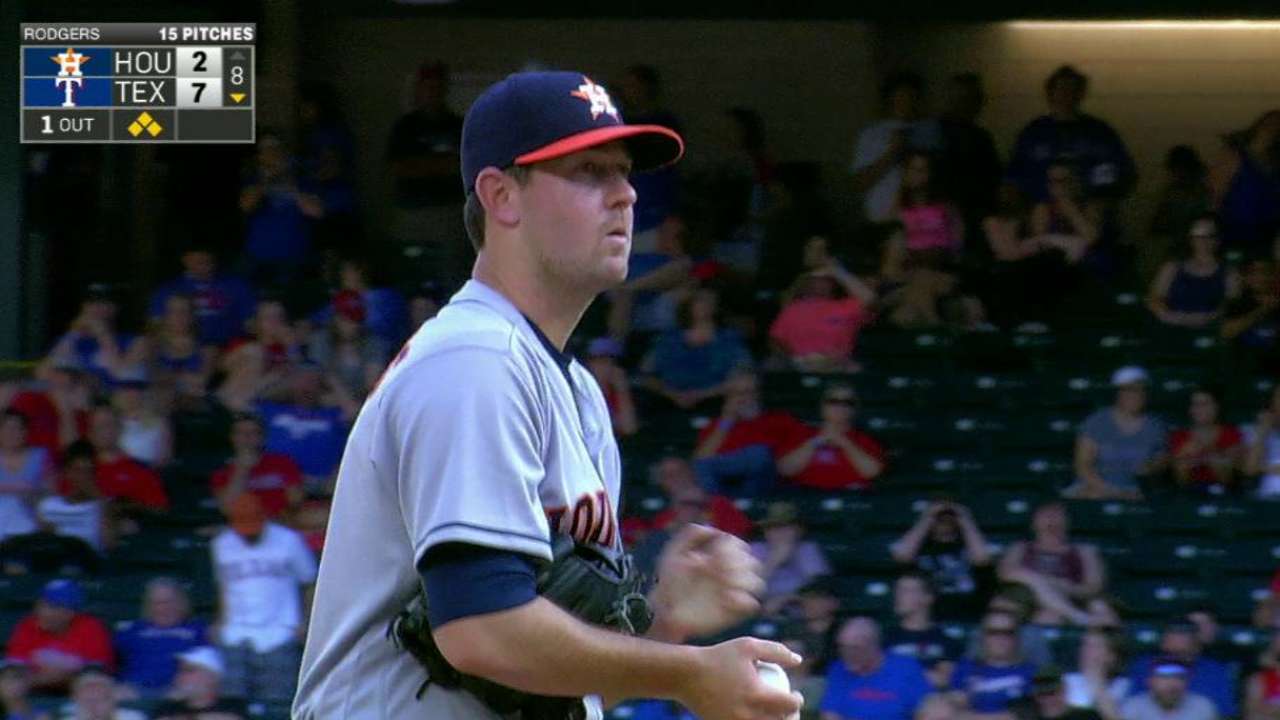 "There's a lot of emotion that goes into a debut, and I hated that it ended for him the way that it did," Hinch said of Rodgers. "He was trying to make pitches and he tried to mix his pitches. It was their day and they had their way with him with pitches that were elevated."
Ryan Posner is a reporter for MLB.com based in Texas. This story was not subject to the approval of Major League Baseball or its clubs.