Astros trying to let Marwin's hamstring heal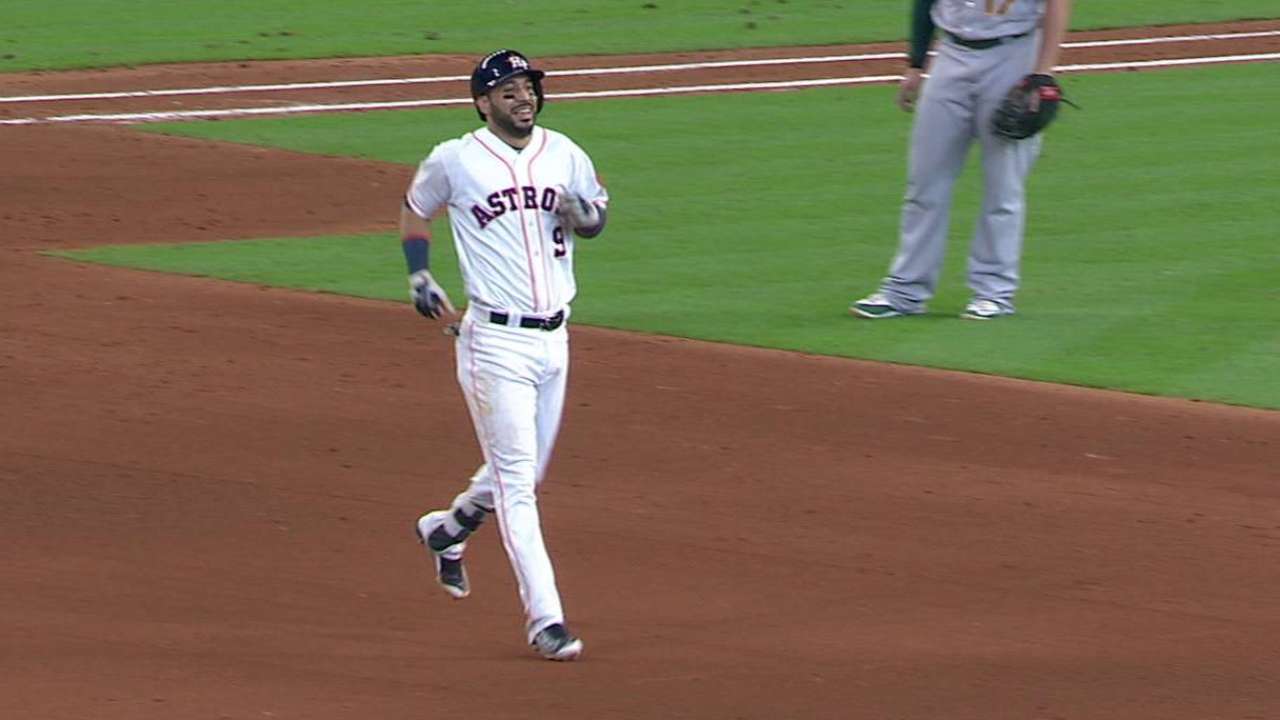 ARLINGTON -- Marwin Gonzalez remained out of the Astros' lineup on Saturday, and he remains day to day as he continues to deal with a right hamstring injury he sustained on Wednesday against the A's.
Gonzalez went through pregame workouts before Friday's and Saturday's games, and Astros manager A.J. Hinch said he responded "OK" to the workouts. Hinch did not have any further updates, though.
Gonzalez would have been available in an emergency situation for Friday's game. He was the last position player left on the bench, and after Hinch moved designated hitter Evan Gattis to catcher in the ninth -- surrendering the designated hitter position -- he said Gonzalez would've pinch-hit for the pitcher if necessary.
"He was going to hit, but not run as hard -- full speed," Hinch said. "For us, when the emergency type role played out, he was going to be the emergency guy."
Gonzalez was scheduled to serve in an emergency-type role for Saturday's contest. The Astros have extra depth in the infield with the addition of Tyler White because of September roster expansion.
"We'll do the same thing today and try to get incrementally better and I'll use [Gonzalez] if I can, or if I need him," Hinch said. "But I'm going to try and stay away from him as long as possible until he feels better."
Gonzalez hasn't made a trip to the disabled list this season, but has dealt with injuries to his left ankle and right hand, along with the hamstring, throughout the year.
Worth noting
• The Astros used five relievers in Friday's loss, but Hinch said right-hander Chris Devenski was the only one who would not be available on Saturday. Devenski threw a scoreless eighth inning on Friday.
• Right-hander Brad Peacock threw two innings with Triple-A Fresno on Friday. Hinch said he threw the two innings with the anticipation he could possibly join the Astros on Monday in Cleveland for their three-game series against the Indians.
• The Astros elected to wait on calling up catcher Max Stassi with roster expansion. He will not be called up at any point in the team's series with the Rangers, but could join the Astros in Cleveland after Fresno's season ends on Tuesday.
Ryan Posner is a reporter for MLB.com based in Texas. This story was not subject to the approval of Major League Baseball or its clubs.