However unlikely, Astros always 'find a way'
Triple, dropped third strike ignite game-winning eighth-inning rally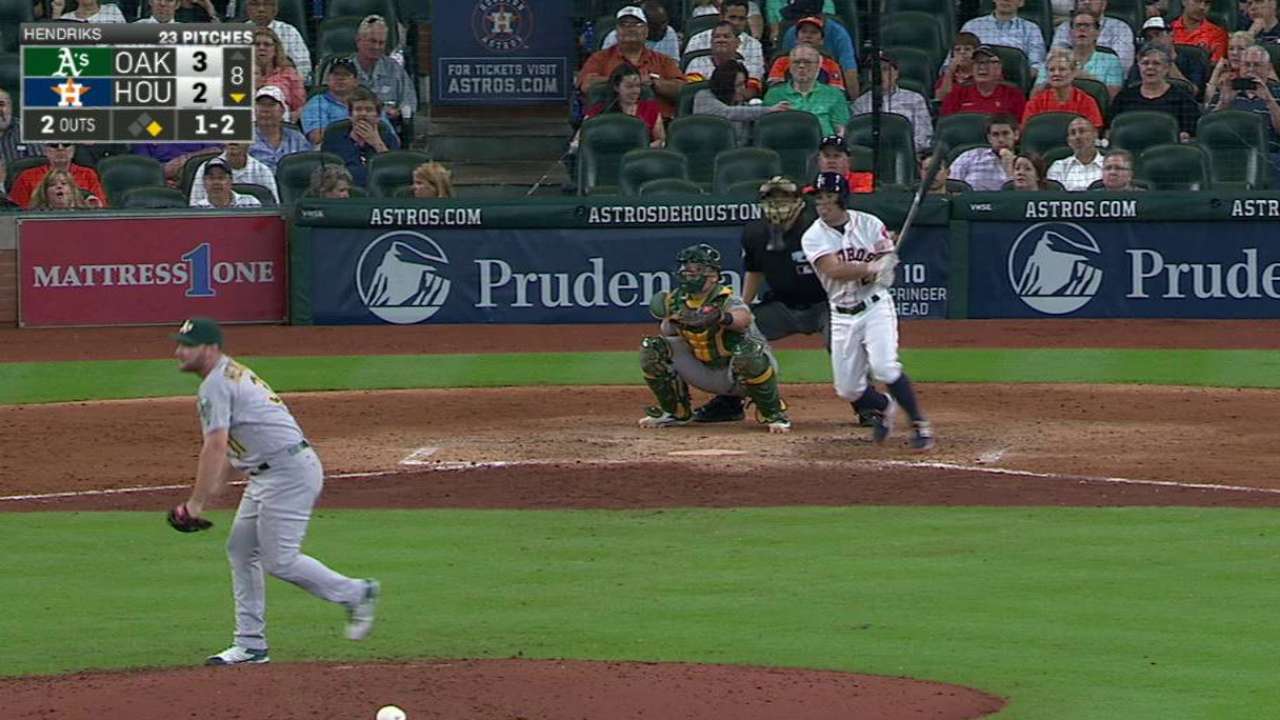 HOUSTON -- As far as rallies go, this was about improbable as they get for Houston, though manager A.J. Hinch joked it happened just the way he drew it up.
After sleepwalking offensively for 7 2/3 innings Wednesday afternoon, the Astros pulled off perhaps their most unlikely rally of the year by scoring three times with two outs in the eighth to stun the A's, 4-3, and sweep the series at Minute Maid Park.
The win, which was only Houston's fifth when trailing after seven innings, capped a 5-1 homestand and sent the club on a crucial road trip to Texas and Cleveland with some momentum.
"We find a way every time," said second baseman Jose Altuve, who tied the game with an RBI triple before scoring the winning run on Evan Gattis' single. "Even if we're losing or whatever, we know we have a chance to come back and win the game. That's what makes us so good and is really important about this team."
A's starter Ross Detwiler baffled the Astros for seven innings, holding them to three hits and sending Oakland to a 3-1 lead entering the eighth. Athletics reliever Liam Hendriks recorded two quick outs to start the eighth before George Springer ignited the rally with a triple to right-center.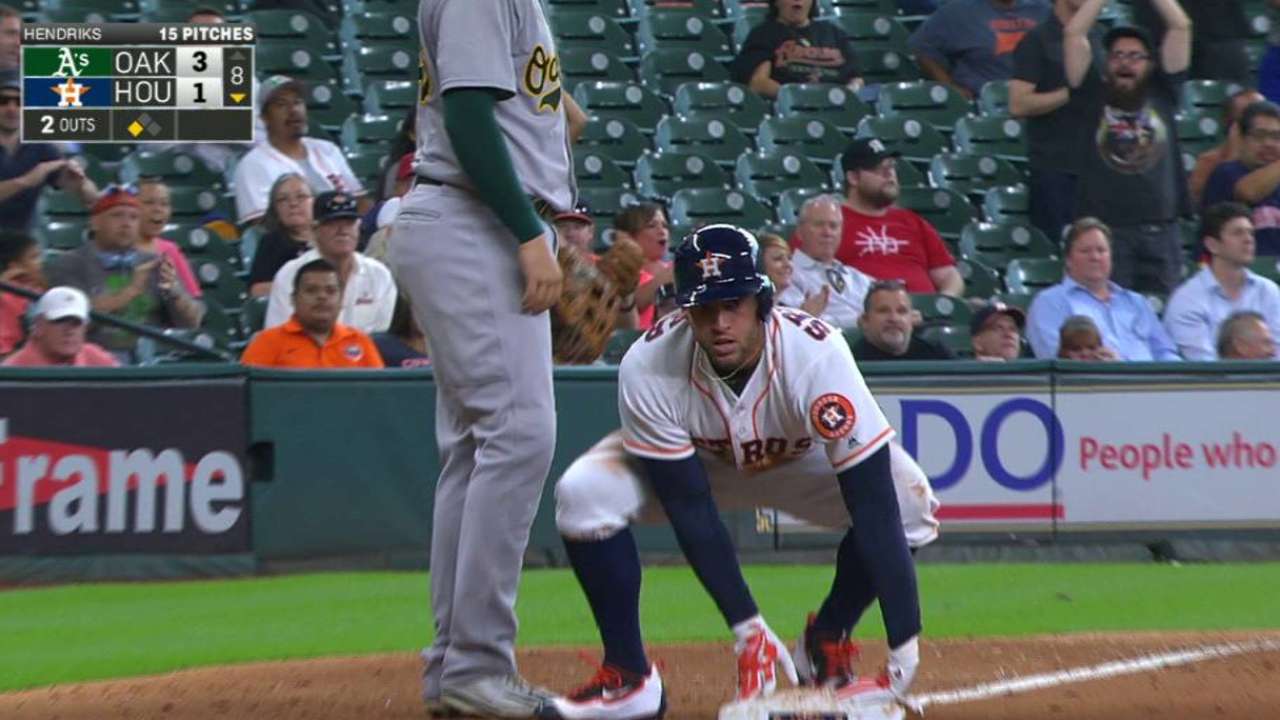 "Obviously, with the guys up behind me, a lot can happen in four or five hitters," Springer said. "Today it did, which is obviously big for us. We're headed over to Arlington and it will be fun, man, for the next month."
Perhaps the biggest at-bat came when rookie Alex Bregman swung at a pitch in the dirt and was able to beat a throw to first to reach on what was ruled a wild-pitch strikeout, scoring Springer. Bregman paused for a brief second before taking off when he heard the home dugout yelling at him to run.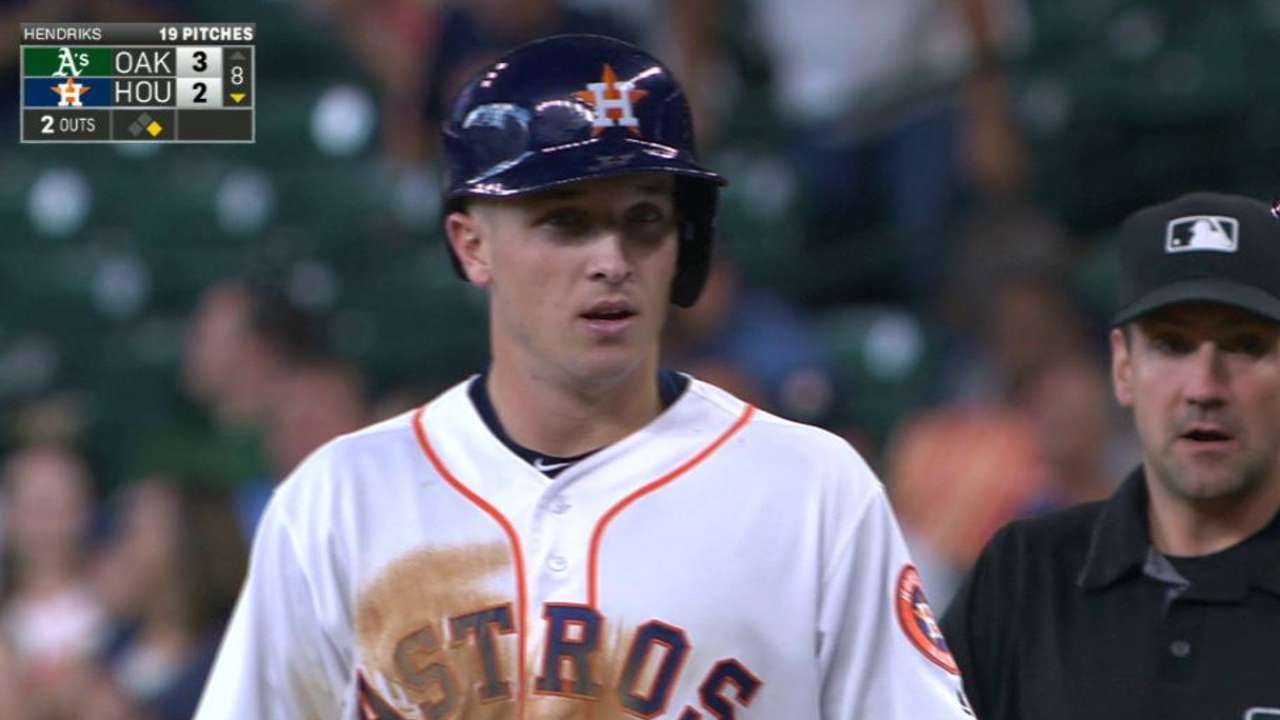 "Honestly, I think the catcher thought so -- so did I -- that I fouled it off," Bregman said. "That's why we both didn't really run. Once the whole dugout yelled, 'Run!' I ran. We both thought it was fouled off."
Altuve, who was 4-for-25 in the homestand, followed with a triple to right to score Bregman and tie the game. The A's walked Carlos Correa to get to Gattis, who whacked the next pitch into left field to score Altuve and complete the comeback.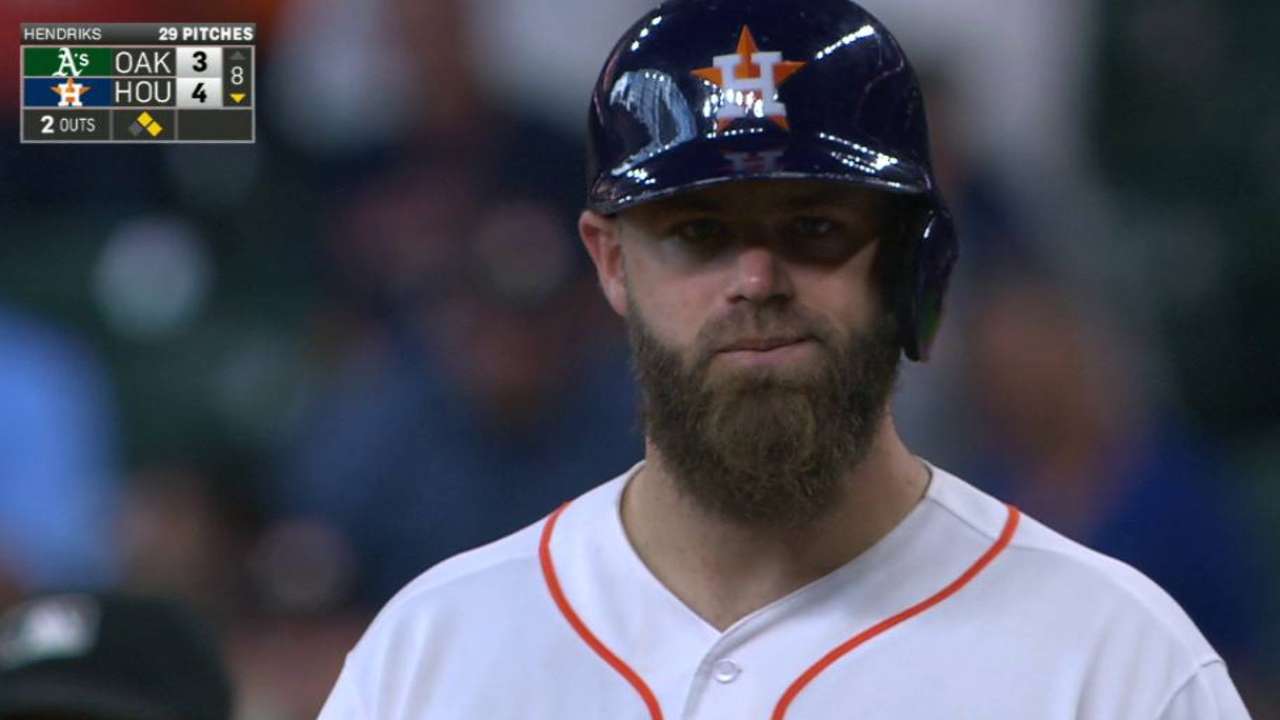 "I think it's a good time to be struggling, because the team is playing good and we got the wins anyway," Altuve said. "For me, to contribute with that triple and then the go-ahead run, is big. I think Gattis with the hit, and even Bregman striking out and running 100 percent to first, that's the kind of thing that makes us really good."
Brian McTaggart has covered the Astros /since 2004, and for MLB.com since 2009. Follow @brianmctaggart on Twitter and listen to his podcast. This story was not subject to the approval of Major League Baseball or its clubs.