Astros go Wild with emotional comeback win
Back-to-back homers in 9th help Houston keep pace in WC race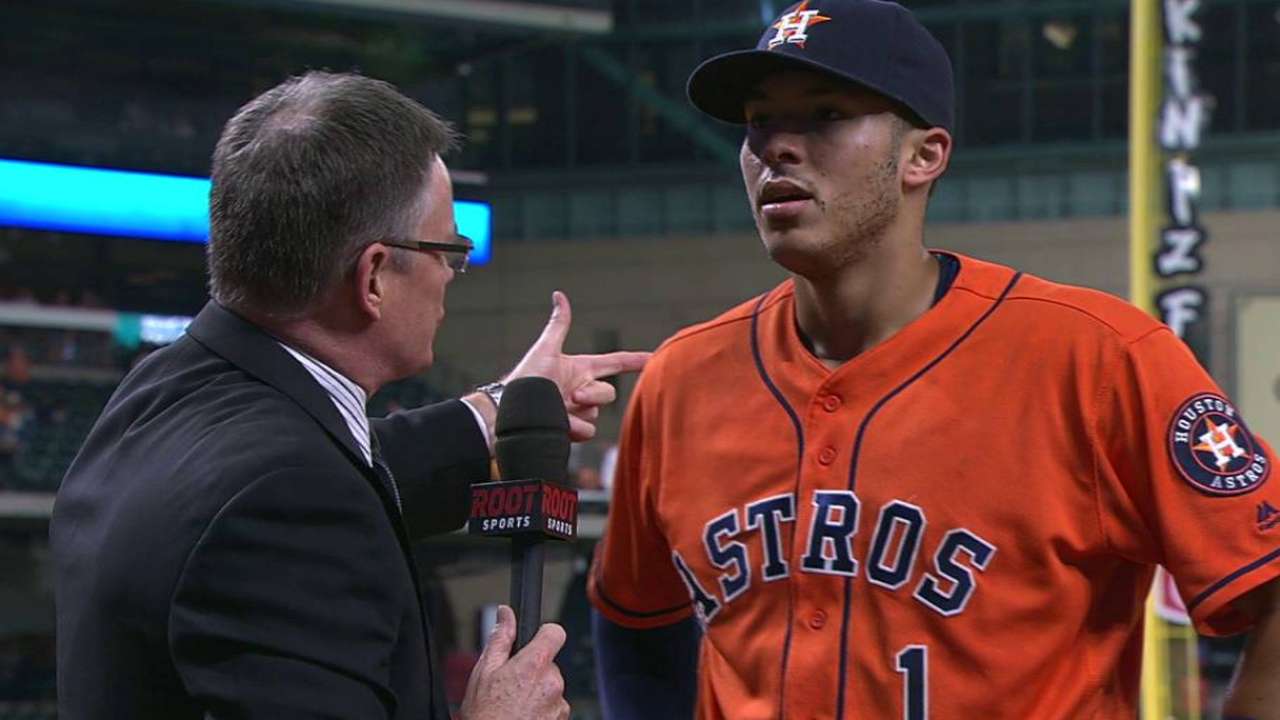 HOUSTON -- With the American League Wild Card race especially tight, the Astros can thank Carlos Correa and Evan Gattis for helping to pull off a 5-4 win over the Rays on Friday night.
Houston moved to three games back of Baltimore in the Wild Card standings.
Trailing, 4-3, after Mikie Mahtook's go-ahead blast in the top of the ninth, Correa and Gattis belted back-to-back jacks to give the Astros their first home win in five games and a Major League-best 10th walk-off win of the season.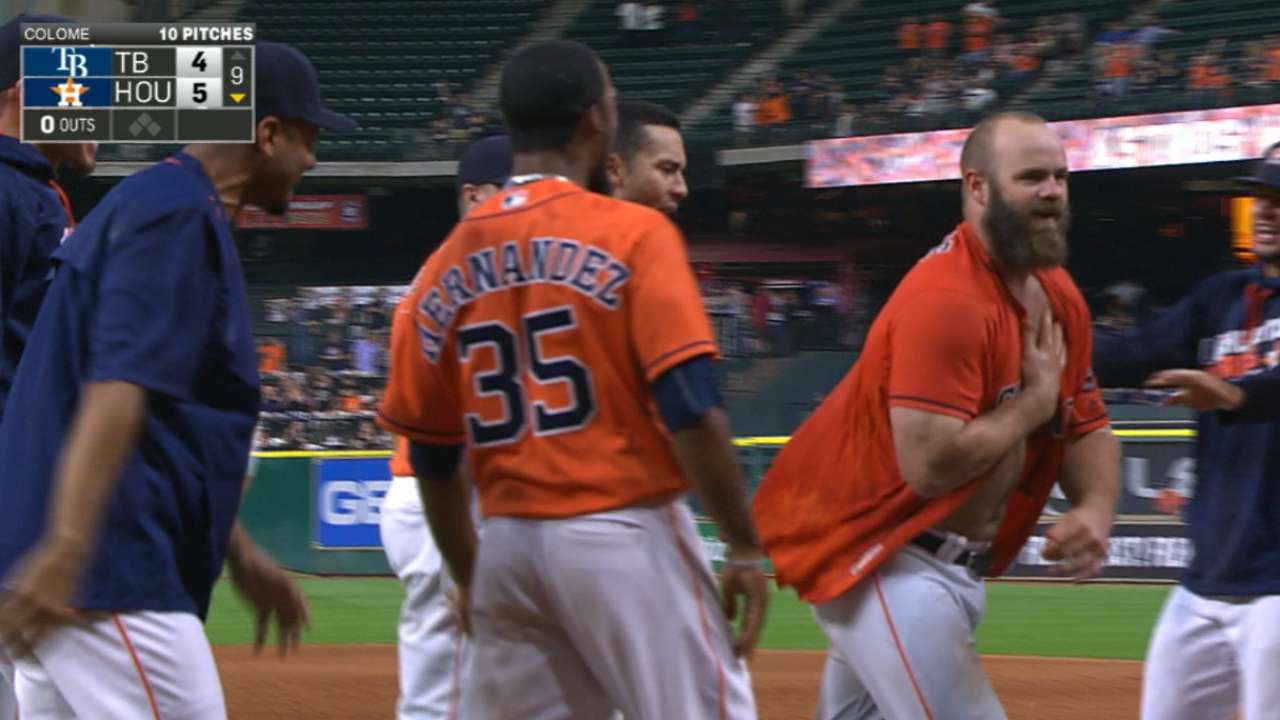 "After that homer in the top of the ninth, you kind of felt the air go out of the stadium," outfielder Jake Marisnick said. "It got a little flat in there. Correa was sure to wake everybody up, and Gattis sent everybody home happy."
For Correa, coming up clutch has become almost ordinary for the 21-year-old shortstop. Friday was no exception as he belted a solo shot over the right-field wall on the first pitch he saw from Rays closer Alex Colome, a fastball away, to tie it at 4.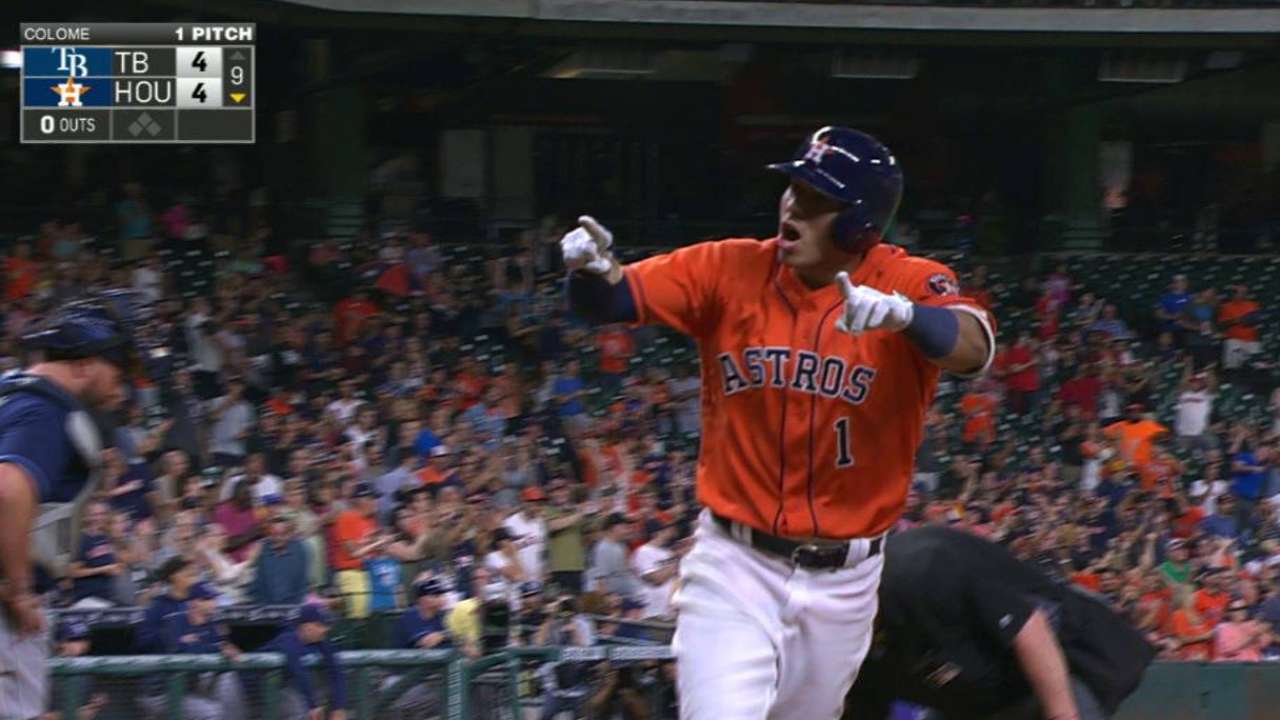 "He can control his emotions and control his actions as well as anybody, and he's doing it, like I have to remind you, at a really young age," Astros manager A.J. Hinch said. "The way he hits with the game on the line ... it's fun to watch him savor the moment and have it not be too much for him or swallow him up."
Gattis then battled Colome for eight pitches before hitting the decisive homer on the ninth pitch.
"It was one of the best at-bats all year," Correa said. "Even the pitch he hit was a ball up in the zone and he was able to zing it up top and drive it out of the ballpark, so that was pretty amazing."
It was Gattis' second career walk-off homer and first since April 2014.
"I don't think any of us know how Gattis hit that pitch out," Marisnick said. "That pitch was at his neck. The excitement in the stadium and in the dugout, that was awesome."
The solo shot was also the Astros' fourth walk-off homer this season, which is second behind only the Mariners, who have six.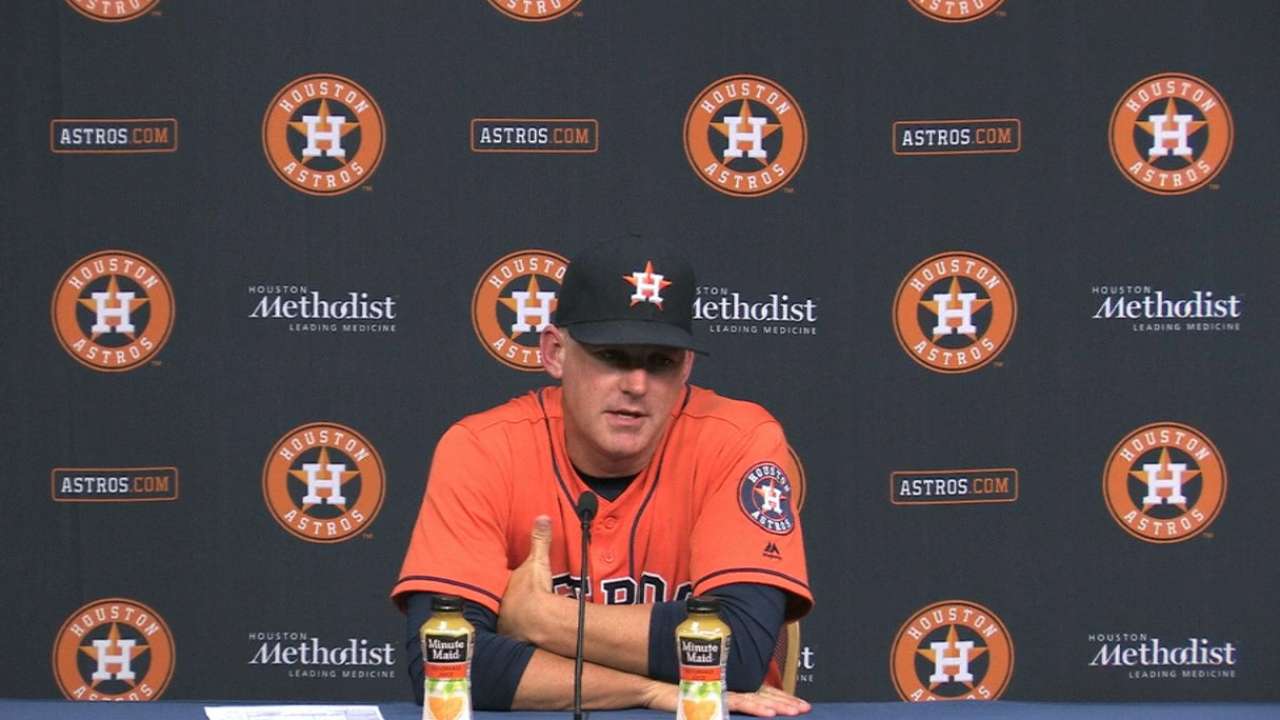 While the excitement of the win was noticeable -- Gattis ripped off his jersey enough to tear away its buttons in elation, which he called "a little out of character" -- the win was vital for a team looking to hold its ground in an extra-competitive postseason race.
"Emotional wins can lift a team," Hinch said. "The clubhouse is screaming. We got to watch Gattis strip his clothes off. That was entertaining, and we get to walk out of here with a nice walk-off win for the fans."
Jordan Ray is a reporter for MLB.com based in Houston. This story was not subject to the approval of Major League Baseball or its clubs.