Correa's dazzling diving grab helps seal win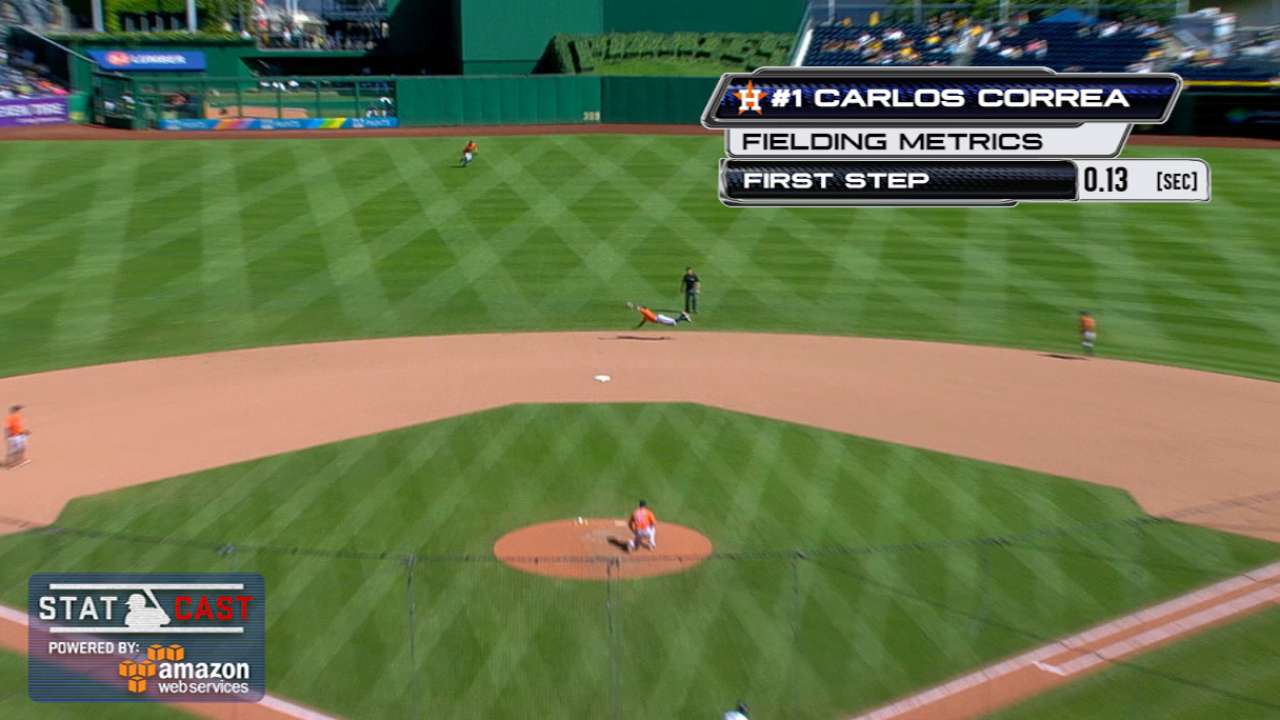 PITTSBURGH -- Perhaps the biggest sigh of relief for Astros pitcher Ken Giles wasn't that the laser hit back up the middle by Matt Joyce in the ninth inning Wednesday didn't take his head off. It was that shortstop Carlos Correa was in just the right spot.
Correa, lined up on the right side of second base, made a diving grab behind the bag to snag the Joyce liner for the first out in the ninth inning. Giles struck out the next two batters to close out the Astros' 5-4 win over the Pirates at PNC Park.
The ball was scorched. It had an exit velocity of 102.6 mph, as measured by Statcast™, and a launch angle of 6.85 degrees. Balls with those traits have been hits 66.4 percent of the time this year.
What's more, Correa's first step of 0.134 seconds enabled him to get to the ball, but the positioning was key. The Astros have been one of baseball's most aggressive teams when it comes to the shift the last few years, and Correa could be lined up all over the infield during any pitch.
When facing Gregory Polanco in the series against the Pirates, Houston's outfield was shifted dramatically to the left while the infield was shifted dramatically to the right. Of course, Polanco went 7-for-13 in the series with five extra-base hits -- two doubles, a triple and two home runs -- proving the best way beat the shift is to hit the ball in the air.
Joyce wasn't quite as lucky, though.
Brian McTaggart has covered the Astros since 2004, and for MLB.com since 2009. Follow @brianmctaggart on Twitter and listen to his podcast. This story was not subject to the approval of Major League Baseball or its clubs.