Gattis hits 20th HR, keeps raking at catcher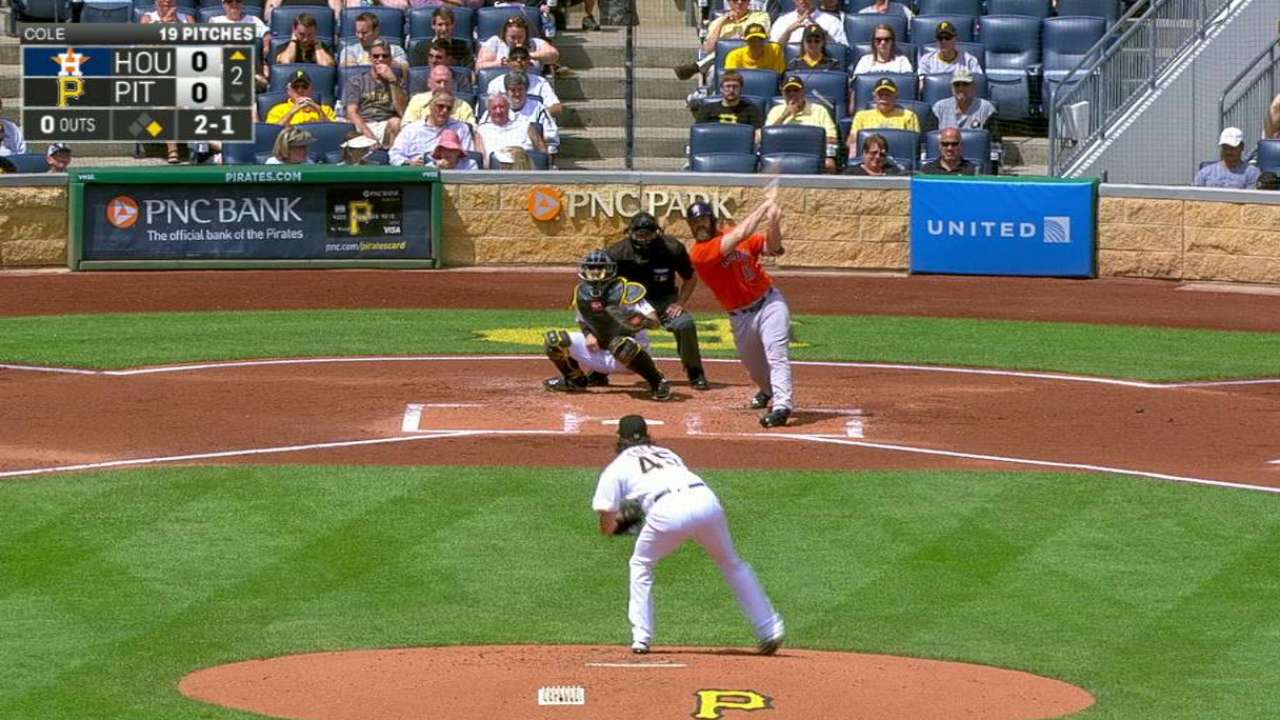 PITTSBURGH -- When Astros catcher Evan Gattis crushed a Gerrit Cole pitch and sent it sailing over the wall in center in the second inning of Wednesday's 5-4 win over the Pirates, he quietly reached 20 home runs for the fourth consecutive season.
Gattis, who began the year on the disabled list following hernia surgery, has hit at least 20 blasts in each of his first four big league seasons -- two with the Braves and two with the Astros. After clubbing a career-high 27 last year, he's hitting .241 with 20 homers and 51 RBIs in 2016, tying him with Jose Altuve for second on the club in homers and fourth on the team in RBIs.
"It means a lot to me, hitting 20 for four years," he said. "It's definitely a milestone. I'm just glad it happened."
Gattis, who was used nearly exclusively as the designated hitter last year, has flourished offensively behind the plate. In 38 games at catcher, he's hitting .289 with 14 homers and 30 RBIs. As the DH, he's batting just .208 with six homers and 21 RBIs.
"I have no idea," said Gattis when asked about his splits. "Hopefully the DH numbers will get better. But I think earlier in the year I just wasn't hitting that well. I don't even know what they are anymore, if they're getting closer. Hopefully they are."
The Astros hit 13 home runs and scored 46 runs in their seven-game road trip through Baltimore and Pittsburgh, during which they went 5-2 while winning both series.
"It's a real good road trip and one that we needed," manager A.J. Hinch said. "We played two good teams. We come away 5-2. I'm really proud of our guys. We have a small margin for error these days and our guys are responding by playing well. We had a bad start to the road trip with a tough game, responded well in Baltimore. Obviously, winning two out of three in this ballpark against this team, having to fight off a little bit of their push at the end is a success."
Brian McTaggart has covered the Astros since 2004, and for MLB.com since 2009. Follow @brianmctaggart on Twitter and listen to his podcast. This story was not subject to the approval of Major League Baseball or its clubs.