Astros stifled by Nova as 4-game win streak ends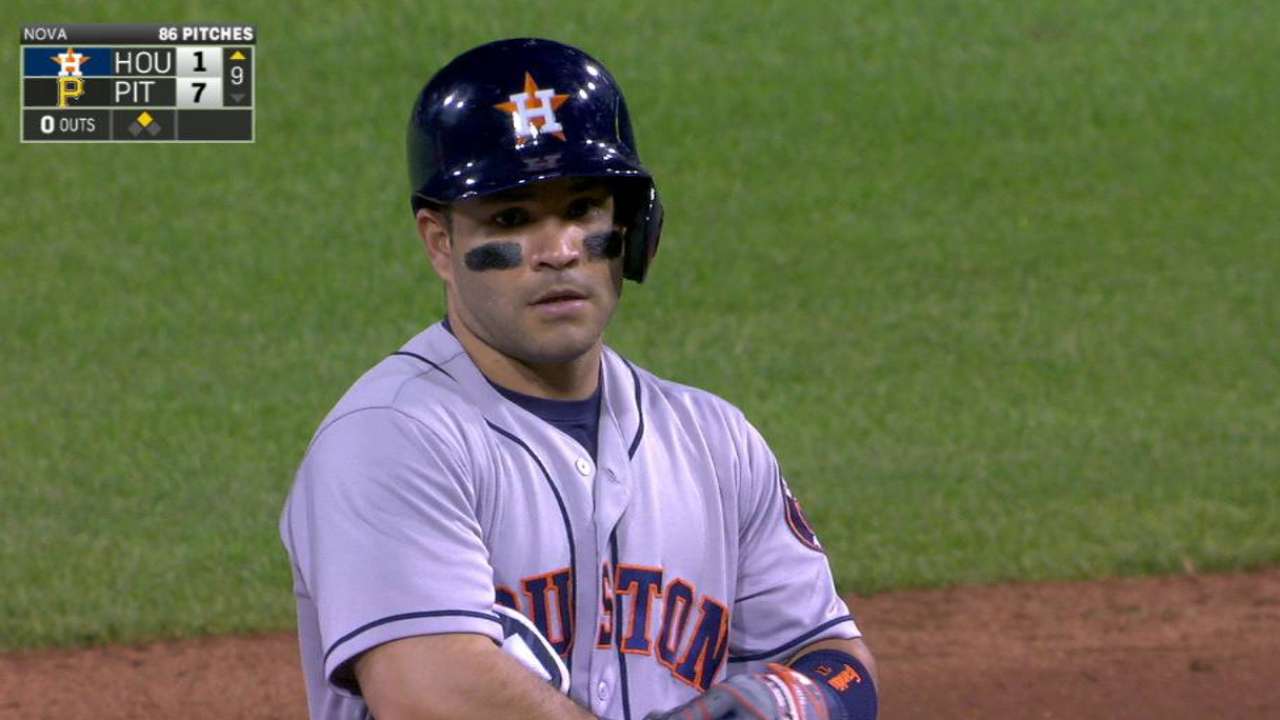 PITTSBURGH -- Gregory Polanco homered twice Tuesday night, leading a resurgent Pirates offense out of its brief funk. But Ivan Nova hardly needed the help, throwing a complete game in a 7-1 win over the Astros at PNC Park.
Nova put an end to Pittsburgh's four-game losing skid, breezing through Houston's lineup and ending the Astros' four-game winning streak. He also reversed both clubs' recent fortunes in the Wild Card standings. The Pirates pulled back within 2 1/2 games of the Cardinals for the second National League Wild Card spot, while the Astros fell 4 1/2 games behind the Orioles in the American League race.
Nova, acquired from the Yankees before the non-waiver Trade Deadline, bounced back from a shaky outing and struck out six with only one walk (his first with the Pirates) on 98 pitches. He leaned almost exclusively on his sinker and curveball, quickly using the Astros' aggressiveness against them. It was the fourth complete game of his career, his first since 2013, and the Pirates' third complete-game performance of the season.
"I'm not a kid. I know what I have to do out there," said Nova, who wouldn't be the first veteran pitcher to revitalize his career under the guidance of Pirates pitching coach Ray Searage. "It's just a matter of confidence. The stuff is there. We're just trying to stay aggressive down in the strike zone and get quick outs."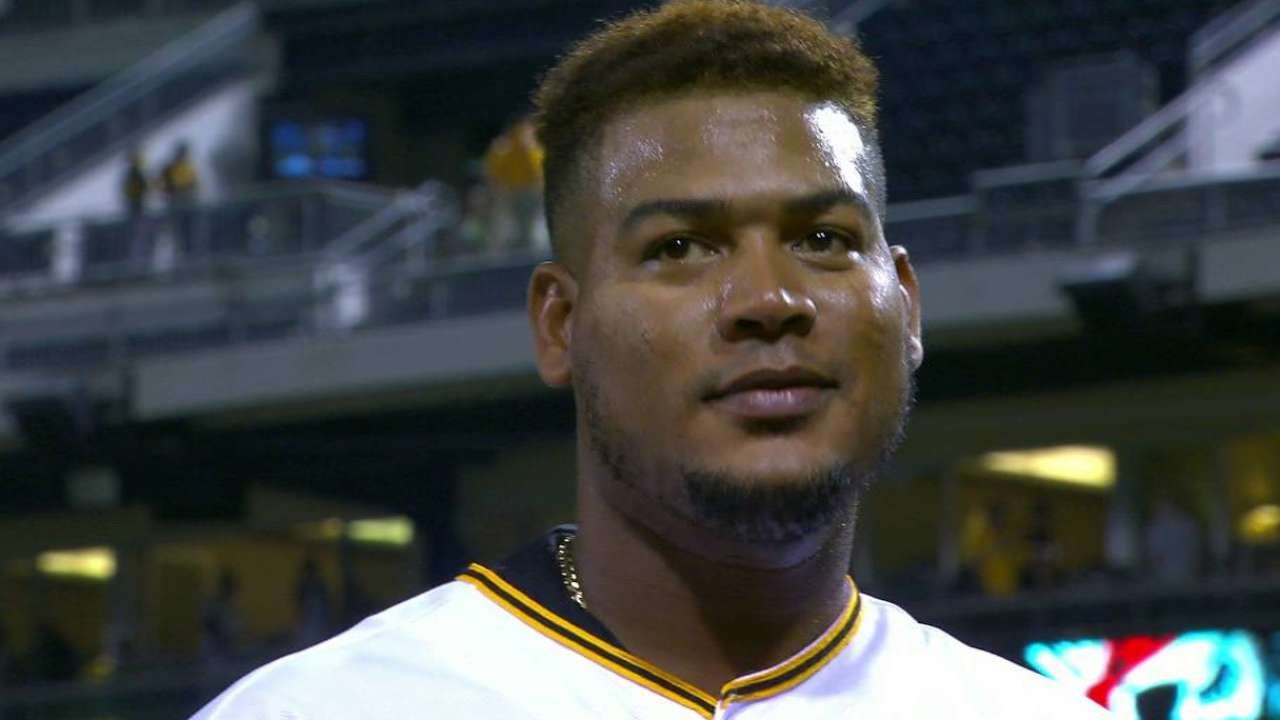 How was he able to be so efficient? Just ask catcher Francisco Cervelli, Nova's former batterymate in New York.
"Because he's here with the Pirates," Cervelli said. "His arm is so smooth. He looks like he's not throwing hard, but he's got a heavy sinker. He's more than welcome."
The Pirates expected Nova to benefit from leaving the AL East and pitching in front of their infield defense. His outing continued the Pirates' recent run of solid pitching, as they entered the night with the National League's second-best ERA in August. The Astros broke up the shutout in the ninth, when Alex Bregman and Jose Altuve led off with back-to-back doubles. But this time, Pittsburgh supported its starter.
Limited to four runs over the last three days combined, the Pirates led off the game with six straight hits and ran up four runs in the first inning against Astros starter Joe Musgrove. Polanco accounted for the Pirates' offense the rest of the way, lining a solo homer down the left-field line in the third and ripping another solo shot to center in the fifth.
MOMENTS THAT MATTERED
El Coffee, strong: Polanco's two-home run game was the second of his career, with the first coming July 4 in St. Louis. Polanco, a left-handed hitter, also shot one of his two homers that afternoon down the left-field line. He now has three opposite-field homers in his career, all of them this season -- another sign of the young outfielder's improvement at the plate. Thrust into the cleanup spot when manager Clint Hurdle shuffled the lineup earlier this month, Polanco now leads the Pirates with 19 home runs and 70 RBIs this season.
"He likes hitting in the cleanup spot. What that adds to it, I don't know, but I know he likes it," Hurdle said. "He sure looks good in it, the physicality of it." More >
Musgrove jolted again: The rookie right-hander was roughed up for the second consecutive start. After allowing three earned runs in 14 innings in his first two big league starts, Musgrove has allowed 13 earned runs and 19 hits in 9 1/3 innings in his last two outings. The first six batters he faced Tuesday got base hits, and four wound up scoring to set the tone for the Pirates.
"He couldn't get off the barrel," Astros manager A.J. Hinch said. "Those guys put together some really good at-bats and hit the ball hard the first inning. They didn't try to do too much. They did it all on a line … a lot of them were opposite field or up the middle. And so he just couldn't really get to his put-away pitches. He never had a chance to end at-bats. Once they put that five or six hits in a row against him, he had a hard time managing to stop the big runs from scoring." More >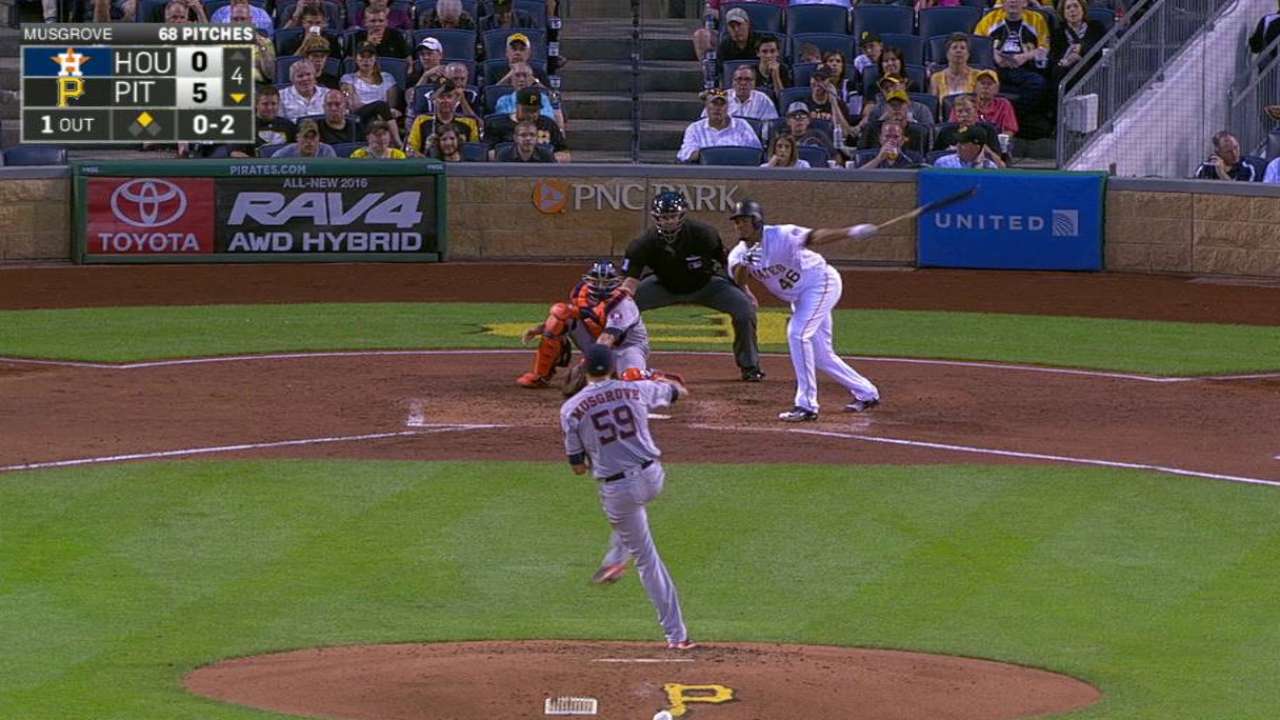 Six-shooting: Amid their recent slump, the Pirates amassed five hits on Monday, five on Sunday and four on Saturday. They topped those totals in the first inning Tuesday night, with a new-look top of the order leading the way. Adam Frazier hit leadoff instead of Josh Harrison, and Matt Joyce batted behind him in place of Starling Marte. Frazier singled and Joyce doubled, immediately putting a run on the board and setting the tone for the Pirates' much-needed big inning.
"We got them up there, and boy, they got us out of the chute real clean," Hurdle said.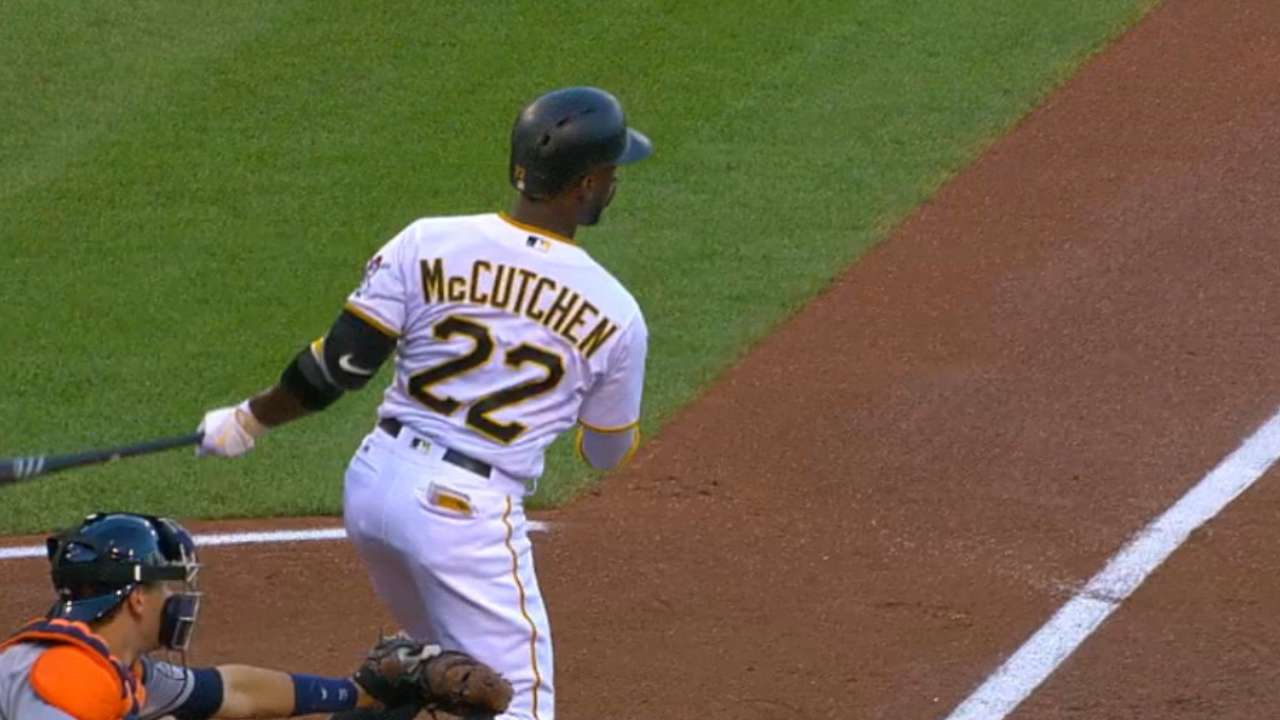 Easy as 1-2-3-4-5: Hurdle has spent 41 years in baseball, and the third inning brought something he'd never seen before: Nova threw all of five pitches, and the Astros stranded a runner on third base. The first three batters of the inning swung at Nova's first pitch. Jason Castro singled to center. Musgrove dropped a sacrifice bunt, advancing Castro to second, and George Springer's groundout pushed him to third. Two pitches later, third baseman David Freese and first baseman Josh Bell teamed up on a strong play to retire Bregman.
"I've never seen a pitcher throw a five-pitch inning and leave a runner at third base before," Hurdle said. "Forty-one years in baseball."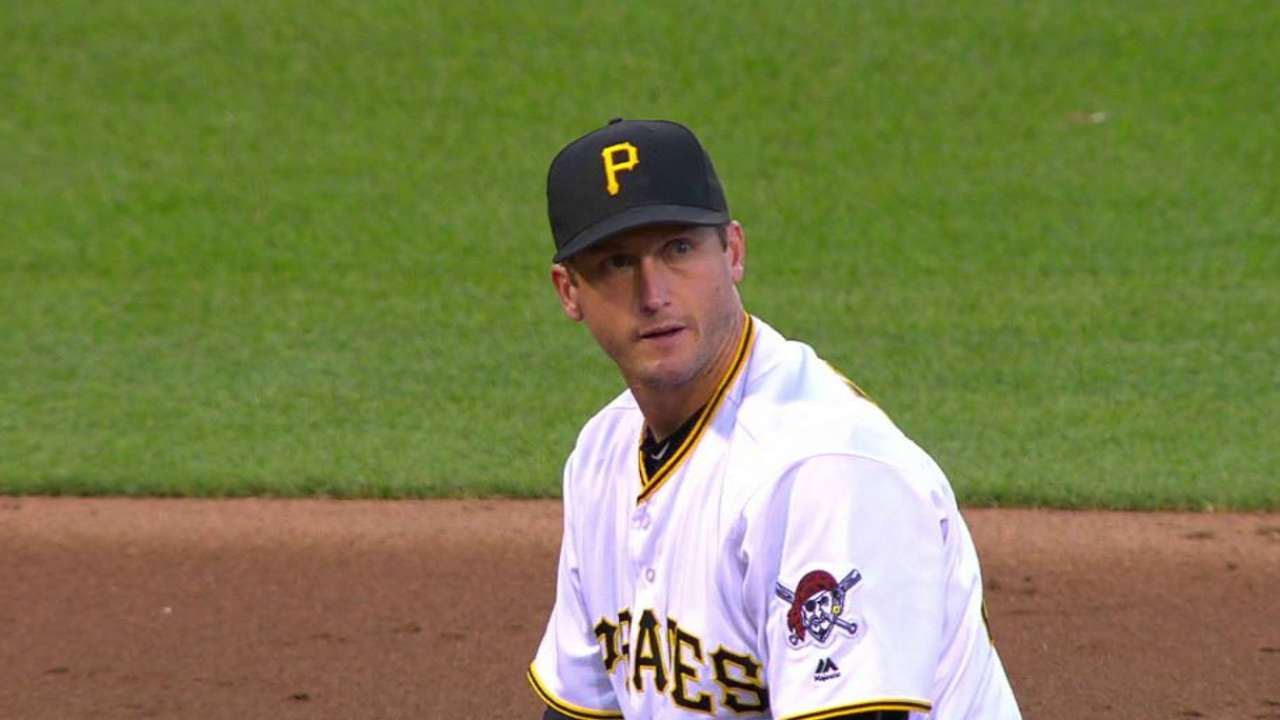 QUOTABLE
"It was unbelievable seeing him go out for the ninth and close that game out. To be able to hug him after the game was a pretty cool experience." -- Bell, on Nova
"I don't have a Magic 8 Ball. It's just one of those things." -- Hurdle, on Frazier and Joyce entering the lineup and sparking a big night offensively
WHAT'S NEXT
Astros: Right-hander Collin McHugh (7-10, 4.99 ERA) will try to bounce back from his rough outing Friday against the Orioles -- in which he allowed four homers in the first inning before recording an out -- when he starts Wednesday's 11:35 a.m. CT series finale against the Pirates. He finished with seven runs allowed (six earned) in three innings in Baltimore, but received a no-decision after the Astros rallied to win.
Pirates: Right-hander Gerrit Cole (7-8, 3.30 ERA) will try to end an up-and-down August on a high note when he faces the Astros on Wednesday at 12:35 p.m. ET at PNC Park. Cole is 1-2 with a 5.40 ERA in four starts since throwing his first career complete game, and he's given up a career-high 12 hits in each of his last two starts, though he still held the Marlins to three runs in 6 2/3 innings on Friday.
Watch every out-of-market regular-season game live on MLB.TV.
Adam Berry has covered the Pirates for MLB.com since 2015. Follow him on Twitter at @adamdberry.

Brian McTaggart has covered the Astros since 2004, and for MLB.com since 2009. Follow @brianmctaggart on Twitter and listen to his podcast.

This story was not subject to the approval of Major League Baseball or its clubs.