Gurriel able to pinch-hit at PNC Park
Rookie works in outfield, expected to be in lineup on Tuesday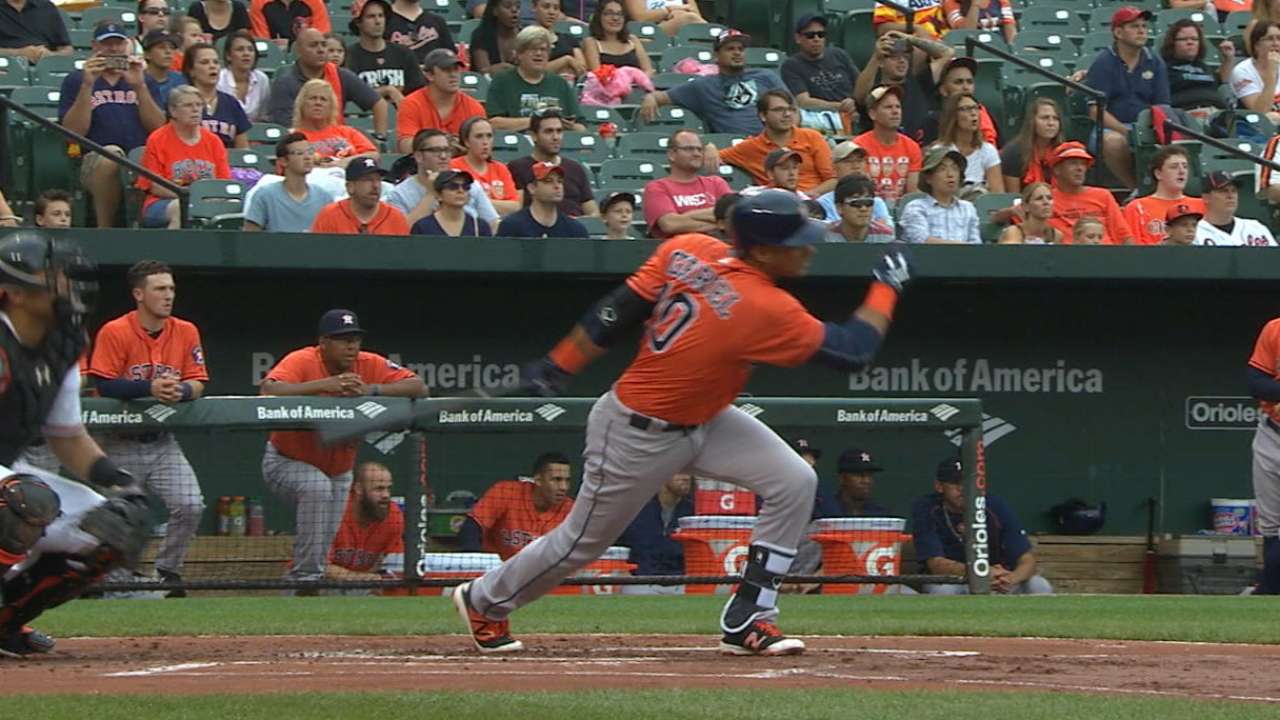 PITTSBURGH -- The right hamstring tightness that forced Yulieski Gurriel from his first big league game on Sunday after only three at-bats won't keep him out of the lineup, manager A.J. Hinch said before Monday's 3-1 win at PNC Park. Gurriel didn't start the series opener against the Pirates, but he could get his first start in the field -- left field or third base -- in Tuesday's game.
Gurriel did pinch-hit on Monday, grounding out in the eighth. The 32-year-old Cuban, who signed with the Astros for $47.5 million and went 1-for-3 as the designated hitter on Sunday at Baltimore, got in some work in the spacious left field at PNC Park before the game. Keeping Gurriel's bat in the lineup as the DH for this Interleague series is not an option since it's being played in a National League park.
"We hit him some balls in left field," Hinch said before the game. "He's bouncing around and moving around fine. I think he's not feeling 100 percent, but feeling well enough to contribute to be available tonight off the bench."
Rookies Alex Bregman, Teoscar Hernandez and Tony Kemp joined Gurriel in left field on Monday for early work. Marwin Gonzalez and Kemp have gotten most of the starts in left field since Colby Rasmus (ear surgery) and Preston Tucker (strained right shoulder) went on the disabled list, with Hernandez also getting a pair of starts, including Monday.
"We're really young and we can't forget these guys aren't fully developed yet," Hinch said. "We've got to continue to work these guys and drill these guys some work in their development because they're getting to the big leagues at such a young age with less than the number of innings at certain positions than you'd like."
Hinch said Gurriel is athletic enough to handle left field, and he'd probably want to play Gurriel more in left considering how terrific Bregman's looked at third.
"Like all of these guys, when you put an infielder in the outfield, they have infielder actions and so they look like infielders playing the outfield," Hinch said. "He's athletic enough to handle it. He's going to be more than adequate, he's going to have enough speed, he's going to have enough arm, he's going to have the instincts to react to the ball. He just doesn't have the experience that most outfielders have."
Brian McTaggart has covered the Astros since 2004, and for MLB.com since 2009. Follow @brianmctaggart on Twitter and listen to his podcast. This story was not subject to the approval of Major League Baseball or its clubs.