Fister flusters Pirates as Astros roll in opener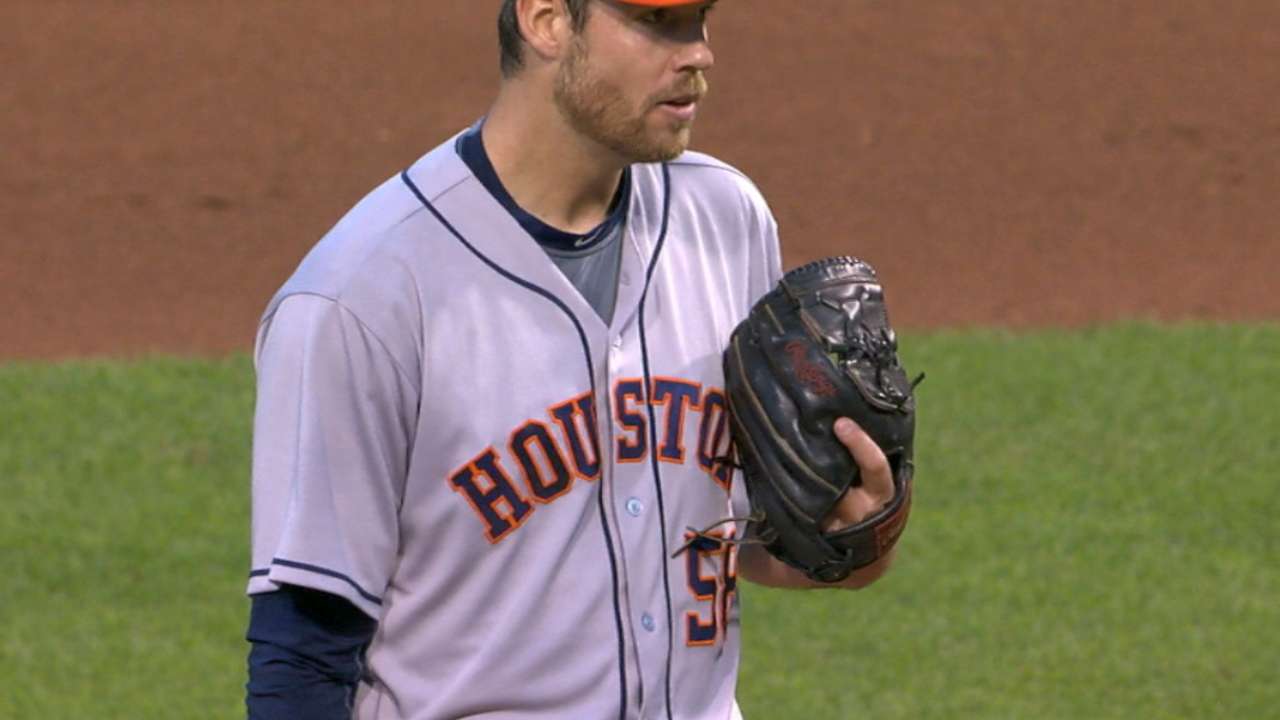 PITTSBURGH -- Pirates rookie Jameson Taillon threw eight strong innings on Monday night, but it wasn't enough to stop his childhood-favorite team. The Astros stayed hot in their pursuit of an American League Wild Card spot, riding seven scoreless innings from Doug Fister to a 3-1 win in the series opener at PNC Park.
Houston won its fourth straight and remained 3 1/2 games back in the AL Wild Card race. Pittsburgh appears to be heading in the opposite direction after losing four in a row, a skid in which the Bucs have totaled nine runs. With the loss, the Pirates fell 3 1/2 games behind the idle Cardinals in the National League Wild Card chase.
Fister was efficient on Monday, yielding three hits and a walk while striking out six.
"Guys feed off of one another and that's something we've done the last few days," Fister said. "We've bounced back from rain delays and tough outings in Baltimore, but we're playing well and that's what it comes down to."
Taillon, a Houston resident and graduate of The Woodlands High School, did his part in his 12th big league start. He completed eight innings for the third time this season and struck out a career-high eight.
"I don't know if he ever got out of sync," Pirates manager Clint Hurdle said. "It's really good all over the place."
Taillon's lone mistake came in the fifth, as Astros left fielder Teoscar Hernandez ripped a 3-1 fastball into the left-field seats, traveling an estimated 409 feet from the plate, according to Statcast™. Alex Bregman tacked on another run in the ninth, ripping a solo homer to center off Neftali Feliz.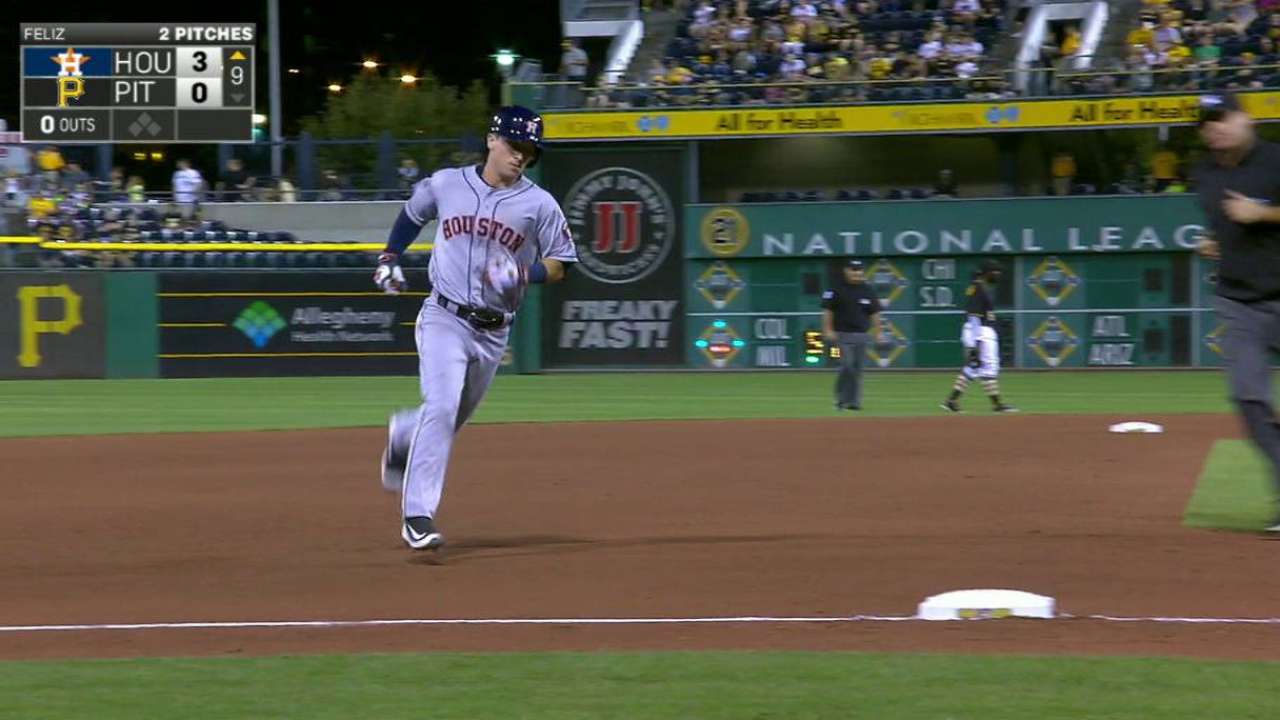 MOMENTS THAT MATTERED
Teoscar time: Rookie outfielder Hernandez has proven to be ready for just about any moment so far in his brief time in the bigs. Hernandez's homer was his third in only 10 Major League games. Monday marked only his ninth career start, and second in left field since being called up Aug. 12. More >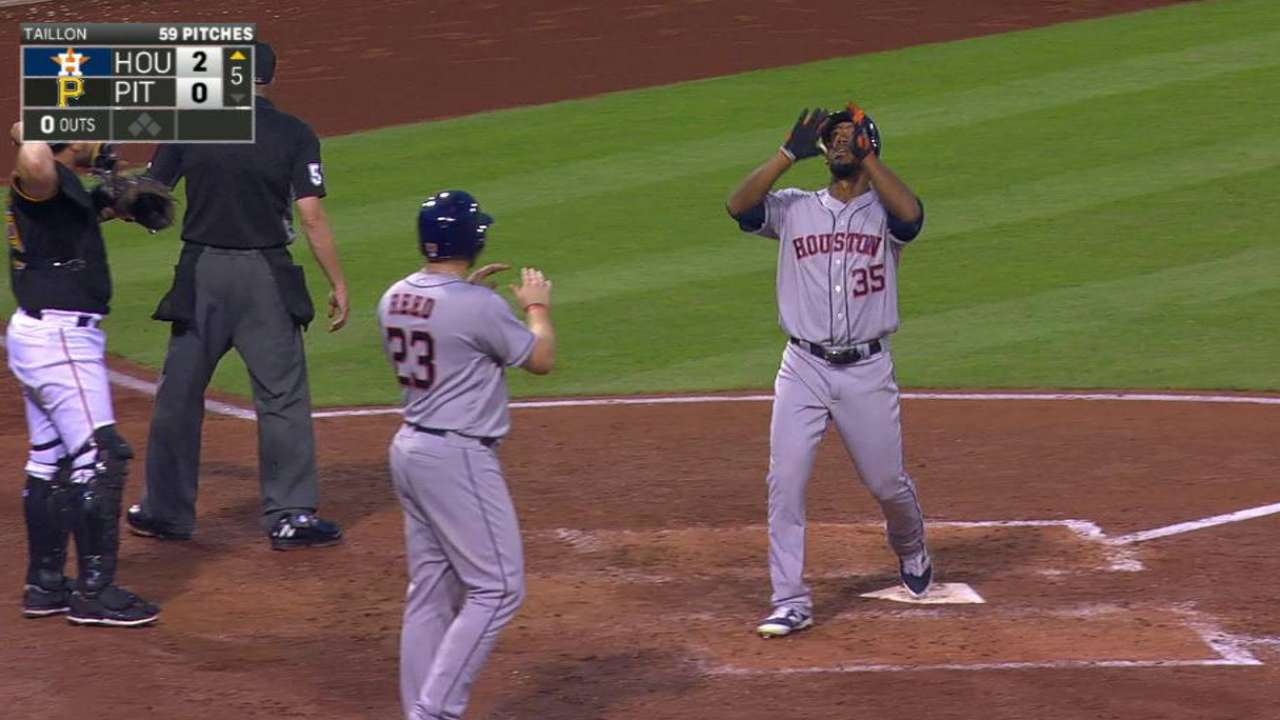 "I was looking for that pitch," Hernandez said. "He has a good sinkerball and threw me a couple, and then in that situation threw another one. I was looking for that one pitch and I was trying not to miss it."
Work in progress: When they called up first-base prospect Josh Bell on Saturday, the Pirates stressed that his defense was still lagging behind his bat. Bell, a converted outfielder, is in his second full season at first base. His progress and problems were on display in his second Major League start. He made a sharp stop down the first-base line in the second inning, then committed his first error in the seventh, struggling to handle a low chopper off the bat of A.J. Reed. Bell will continue to see regular playing time at first base the rest of the season, general manager Neal Huntington has said.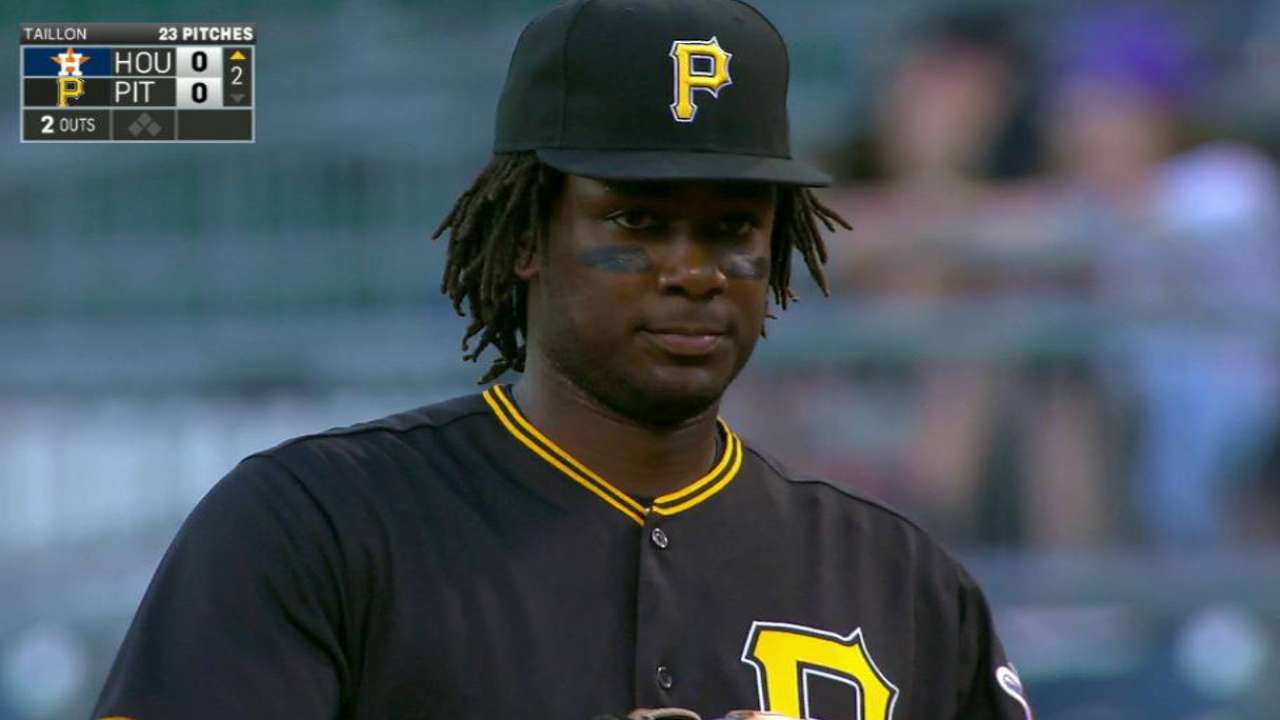 Fister dazzles: This was the Fister who was the Astros' best starting pitcher in the first half of the season, working at a quick tempo and relying on strikeouts and ground balls to work seven scoreless innings for the first time since July 20 at Oakland. He yielded only four baserunners and is 26-15 against NL opponents in his career.
"To go seven scoreless, as efficient as he was, he was really, really good," Astros manager A.J. Hinch said. "It looked like he had his pitches, he had his finish breaking ball, which was good, and his fastball to his glove side was exceptional. And he threw just enough pitches inside. He was the definition of a pitcher tonight and did a good job getting through their lineup."
Mental mistake: The Pirates ran their way out of a chance to bring the potential tying run to the plate in the ninth. Gregory Polanco hit a ground-rule double to left-center off Ken Giles with two out, and David Freese singled. Bregman's throw to first base went wide and bounced off the fence, allowing Polanco to score, and Freese -- caught up in the moment -- turned to run to second. But Marwin Gonzalez picked up the carom and fired to Jose Altuve in time to tag Freese for the last out, leaving Bell in the on-deck circle.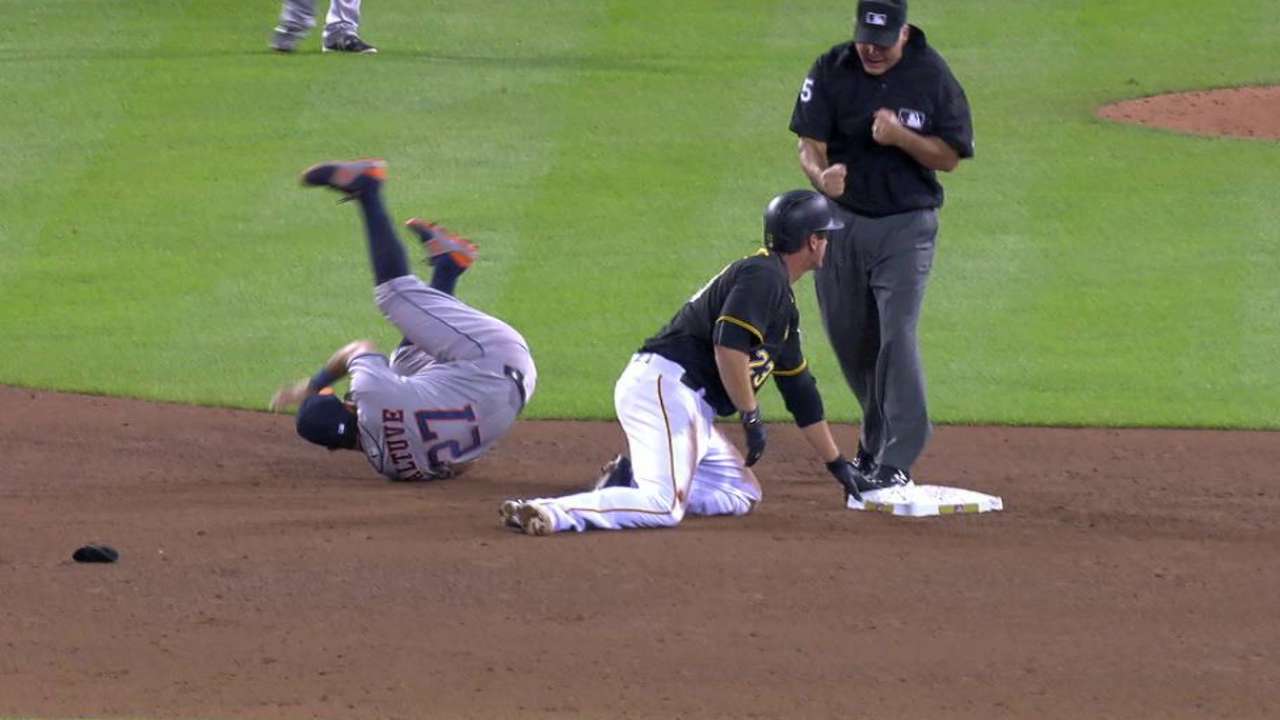 "You're not really sitting on deck saying, 'If there's an overthrow at first, I should probably stay put,'" Freese said. "But understanding the score, knowing that your run doesn't matter too much, you've got to stay put unless you're absolutely sure that it's down the line and you're going to get to second. ... I've got to stay put. I've got to know to let Bell get in the box."
QUOTABLE
"Those aren't the guys I grew up rooting for -- the Biggios, Bagwells, Berkmans, the Killer B's. I've been admiring Altuve from afar for a while. I see the billboards in Houston. I see what he's done for the city. I see they've revived baseball; their rebuilding process was pretty quick over there, and he was a big part of it. I think that's pretty cool." --Taillon, on facing his hometown team
SOUND SMART WITH YOUR FRIENDS
This was the Astros' first trip to PNC Park since 2013 and the second time the clubs have met in Interleague Play. Even with Monday's loss, the Pirates are 14-6 in their last 20 games against the Astros.
UPON FURTHER REVIEW
After Bregman homered to lead off the ninth, Altuve knocked a sharp grounder to Pirates shortstop Jordy Mercer and hustled toward first base. Bell reached out and snagged Mercer's throw, but Altuve was initially ruled safe. The Pirates challenged the call, which was overturned after a 45-second review.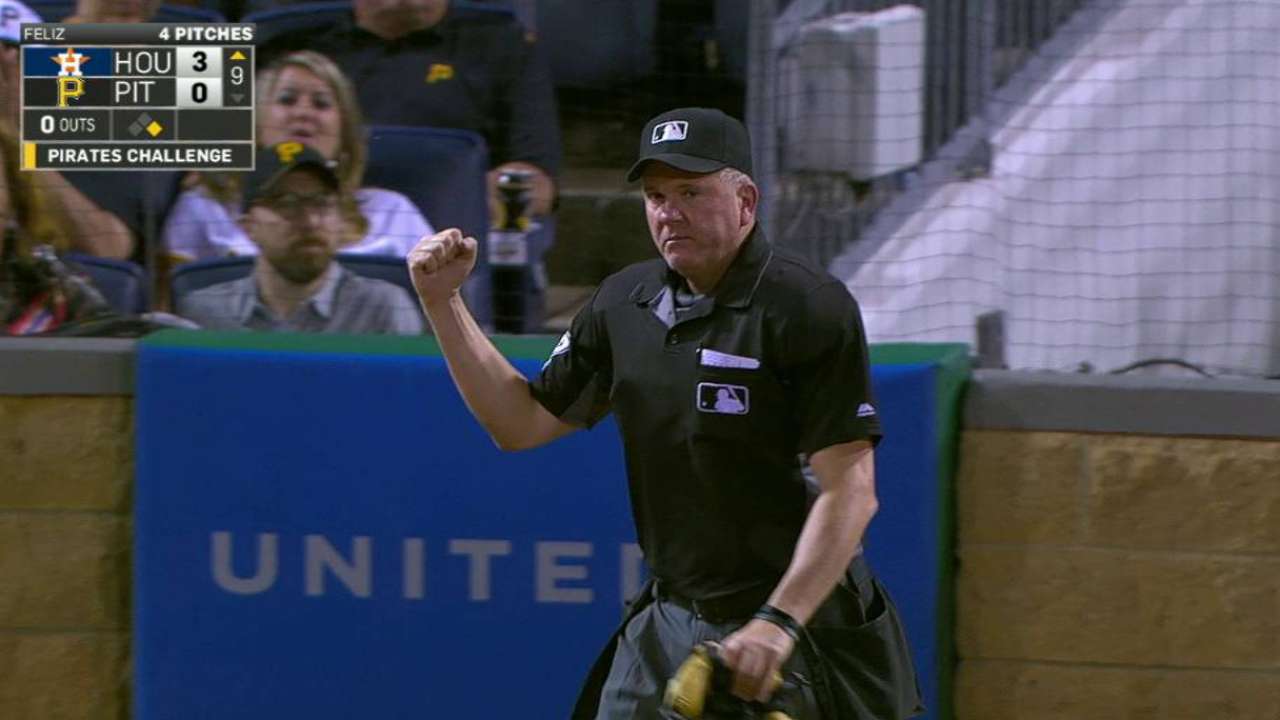 With two out in the bottom of the ninth, Freese was thrown out trying to stretch his single into a double. After a brief review, the call was confirmed to end the game.
WHAT'S NEXT
Astros: Right-hander Joe Musgrove will get the ball on Tuesday at 6:05 p.m. CT for the middle game against the Pirates at PNC Park. Musgrove (1-1, 4.18 ERA) is coming off his first career loss on Thursday in Baltimore, where he yielded eight runs and 11 hits in 5 1/3 innings.
Pirates: Right-hander Ivan Nova will make his fourth start with the Pirates at 7:05 p.m. ET on Tuesday. After a strong debut full of ground-ball outs, Nova struggled to work down in the strike zone his last two times out. On Wednesday, Nova yielded four runs on six hits over four innings in a no-decision against the Giants.
Watch every out-of-market regular-season game live on MLB.TV.
Adam Berry has covered the Pirates for MLB.com since 2015. Follow him on Twitter at @adamdberry.

Brian McTaggart has covered the Astros since 2004, and for MLB.com since 2009. Follow @brianmctaggart on Twitter and listen to his podcast.

This story was not subject to the approval of Major League Baseball or its clubs.