Hinch: Astros' offense looks 'pretty dangerous'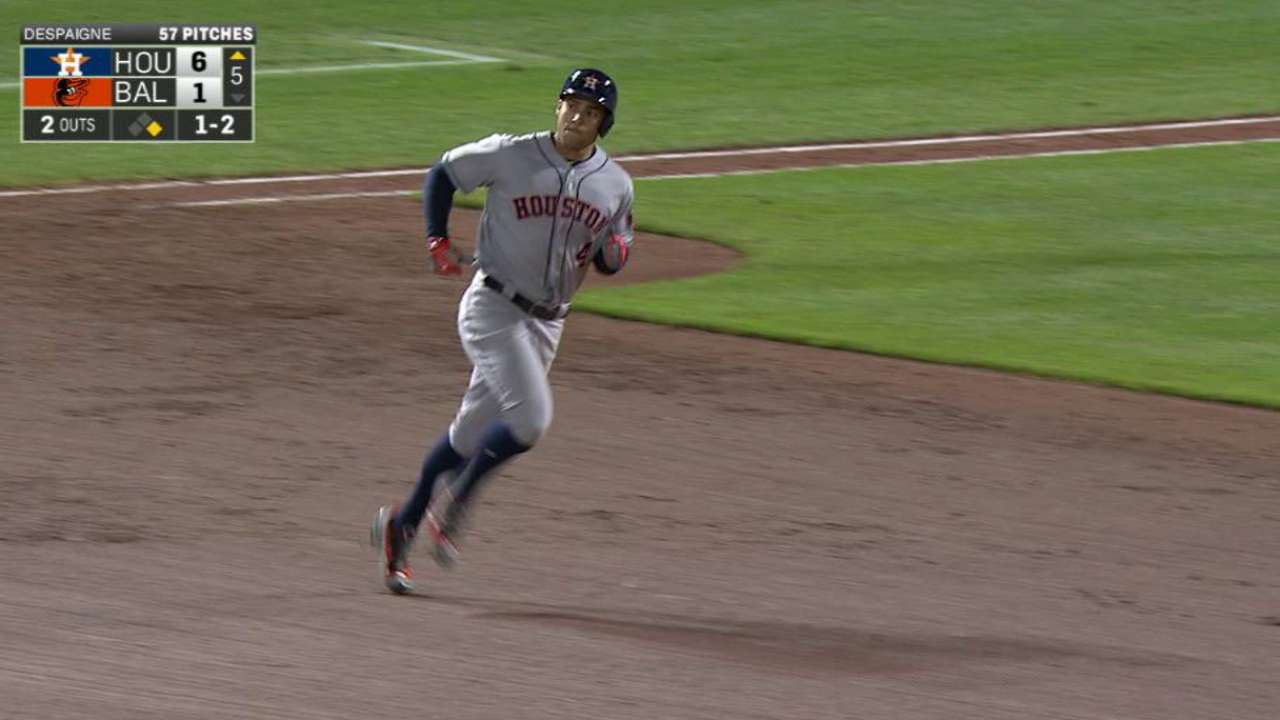 BALTIMORE -- Astros manager A.J. Hinch likes what he see from the top to the bottom of his lineup these days. When the Astros are clicking, the players are confident they can make a run at the postseason.
Houston clobbered three more homers in a 12-2 victory over the Orioles on Saturday night. The Astros have now gone deep nine times in three games against Baltimore, beating the powerful Orioles at their own game.
The Orioles lead the Majors with 190 home runs, but Houston also has shown it has a powerful lineup that can erupt at any time.
"We've hit the ball hard the past two nights," Hinch said. "And when we do that, it goes far. It gets contagious a little bit with guys getting comfortable at the plate. I like how we've paired up some at-bats to where one guy after another is performing pretty well. I like what I see. We're a good offense when we get going like this. I know we've been streaky throughout the season. But when we put it together and get hits, as well as homers, we're pretty dangerous."
Rookie third baseman Alex Bregman has been a spark throughout the series. He has homered twice and collected a season-high three hits on consecutive nights. Bregman has now hit safely in 13 of his past 14 games.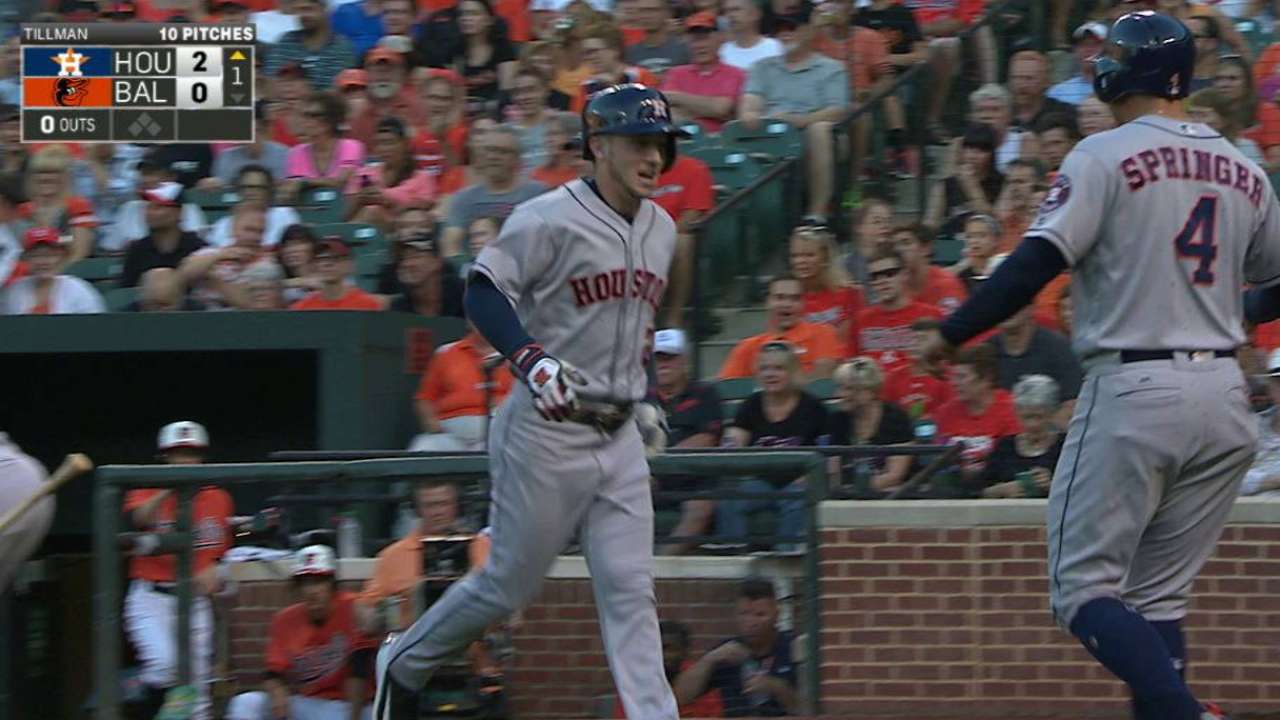 "The offense has been good the last two nights," Bregman said. "We've had a lot of guys putting together quality at-bats, going up there trying to hit the ball hard and swing at good pitches."
Second baseman Jose Altuve has also dominated Baltimore's pitching. On Saturday, Altuve just missed hitting a homer on two straight nights by less than a foot. He had to settle for a double and is batting .453 since Aug. 7.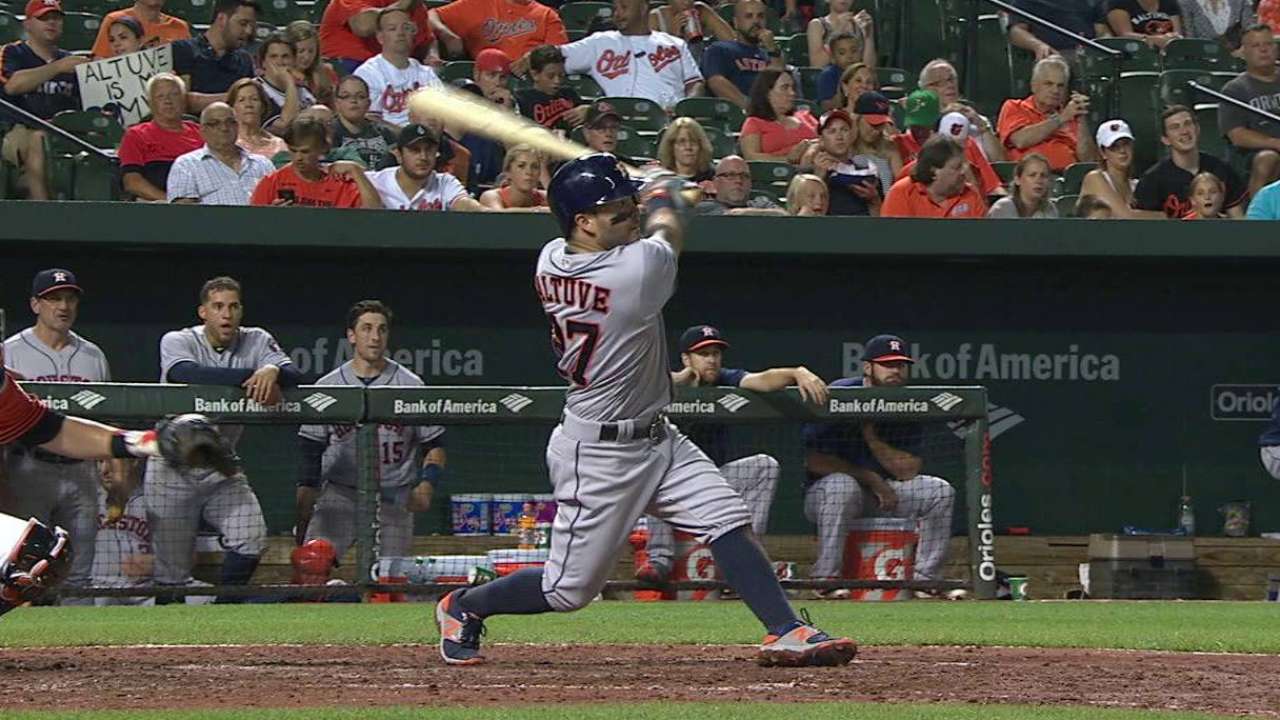 "[Friday] everybody hit and we win, and today too, and we played great defense," Altuve said.
Houston still has plenty of work to do to make the postseason, sitting 4 1/2 games back of Baltimore for the second Wild Card spot in the American League.
"We need to get rolling here and put a bunch of wins together," said right-hander Mike Fiers, who earned the win Saturday night. "We know it's going to come down to the end. And one game could be the difference, like it was last year. We need to start putting these games together and do it like we've done in the past -- win more than we lose."
Todd Karpovich is a contributor to MLB.com based in Baltimore and covered the Astros on Saturday. This story was not subject to the approval of Major League Baseball or its clubs.