Astros call up Peacock to bolster 'pen, option Hoyt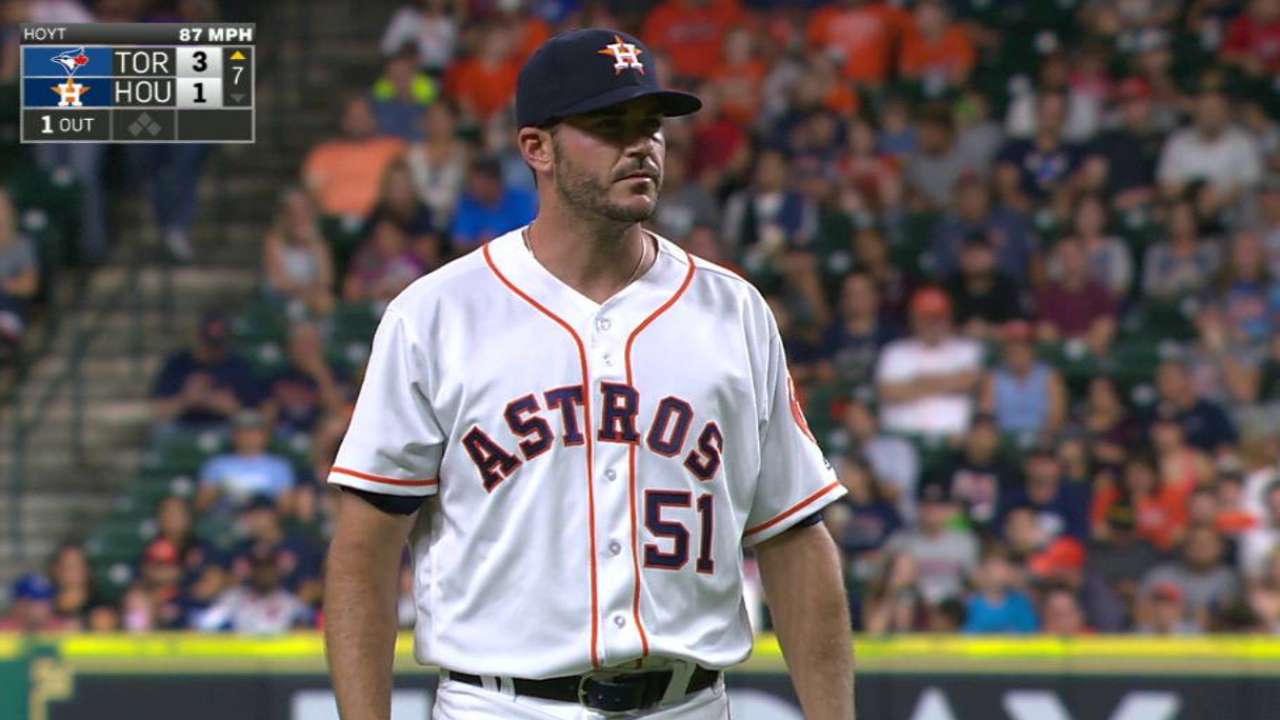 BALTIMORE -- With their bullpen stretched and tired from a series of short starting-pitching performances, the Astros added a fresh arm Friday when they called up right-hander Brad Peacock from Triple-A Fresno and optioned rookie reliever James Hoyt back down.
Astros starting pitchers had pitched past the fifth inning only once in the team's previous seven games entering Friday, and the innings were piling up in the bullpen. Peacock was called up briefly earlier this month and didn't appear in a game, but he gives manager A.J. Hinch a long reliever who can chew up innings while the bullpen is short.
"We need a fresh arm up here," Hinch said. "With the way our bullpen has been depleted, our starters have had a hard time getting deep into games, and the more freshness we have in the bullpen the better. Hoyt had gone back-to-back days and thrown a lot of pitches, so he was the odd man out."
Also, the Astros wanted Hoyt to get back into his groove. He relies on a four-seam fastball, split-finger and slider, but Hinch said he came up to Houston and altered his game plan.
"And he got burned by it," Hinch said. "Sort of a dual message for him. He's going to come back in September at the very latest. He's got a chance to impact our bullpen, but today we needed a fresh arm."
Hoyt appeared in nine games in his first Major League stint, allowing 11 hits, including four home runs, and seven runs in only 8 2/3 innings. Hoyt, who made his Major League debut at 29 years old on Aug. 3, has been dominant this year at Fresno.
In 45 games at Triple-A, the 2016 Pacific Coast League All-Star has struck out 84 in 50 innings, posting a 4-3 record with 28 saves (31 chances) and a 1.62 ERA. At the time of his promotion, he ranked second in the Minor Leagues in saves and led all Triple-A pitchers in strikeouts per nine innings (15.12).
"We're at our best when our starters are getting us at least into the sixth or seventh, and now we're having a hard time getting through four or five innings," Hinch said. "It's never ideal for your staff when your starters take it on the chin. You're usually playing from behind, you're usually depleting your bullpen, guys are getting extended a little bit further than we'd like. We had to use a few of our primary relievers in non-leverage roles, which is not ideal. Our pitching staff is beat up right now, but a good start or two in a row can quickly correct that."
Brian McTaggart has covered the Astros since 2004, and for MLB.com since 2009. Follow @brianmctaggart on Twitter and listen to his podcast. This story was not subject to the approval of Major League Baseball or its clubs.