MLB.com Columnist
Jonathan Mayo
Astros, Brewers, first-rounder Senzel lead Team of Week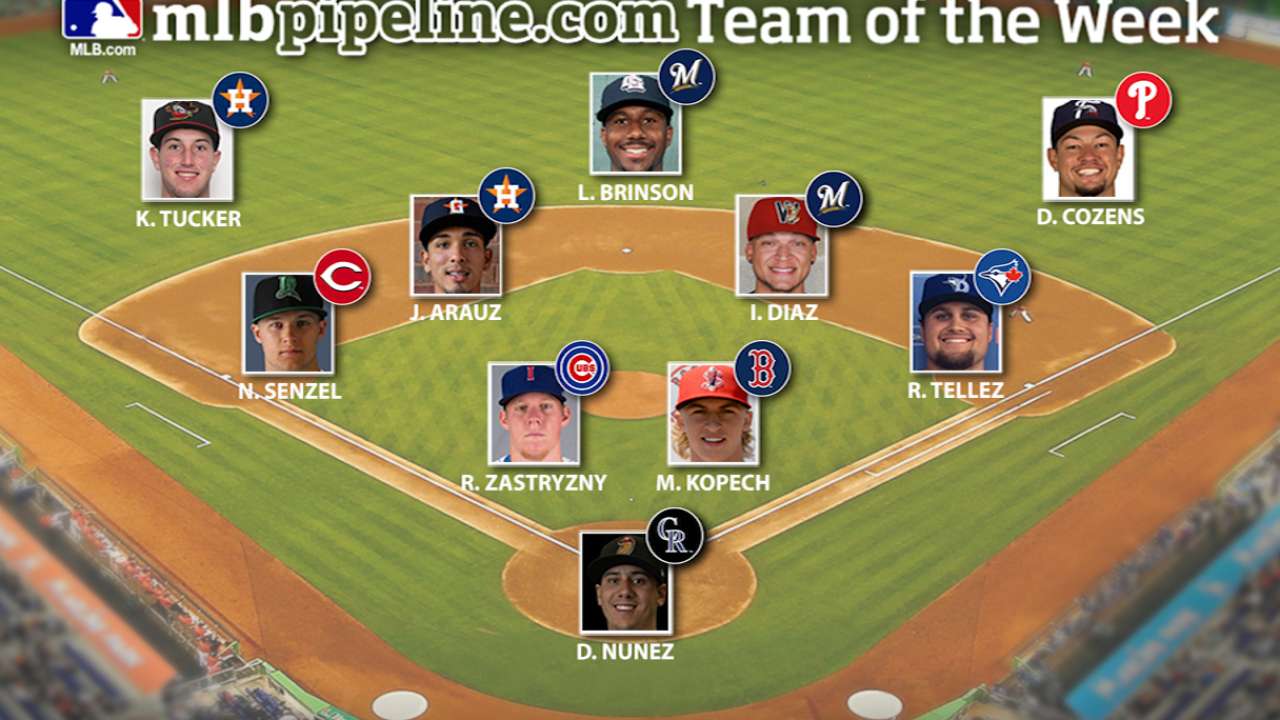 MLBPipeline.com's Prospect Team of the Week honors the best performances from the previous seven days. Any player currently on an organization Top 30 Prospects list on our Prospect Watch is eligible, including big leaguers.
There two players making their second appearance on a PTOW, and another making his third. There's a major prospect who changed organizations on Trade Deadline day making a very loud introduction. There's even a member of the first round of the Draft Class of 2016.
C: Dom Nunez, Modesto Nuts (Class A Advanced)
Rockies' No. 14 prospect
6 G, .400/.500/.900, 7 R, 1 2B, 3 HR, 5 RBI, 4 BB, 2 SO
It's been an up-and-down year for Nunez in the California League, but he's trying to finish things off on a very high note. The backstop began the week with his fifth home run of the season, adding No. 6 on Friday and finishing off the week with No. 7. He continues to have good on-base skills and has been outstanding at controlling the running game all year (43 percent caught-stealing rate).
1B: Rowdy Tellez, New Hampshire Fisher Cats (Double-A)
Blue Jays' No. 9 prospect
6 G, .478/.520/.957, 7 R, 2 2B, 3 HR, 7 RBI, 2 BB, 2 SO, 1 SB
This is the third PTOW appearance for the big first baseman in the Jays' system. He had four multihit games, finishing off the week with a two-homer performance. Tellez's average has climbed to .299, sixth in the Eastern League. He's third in both SLG and OPS, and his .515 SLG leads the Blue Jays organization.
2B: Isan Diaz, Wisconsin Timber Rattlers (Class A)
Brewers' No. 10 prospect
7 G, .400/.500/.840, 7 R, 3 2B, 1 3B, 2 HR, 5 RBI, 5 BB, 6 SO, 1 SB
Diaz earned PTOW honors at shortstop earlier in the season, but this week, he's on the right side of second base and he continues to get work at both infield positions. Diaz's week, during which he hit in all seven games, including homers on Tuesday and Sunday, is just a continuation of what he's been doing in the Midwest League after a slow start. Diaz now has a .345/.432/.679 line in 43 second-half games.
3B: Nick Senzel, Dayton Dragons (Class A)
Reds' No. 1 prospect
8 G, .357/.438/.750, 6 R, 2 2B, 3 HR, 7 RBI, 4 BB, 6 SO, 3 SB
The No. 2 pick of the 2016 Draft has had no problems adjusting to full-season ball. The former Tennessee star has hit .331/.438/.593 since joining Dayton on July 1. This past week was more of the same. Senzel had back-to-back three-hit games on Friday and Saturday. He also homered in three straight to close out the week, giving him six in 34 Midwest League games.
SS: Jonathan Arauz, Greeneville Astros (Rookie)
Astros' No. 17 prospect
6 G, .500/.567/.808, 8 R, 3 2B, 1 3B, 1 HR, 3 RBI, 3 BB, 5 SO
The Astros knew it would take time for Arauz, acquired as part of the Ken Giles deal in December, to develop, so they must be pleased with what they're seeing from him lately in the Appalachian League. Arauz turned 18 on Wednesday, then celebrated with four straight multihit games -- including a four-hit performance on Friday -- to close out the week.
OF: Lewis Brinson (Triple-A)
Brewers' No. 2 prospect
6 G, .480/.480/.760, 5 R, 4 2B, 1 HR, 8 RBI, 3 SO, 3 SB
Brinson wasted no time in introducing himself to the Brewers organization after coming in the big Jonathan Lucroy deal at the Deadline. He hit in all six games he played in, starting with a 4-for-4 debut. He followed that up with a grand slam in his second game and added another two two-hit performances. Not only were these Brinson's first six games in Milwaukee's system, they were also his first six Triple-A games this year.
OF: Dylan Cozens, Reading Fightin Phils (Double-A)
Phillies' No. 7 prospect
7 G, .367/.424/1.033, 7 R, 1 2B, 2 3B, 5 HR, 14 RBI, 3 BB, 10 SO, 1 SB
There is no doubt the power is legit from Cozens, now a two-time PTOW honoree. The Futures Gamer hit all five of his homers in two games, crushing three on Wednesday while driving in seven, then hitting two more out on Thursday to go along with five more RBIs. Cozens now leads all of the Minors with 103 RBIs, just two ahead of his teammate Rhys Hoskins. But Cozens trails Hoskins for the home run lead by two, as Hoskins hit four out this week on his own for a 34-32 edge.
OF: Kyle Tucker, Quad Cities River Bandits (Class A)
Astros' No. 4 prospect
7 G, .414/.485/.897, 5 R, 3 2B, 1 3B, 3 HR, 6 RBI, 3 BB, 5 SO
Rebounding from a sluggish July -- that full-season wall can hit players pretty hard -- the No. 5 pick in the 2015 Draft had four multihit games this past week. Tucker homered on Tuesday, Thursday and Friday to double his season total while also driving in runs in five of the seven games he played.
LHP: Rob Zastryzny, Iowa Cubs (Triple-A)
Cubs' No. 20 prospect
2-0, 0.00 ERA, 2 GS, 11 IP, 2 H, 0 R, 0 ER, 1 BB, 13 SO, 0.27 WHIP
The 24-year-old southpaw worked on his cutter during side sessions, and the work clearly paid off. On Monday, Zastryzny tossed five perfect innings, striking out eight and getting the other seven outs on ground balls. He followed that up with six shutout frames on Sunday, fanning five more and racking up seven more ground-ball outs.
RHP: Michael Kopech, Salem Red Sox (Class A Advanced)
Red Sox's No. 5 prospect
2-0, 0.00 ERA, 2 GS, 11 IP, 4 H, 1 R, 0 ER, 5 BB, 17 SO, 0.82 WHIP
While the command is still a work in progress, there's no question about Kopech's ability to dominate hitters in the Carolina League. On Tuesday, he struck out a career-high 10 while allowing just one hit and one walk over six innings. He struck out seven more in five frames on Sunday, though this time he walked four while still yielding just three hits. Kopech has a .162 batting average against and 49 K's (with 20 walks) in 33 1/3 innings for Salem.
Jonathan Mayo is a reporter for MLBPipeline.com. Follow him on Twitter @JonathanMayo and Facebook, and listen to him on the weekly Pipeline Podcast This story was not subject to the approval of Major League Baseball or its clubs.