Scott throws 1st pitch as '86 Astros honored
Houston won NL West that year, with right-hander earning the Cy Young Award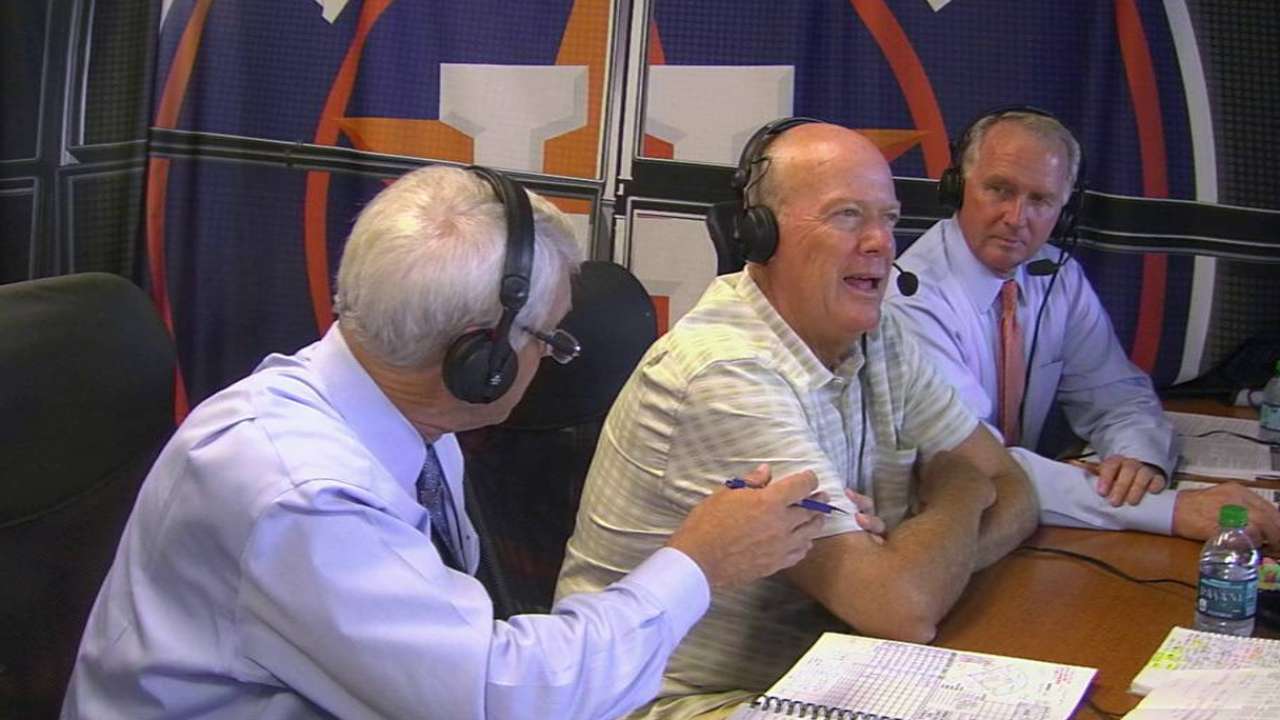 HOUSTON -- Thirty years after one of the best seasons in club history, the Astros honored their 1986 team by donning throwback uniforms and having Astros legend Mike Scott throw out the ceremonial first pitch before Saturday's game against the Rangers at Minute Maid Park.
"It brings back great memories," Scott said. "It's almost better to not come back as often. Some of it makes it more special when you do come back."
In addition to the throwback uniforms and Scott's first pitch, 10,000 fans were given 1986 Mike Scott replica rainbow jerseys before the game, when Scott, Glenn Davis, Phil Garner and other Astros legends were available for autographs.
"A lot of our players might not have been born yet in 1986," Astros manager A.J. Hinch said, "but learning about this organization, some of the accomplishments of the guys that were on their team … it's always fun."
After going 96-66 in the regular season, the '86 Astros made the playoffs for the third time in seven seasons and faced the Mets in the National League Championship Series.
"[That] team is very special to me because my dad was on it," Astros president Reid Ryan said. "I was 13 years old and did a lot of bat-boying and was around that club and grew up with a lot of those guys' children."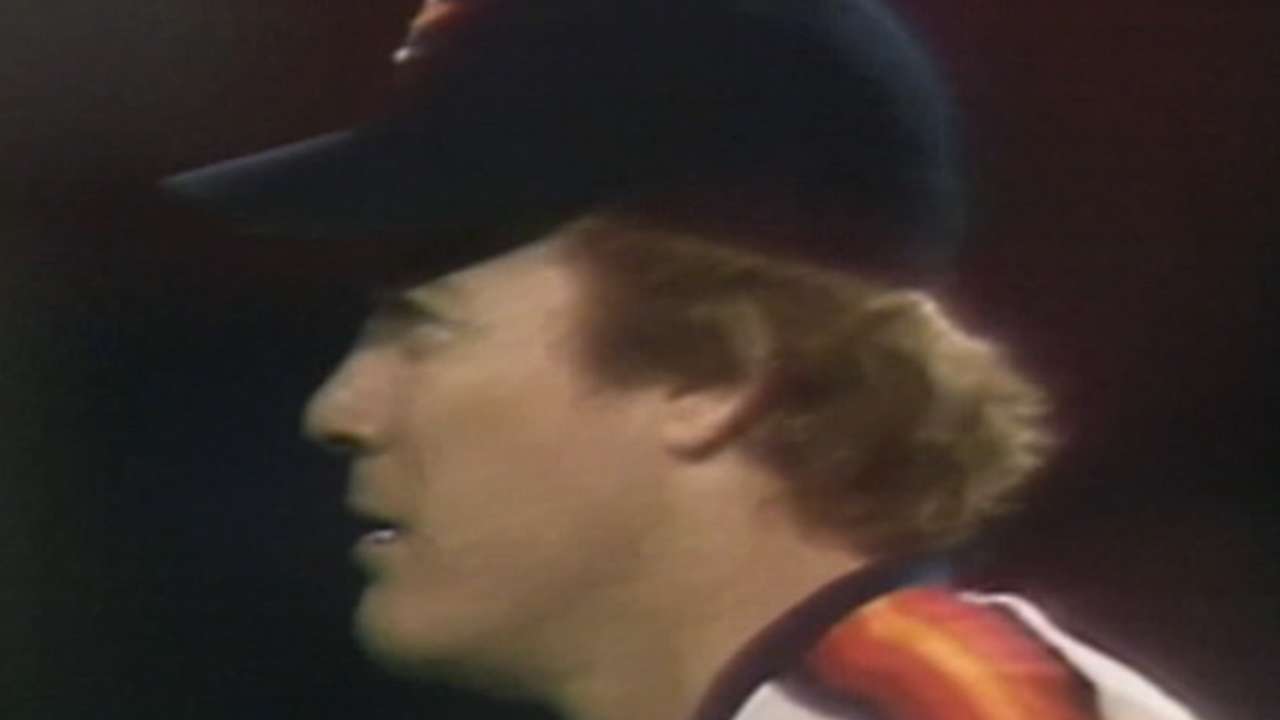 While that team featured Hall of Famer Nolan Ryan on it, you can make a pretty solid argument that he wasn't even the most dominant pitcher on the club that year.
"The names bring back a lot of memories," Hinch said, "but Mike Scott's dominance [is] always at the top of your head."
Scott, who threw a no-hitter on Sept. 25, 1986, against the Giants to clinch the team's playoff berth, posted an 18-10 record, a career-low 2.22 ERA and a career-high 306 strikeouts, earning him the club's first Cy Young Award.
"[The no-hitter] would be the equivalent of our guys today do it against the Rangers in a must-win game," Reid Ryan said. "The dome was electric that day."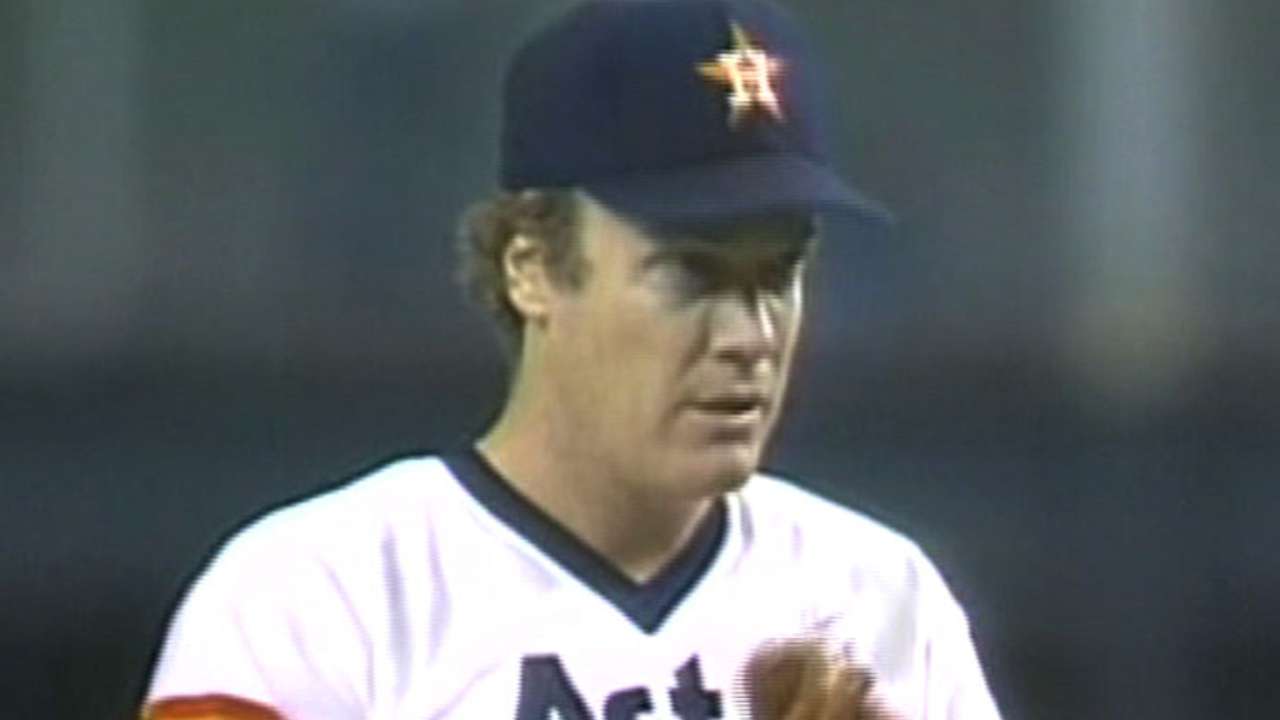 Though Houston ultimately lost in six games to the Mets in the NLCS, the series was extremely competitive, with five of the six games decided by two runs or fewer and the sixth and final game, a 7-6 Mets win, lasting 16 innings.
"It was intense," Scott said. "I still kind of get knots when I watch some of the games, some of the replays. It was the only playoff series I was in and it's hard to explain how intense everything was. I'm not going to say it was fun, maybe looking back it was fun, but it was great to be involved in."
Jordan Ray is a reporter for MLB.com based in Houston. This story was not subject to the approval of Major League Baseball or its clubs.