White looks to heat up bat, avoid roster crunch
Astros rookie notches RBI double in two-hit effort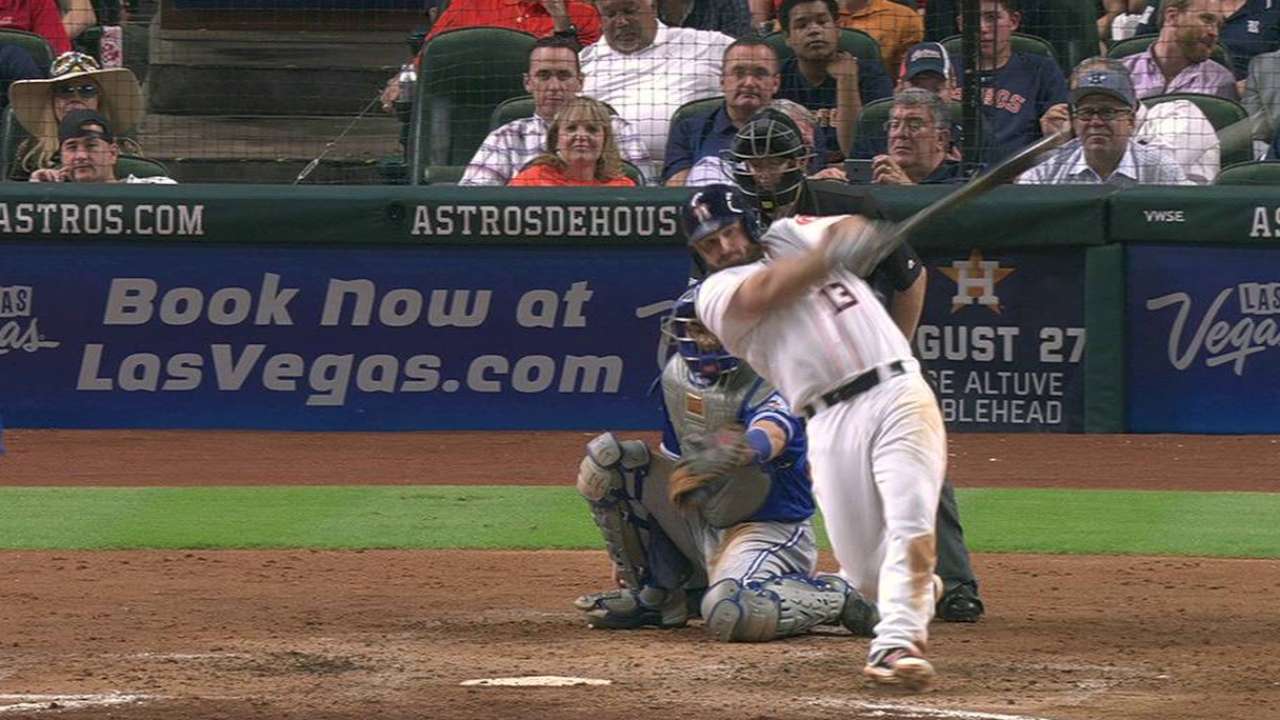 HOUSTON -- With Doug Fister returning from paternity leave soon, the Astros will have to make a roster move and someone will have to be the odd man out. First baseman Tyler White presented his case to not be 'it' in Thursday night's 4-1 loss to Toronto.
White went 2-for-3 against the Blue Jays and put the Astros' only run on the board with an RBI double in the fifth to cut Toronto's lead to one run. It normally wouldn't have been a performance to write home about, but with the way the Astros' offense has been scuffling -- having scored seven runs in the last six games -- it felt pretty promising.
"I thought Whitey had a good couple of at-bats," Astros manager A.J. Hinch said. "It was nice to see him put a couple of good swings on the ball, for sure."
It's been an up-and-down year for the rookie, who won American League Player of the Week honors in early April after batting .556 with three home runs and nine RBIs in the Astros' first six games of the season.
White is batting .212 on the season and was demoted to Triple-A Fresno on June 17 to try to find his swing.
"I think I had lost confidence, and I think I lost the mental part of the game," White said. "I'm a pretty calm person and I was getting frustrated a lot. I think I needed to get down there and just calm down."
Injuries forced the Astros to bring him back up, and he hadn't done much -- like many of the Astros' hitters during that stretch -- in his four games back in Houston. Until Thursday night, that is.
White said his 34-game stint in Triple-A, during which he batted .288 with 38 hits, four doubles and 11 home runs, helped him regain the confidence he had to start the season.
"Just going up [to the plate], trying to be confident," White said. "[Doing] what I did when I went down, take that here and be the hitter I know I can be."
His performance Thursday was enough to gain some praise from one of the team leaders in Carlos Correa.
"He's done a great job," Correa said. "He's a great hitter and we know that. He came from Triple-A raking, and hopefully he can stay consistent because he's helping the team in a big way."
Jordan Ray is a reporter for MLB.com based in Houston. This story was not subject to the approval of Major League Baseball or its clubs.