Devenski dominates Jays with flawless relief
Rookie strikes out 7 straight over 4 1/3 perfect innings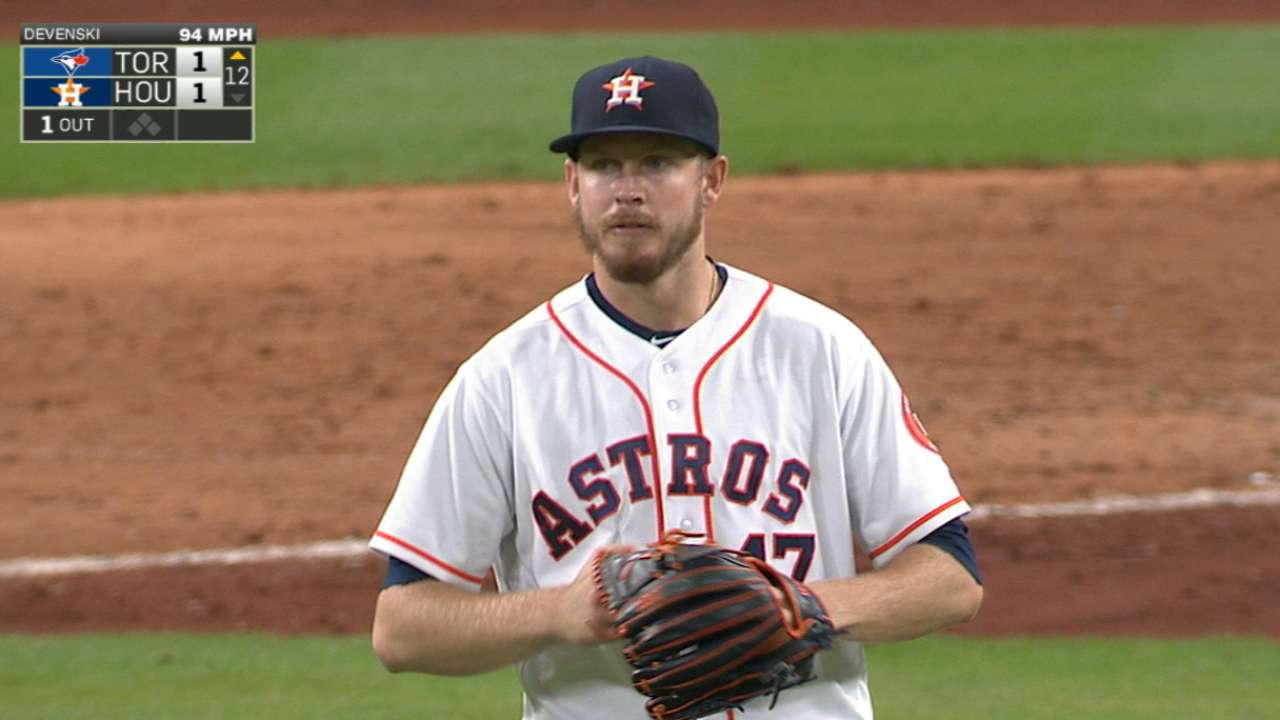 HOUSTON -- Chris Devenski has pitched well in relief as a rookie this season, but in the Astros' 2-1 win in 14 innings against Toronto on Monday night, a different beast took the mound.
After All-Star closer Will Harris blew his second save in three days in the ninth to tie the game at 1, the Astros needed a pitcher to flip the momentum back in their favor.
Enter Devenski, who proceeded to perfectly dominate Toronto for 4 1/3 innings. The 25-year-old right-hander didn't allow a Blue Jays runner on base and notched seven strikeouts, all in a row.
"It was a game-saver," Astros manager A.J. Hinch said. "It's not a role he's used to with the game on the line right away. [But] we've seen him roll off some relief innings to keep us in games."
Devenski became only the 11th reliever since 1913 to pitch at least four innings with seven or more strikeouts. The last to do so was Max Scherzer on April 29, 2008, oddly enough against Houston.
"It felt good," Devenski said. "It was pretty special."
His seven consecutive strikeouts in the 10th through 12th innings were just shy of Jim DeShaies' club record of eight consecutive strikeouts, set in 1986.
A product of Cal State Fullerton, Devenski was happy just helping his team get another victory.
"It was a good win for the team," Devenski said. "You know, this team has a lot of heart, and it showed tonight as we battled back and won that game."
Devenski has become arguably the Astros' most commanding reliever of late. In 25 relief appearances with Houston this season, Devenski has posted a team-low 1.17 ERA with 48 strikeouts to only 35 hits.
And Tuesday's game was just more proof of Devo's dominance.
"No margin for error," Hinch said. "Rifling through there … what a gutsy performance and certainly one of the highlights of the night."
Jordan Ray is a reporter for MLB.com based in Houston. This story was not subject to the approval of Major League Baseball or its clubs.